The Ukrainian Institute of America 2019 Gala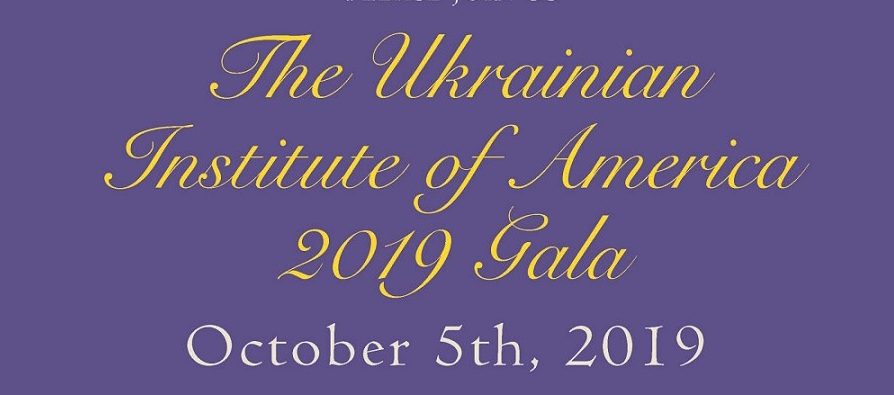 Cocktails & Silent Auction 6:00pm
Musical Entertainment 7:30pm
Dinner 8:00pm
After Party 9:30pm
Thank you for your interest in the Ukrainian Institute of America Gala.  Tickets are now SOLD OUT!
Please contact our office at 212-288-8660 to be added to our waitlist.
The Board of Directors gratefully acknowledges the generosity of the Institute's Pacesetters,  Benefactors, and Patrons who are making this evening possible.
PACESETTERS $5,000
Mr. George Chopivsky Jr.
Ms. Zwen Goy
The Honorable Irena M. Holiat
Ms. Kathy L. Nalywajko
Mr. Charlie Podpirka
Self Reliance (NY) FCU
BENEFACTORS $3,000 
Dr. Michael George and Mrs. Ulana Kebalo-George
Dr. Peter Lenchur and Dr. Ruta Lenchur-Cholhan
Mr. Victor and Mrs. Larisa Shevchenko
The Shevchenko Scientific Society
    PATRONS $750 
Mr. Andrew Bazylevsky
Mr. Arthur and Mrs. Lydia Belendiuk
Dr. Nestor Blyznak and Dr. Irene Patrylo
Dr. Ihor and Mrs. Marta Fedoriw
Mr. Taras and Mrs. Lidiya Filewych
Mr. Andrei Harasymiak
Mr. Maurice Haughton and Mrs. Maryna Bilak Haugton
Dr. Walter and Mrs. Maryann Hoydysh
Dr. Lionel Ivashkiv and Mrs. Taisa Markus
Dr. George Kihiczak
Mrs. Oksana Komarnyckyj and Ms. Iryna Kurowyckyj
Dr. Daniel Kuncio
Mr. Paul and Mrs. Emilia Liteplo
Dr. Ronald and Mrs. Nadia Liteplo
Mr. Myron Melnyk and Mrs. Chrystyna Dobczansky-Melnyk
Dr. Borys Mychalczak
Dr. Anna Procyk
Mr. Myron and Mrs. Liudmyla Rabij
Mr. George and Mrs. Alexandra Rakowsky
Ms. Marta Salyk-Jacuszko
Dr. Ihor and Mrs. Alexandra Sawczuk
Mrs. Anna Shpook and Mr. Petro Nikitin
Mr. Peter Shyprykevich and Mrs. Ilona Sochynsky-Shyprykevich
Dr. Yuriy and Mrs. Karina Tarnawsky
Prof. Oleh Tretiak
---
Your support above $150 for each ticket is tax-deductible.
To pay by check please make it payable to the Ukrainian Institute of America.
Proceeds to benefit The Ukrainian Institute of America Endowment Fund.
I cannot attend but would like to make a donation to support the Ukrainian Institute of America.
The Ukrainian Institute of America 2019 Gala