Mykola Dyletsky: "A Musical Grammar in Seventeenth – Century Cracow and Kyiv"
Admission: $25; Students & Seniors $10; UIA Members free.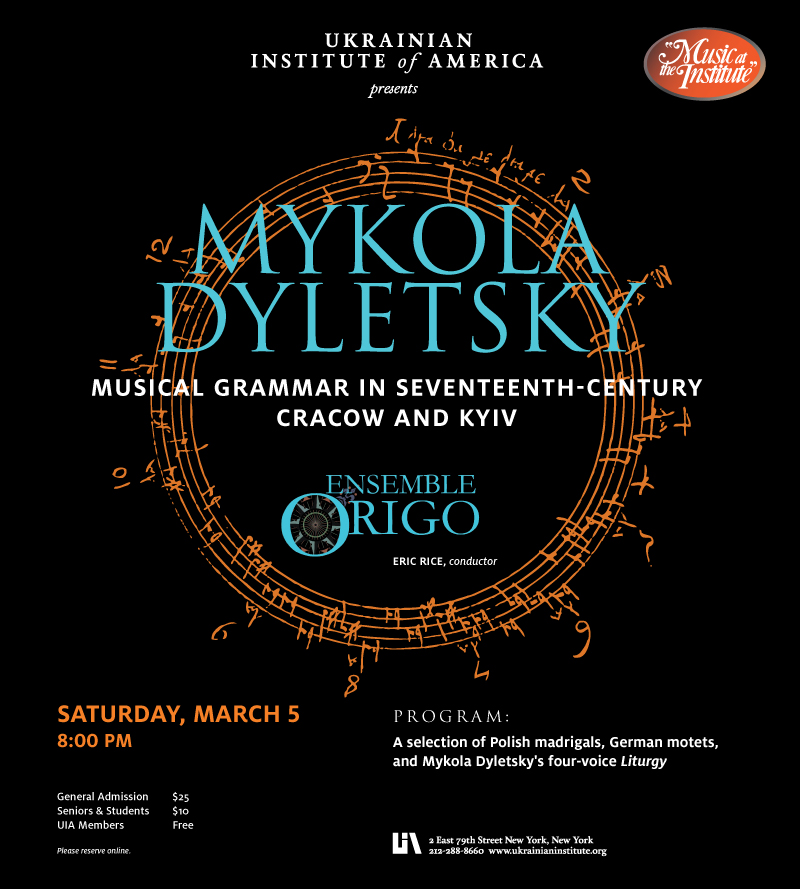 Hailed by the New York Times as "fine, flexible ensemble" early music Ensemble Origo will perform a selection of Polish madrigals, German motets and Mykola Dyletsky's four voice Liturgy.
Pre-concert lecture by Dr. Eric Rice at 7:00 pm.
Program:
Thomas Stoltzer "O admirabile commercium "
Heinrich Finck "Veni creator spiritus"
Vaclav z Szamotuly "Chryste, dniu naszej światłości"
Już się zmierzcha à 4 – Vaclav z Szamotuly
Marcin Leopolita "Kyrie from Missa Paschalis"
Mikołaj z Krakowa "Otóż moja powolność tak mi się płaci"
Anonymus "Oczy me miłe"
Luca Marenzio "Vezzosi augelli in fra le verdi frondeà"
Marenzio "Iniquos odio habui"
Heinrich Schütz "Selig sind die Toten"
Marco Scacci "Vobis datum est"
Mykola DYLETSKY: Liturgy
Mykola Dyletsky: "A Musical Grammar in Seventeenth – Century Cracow and Kyiv"