Impressions of War
June 1, 2022

-

August 24, 2022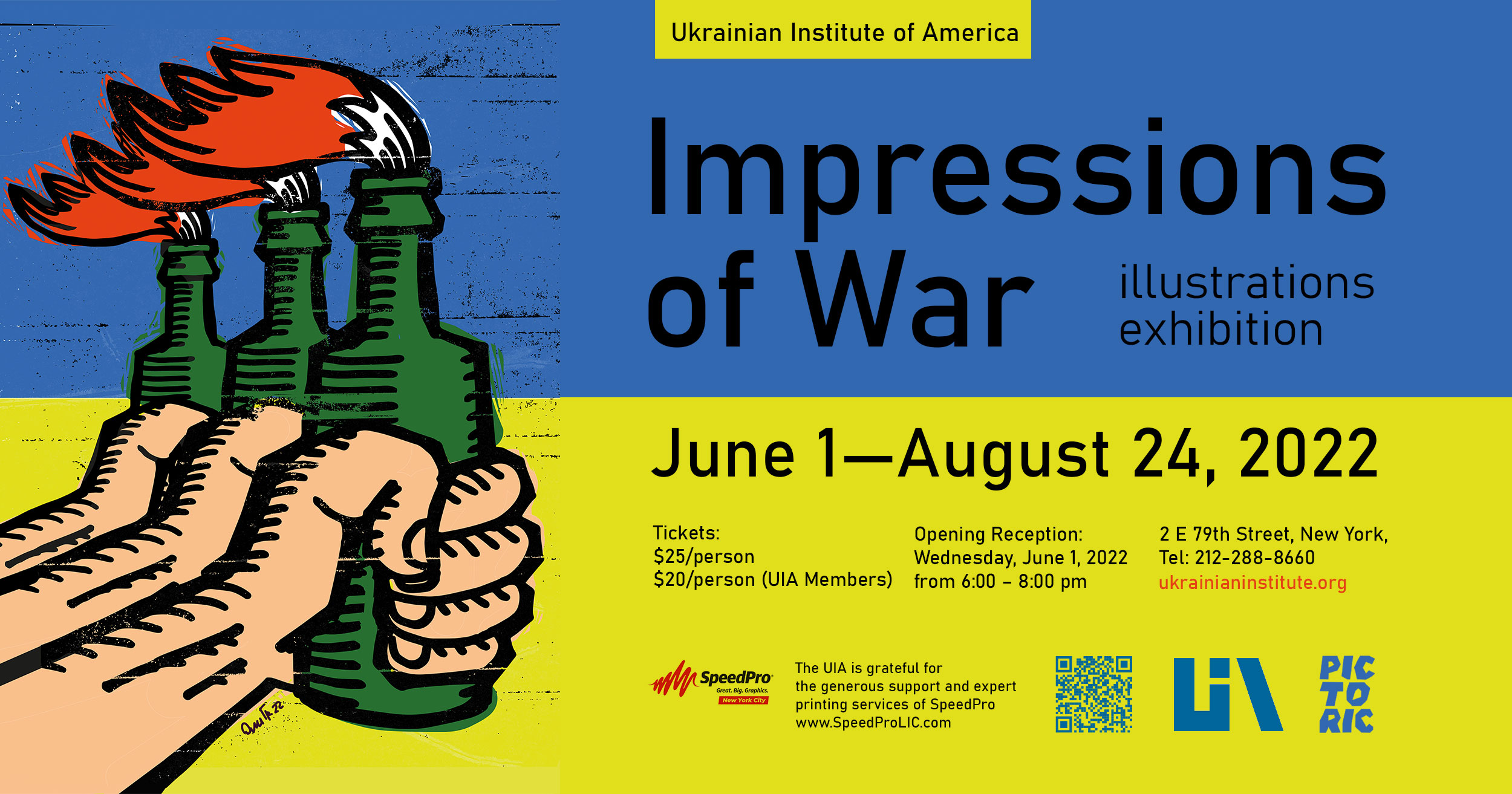 Impressions of War
Poster Art from Ukraine
 June 1 – August 24, 2022
Opening reception: Wednesday, June 1 from 6:00–8:00pm
The Ukrainian Institute of America
2 East 79th Street, NYC 10075
---
As the face of many political and social movements, posters are essential for fueling recruitment, spreading propaganda, and sustaining morale. Disseminated by governments, political parties, labor unions and other organizations, political posters transcend time and span the entire spectrum of political affiliations and philosophies. Historic events of the past years have highlighted art as a creative means of social expression as well as a powerful tool used during social protest.
A few images and words scribbled on a collection of Post-it notes or a graphically designed phrase captured in a Tweet heard around the world have had an unexpectedly lasting influence. But what happens to the artwork when the protestations leave? Were they ever intended to be collected or preserved? Is there precedent for archiving these ephemeral materials? Who is collecting them? How do we preserve the intent and impact of these creative works for posterity? Archiving this form of cultural heritage presents many challenges under discussion, yet to be defined.
Matters arising from abuse in war inform almost all the works under consideration. Drawing on the expansive pool of visceral graphics compiled by the Pictoric community of illustrators in Ukraine, this extraordinary collection can be enjoyed not only on aesthetic grounds alone, but also offers fascinating and revealing insights into living wartime, political, social, and cultural history. It show-cases Ukrainian cultural diplomacy in fighting Russian propaganda, loops of the war, life before the war and during, women in the Ukrainian army, the role of global cyberspace (Anonymous), and many other aspects raising awareness of this brutal war and fight against Russian aggression.
The printed works included in this exhibition issue from the commercial tradition of illustration and graphic design, as distinguished from that of fine art. Most of the creative authors represented in this exhibition communicate their concerns in the formal language of pluralism. Collage techniques, in which otherwise familiar imagery or text is arranged in startling juxtapositions, are frequently of influence. Flattened surface areas that push out onto the frontal plane lend immediacy to confrontational works. Isolated images on stark backgrounds set up iconic figure/ground relationships that turn subjects into symbols. In addition, expressionist gesture and distortion of the human figure occur frequently in works addressing the subjects of violence and brutal oppression.
These posters can help us locate meaning in seemingly incomprehensible events of daily life by removing the actuality to a mythic plane; they can also focus communal outrage and grief. Some of the posters elicit a sense of shared pain; still others serve as vehicles for opposition and resistance. These illustrators and designers portray the frailties of leaders and institutions, the fear of cultural differences, and the utter depths to which cruelty and barbarism can go. But in the final analysis, it is not the specific issues or events that stand out. What we come away with is a shared sense of the human condition. Rather than feeling set apart, we feel connected.
Glory to Ukraine!
Andrew Horodysky 
About Pictoric
Founded by Kyiv-based graphic designer Olena Staranchuk in 2014, Pictoric Illustrators Club is a loose collaborative of Ukrainian commercial illustrators, graphic designers and artists. It views its mission in the promotion of quality and relevant graphics representing Ukraine on the international stage. To achieve this, Pictoric organizes exhibitions, master classes and lectures and actively showcases works abroad by Ukrainian illustrators, distinguished by their colorful nature and unique styles. Among the most notable of its recent initiatives is "Prominent Ukrainians," a project that illuminates Ukrainian history and culture through the stories of its outstanding personalities and historic figures, past and present. Pictoric's critically acclaimed exhibitions were presented at Tbilisi Book Days (Georgia), Art Hub Bucharest (Romania), Plaster International Poster and Typography Design Festival in Toruń (Poland), Frankfurt Book Fair (Germany), and the National Library for Children and Young Adults (South Korea), among dozens of other international exposition sites. Pictoric's poster artworks were acquired by the Library of Congress, Washingon, D.C. and are collected privately worldwide. 
Acknowledgements Special thanks are due Ms. Inna Remizova of the World Bank Group, Washington, D.C. for introducing the graphic art of Pictoric to the Ukrainian Institute of America, and Ms. Lydia Zaininger, UIA Interim Director for organizing this topical exhibition. And, to Mr. Mykola (Nick) Yaremko of SpeedPro Long Island City, many thanks for his kind generosity in providing print production services for the successful materialization of this exhibition.