Daria Marchenko and Daniel Green: Five Elements of War
January 25, 2018

-

February 3, 2018
January 25 – February 3, 2018
Opening reception and artist presentation: Thursday, January 25, from 6:00 – 8:00PM
The Ukrainian Institute of America
2 East 79th Street, NYC 10075
Art at the Institute is pleased to present a special installation by Ukrainian artist-activists Daria Marchenko and Daniel Green, titled Five Elements of War, of large-scale artworks depicting the causes, turmoil and consequences of the ongoing Russian military aggression and war waged in eastern Ukraine. Arranged and organized by Walter Hoydysh, PhD, director of Art at the Institute, this topical exhibition exposes the wider audience to existential political and cultural circumstances affecting Ukraine and its European neighbors.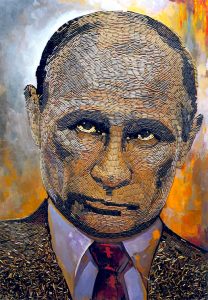 While the installation's artworks are clearly political, most compelling is their material nature. The artists incorporate found objects, including shell casings, documents, and shrapnel, all gathered from the war's front lines. They are shown as "philosophical images," meant to elicit a visceral — in your face — reaction in the viewer.
First in the series, and the exhibition's signature piece, the seven-foot high "The Face of War" (2015) unapologetically depicts, front and center, the figure behind the calculated conflict — Russian president Vladimir Putin. It is cleverly created out of five thousand bullet cartridges gathered at the front in Donbas. Depending on the light in the exhibition space, the "mood" of the piece changes. The portrait displays a wide spectrum of emotions, from emphasizing developing socio-political complexities, Russian propaganda and lies generated of the conflict, to generalities of human nature in the time of war.
The remainder of the series consists of the following artworks: "The Heart of War," "The Brain of War," "The Flesh of War," and "The Fifth Element or Man-Shell-Money." Speaking to a different aspect of the war, each work stands independently, but is, at the same time, conceptually joined with the other pieces, forming an overall composition.
Five Elements of War was exhibited at M17 Gallery (Kyiv), the Rayburn House Office Building (Washington, D.C.), and most recently at The Ukrainian Institute of Modern Art (Chicago).
Daria Marchenko and Daniel Green: Five Elements of War