Paper Bridge – Poems by Vasyl Makhno
March 31, 2023 @ 7:00 pm

-

9:00 pm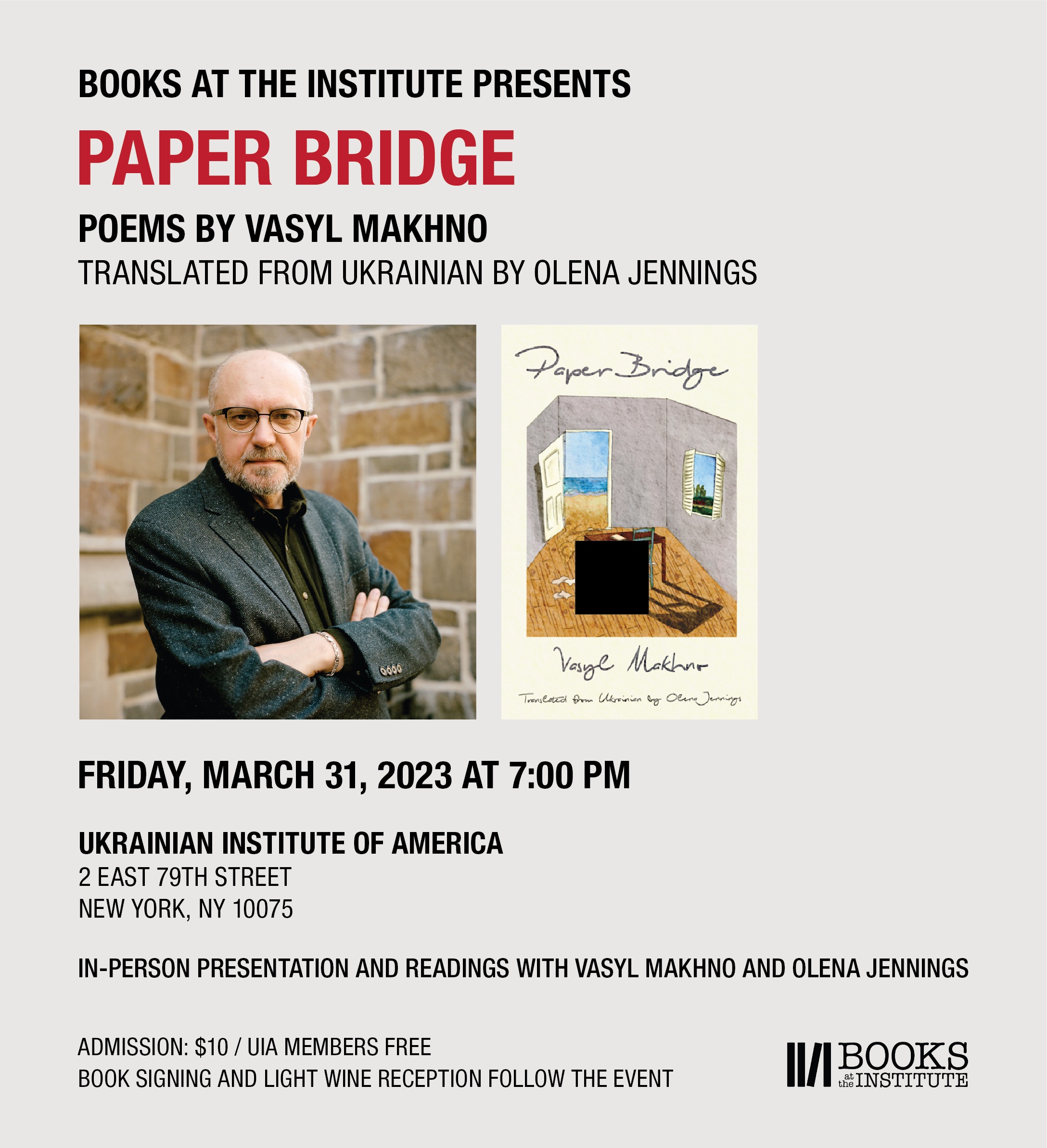 Books at the Institute is delighted to present
Paper Bridge
Poems by Vasyl Makhno

Translated from Ukrainian by Olena Jennings
In-person presentation with readings by Vasyl Makhno and Olena Jennings
Book signing and light reception to follow
Admission: $10 / UIA members free
---
---
Paper Bridge is a collection of personal poems that communicates the present-day Ukrainian experience, even within New York City where the poet Vasyl Makhno lives. According to noted poet and critic Ilya Kaminsky, "These are poems of love and poems of cities, from Granada to Tbilisi to New York to Paris, from Southern California to Ukraine and elsewhere, poems that nod to other masters (from Hesse to Walcott to Bach), poems of relationships (of knowing when silence is the true language between two people), and poems of solitude (of reading in a park in rain when rainwater becomes a language, too.)" The poems in this book act as a bridge, forming connections between disparate worlds.
Vasyl Makhno is a Ukrainian poet, prose writer, essayist, and translator. He is the author of fourteen collections of poetry and most recently One Sail House (2021). He has also published a book of short stories, The House in Baiting Hollow (2015), a novel, The Eternal Calendar (2019), and four books of essays, The Gertrude Stein Memorial Cultural and Recreation Park (2006), Horn of Plenty (2011), Suburbs and Borderland (2019), and Biking Along the Ocean (2020). He translated Zbigniew Herbert's, Janusz Szuber's and Anna Frajlich's poetry from Polish into Ukrainian. Makhno's works have been widely translated into many languages; his books have been published in Germany, Israel, Poland, Romania, Serbia, and the US. He is the recipient of the Kovaliv Fund Prize (2008), Serbia's International Povele Morave Prize in Poetry (2013), the BBC Book of the Year Award (2015), and the Ukrainian-Jewish Literary Prize "Encounter" (2020). Vasyl Makhno currently lives with his family in New York City.
Olena Jennings is the author of the poetry collection The Age of Secrets (Lost Horse Press, 2022) and the chapbook Memory Project (Underground Books, 2018.) Her novel Temporary Shelter was released in 2021 from Cervena Barva Press. Her translation from Ukrainian with Oksana Lutsyshyna of Nobody Knows Us Here, and We Don't Know Anyone by Kateryna Kalytko was released in September 2022 from Lost Horse Press. Her translation of Vasyl Makhno's collection Paper Bridge was released in October 2022 from Plamen Press. She co-edited the anthology of poetry Ukrainian American Poets Respond released from Poets of Queens Press and Yara Arts Group. Her textile art has been shown at Bliss on Bliss Art Projects and the NYC Poetry Festival. She is the founder and curator of Poets of Queens.
 ——————————————————
 To have a copy of the book signed, Paper Bridge will be available for purchase ($20.00) at the Ukrainian Institute of America the evening of the event.
 By purchasing a book from the UIA, you are supporting its continued cultural and educational programming and the further enjoyment of its unique events by our friends and community along New York's Museum Mile.
 ——————————————————
For further information: Please contact the Ukrainian Institute of America at (212) 288-8660 or mail@ukrainianinstitute.org.
Paper Bridge – Poems by Vasyl Makhno