Roots & Heritage
June 16, 2023 @ 7:30 pm

-

9:30 pm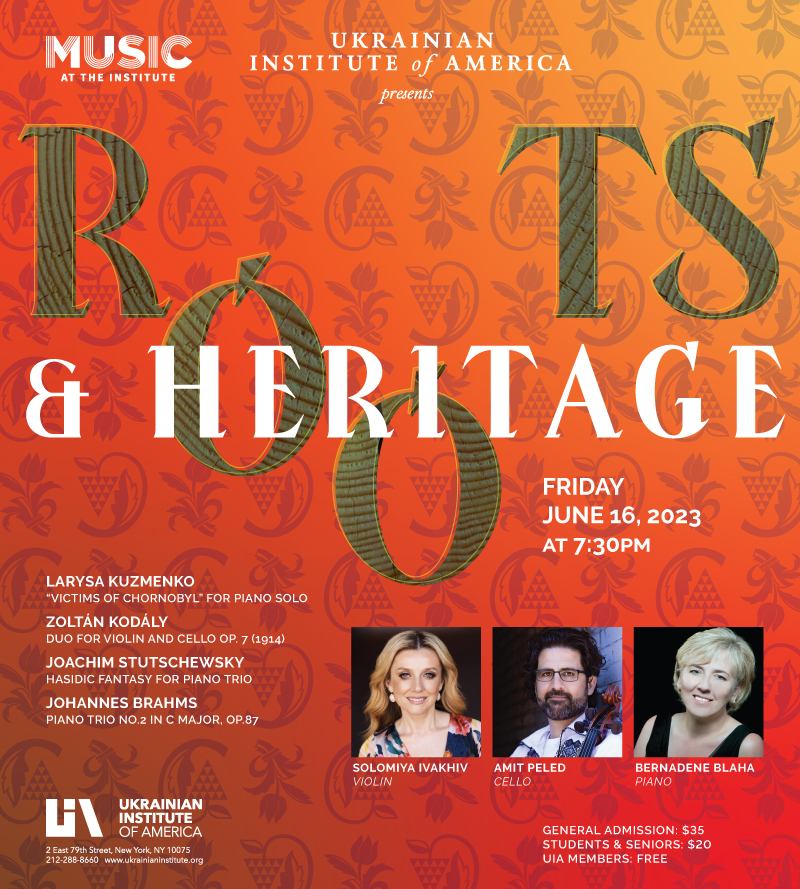 MUSIC AT THE INSTITUTE
presents
 Roots & Heritage
Solomiya Ivakhiv, violin
Amit Peled, cello
Bernardene Blaha, piano
___________
Program includes:
Larysa Kuzmenko "Victims of Chornobyl" for Piano Solo
Zoltán Kodály Duo for Violin and Cello Op. 7 (1914)
Joachim Stutschewsky Hasidic Fantasy for Piano Trio
Johannes Brahms Piano Trio No.2 in C Major, Op. 87.
---
---
The Ukrainian Institute has decided to allocate proceeds of ticket sales for this concert, as well as donations received in connection with the concert, toward humanitarian relief efforts urgently being deployed as a result of the war crime perpetrated by Ukraine's invaders in the destruction of the dam and the resulting flooding of southern Ukraine.
---
The concert, "Roots and Heritage," aims to foster a sense of community through the universal language of music, highlighting how much of our heritage and history we have in common. The concert will feature a work by Ukrainian-Canadian composer, Larysa Kuzmenko, dedicated to the victims of the Chornobyl nuclear accident. In light of the recent destruction of the Kakhovka dam in Ukraine and the resulting humanitarian and ecological catastrophe, this composition is timely and highly relevant as a reminder that history can and does repeat itself.
Among the composers also featured in the concert is Joachim Stutschewsky. Born in the Poltava region of Ukraine into a musical family and having studied in Kherson, Stutschewsky developed a deep interest in Jewish music, especially Hasidic melodies, leading him to write several works based on Jewish folklore. Relocating to Palestine in 1938, now Israel, Stutschewsky developed a renowned cello studio, a student of which is Amit Peled, who will take part in performing Hasidic Fantasy, for piano trio.
Before a final work by Brahms, the concert will feature Zoltán Kodály's Duo for Violin and Cello Op. 7, written in 1914 in the heart of Europe on the eve of WWI.
Read the full Press Release here.