Mykola Zhuravel,
'Retrospective Projects'
May 13 through August 29, 2004
Mykola Zhuravel, one of a group of post-Soviet Ukrainian artists to have rapidly gained international acclaim, will open a one-man show at the Ukrainian Institute of America on Thursday, May 13, 2004.
The exhibit consists of four projects - Transsphere, Aggressive Beekeeping, Apiary and Conservation of the Mist, represented by oil paintings, levkas, photographs, video installations and computer animation.

Transsphere project derives from the movement in Universe that is represented by the sphere, the universal object that is a functional model of the world. Its movement consists of circular, centrifugal, and centripetal directions, as represented by a computer animation of four spheres producing 16 universal symbols. Each of the symbols influences space and generates 16 universal perceptions. These thematic and aesthetic perceptions of space appearing in universal forms are being reproduced and interpreted by the artist in a number of oil paintings and photographs, such as 'Separate and Whole' and 'Divine', which are dedicated to poems of Goethe.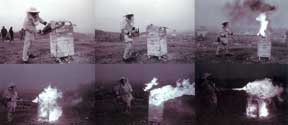 Aggressive Beekeeping is a part of the larger Apiary project. Even the project's title cleaves logic: «beekeeping» commonly is a peaceful notion. Zhuravel works a meataphor of a burnt and sawed hive beside an intact one; video images and photos that capture the destruction process (video: D. Mukhin, photos: I. Palamarchuk) are deeply substantial and at the same time aesthetically complete in form. Zhuravel shows the world of inverted perception in which words lose their meaning, where notions have their substitutions, and where a filtered flow of illusions takes the place of personality and conscious attitude.

Apiary project is dedicated to Petro Prokopovich, an inventor of a contemporary beehive and frame. The artist transforms this invention into a series of wood-levkas sculpture-objects and two oil paintings. Bee cells are presented in static square forms and bees are shown as dynamic circles and points. The combination of the two reconfirms the constructive life of the conceptual beehive.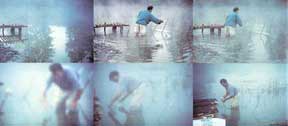 Project Conservation of the Mist depicts the artist's concept of the beauty and harmony of mist that he collected and conserved in glass jars in 2002. The mist was collected on the Psel's river, in the village of Mogritsa, Ukraine at 4 a.m. The mist has transformed into drops of water ever since and is being stored in 6 jars in the artist's studio.
Mykola Zhuravel was born in 1960 in Ukraine. Zhuravel graduated from the Kyiv Academy of Art in 1989, and has been a member of the National Artists Union of Ukraine since 1995. Zhuravel has exhibited in Ukraine, Russia as well as in galleries in Western Europe and Japan. He lives and works in Kyiv.
OFFICIAL SPONSOR OF THE EXHIBIT


has provided the cargo shipment of artwork from Kyiv to New York.