Les Panchyshyn: Portal
November 8, 2019

-

December 1, 2019

Les Panchyshyn: Portal
November 8 – December 1, 2019
Opening reception for the artist: Friday, November 8, from 6:00 – 8:00 PM.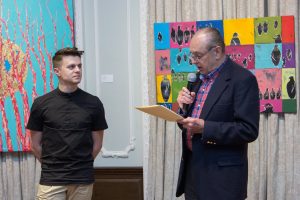 Art at the Institute was pleased to present Portal, an exhibition of recent abstract and figurative paintings by Ukrainian artist Les Panchyshyn communicating and connecting with an exploratory manifestation he calls "self-identification." His works employ universal organic symbols of his own design that transcend time, place and language to appeal to the level of the unconscious mind, offering a pathway of release from his past and present. Curated by Walter Hoydysh, PhD, this exhibition marks Mr. Panchyshyn's second showing with the Ukrainian Institute of America. An opening reception took place on Friday, November 8, from 6:00 – 8:00 PM.  SEE PHOTOS.
Les Panchyshyn was born in Novy Rosdil, Ukraine and later moved to Lviv where attended and graduated from the Lviv Academy of Arts. As a photographer and video director, he produced work in collaboration with Ukrainian musical groups such as Pikkardiyska Tersiya, Komu Vnyz, Panchyshyn, Antytila, Vivienne Mort, and Rock-H. Les Panchyshyn has participated in group and solo exhibitions in Ukraine, Austria, Canada, Switzerland and the US. He lives and works in Kyiv.
Exhibition hours: Tuesday to Sunday, 12:00 – 6:00 PM.