Max Vityk: The Warriors of Light / Outcrops
May 12, 2017

-

June 1, 2017

Max Vityk: The Warriors of Light / Outcrops
May 12 – June 1, 2017
Opening reception and book signing: Friday, May 12, 6:00 – 8:00 PM.
Art at the Institute is pleased to present an exhibition of paintings by Cairo-based artist Max Vityk. Curated by Walter Hoydysh, PhD, Director of Art at the Institute, it features two major series of works by Mr. Vityk: the monumental The Warriors of Light and Outcrops. The former group represents the artist's visceral responses and extraordinary interpretations to the critical events surrounding the 2011 Arab Spring uprisings and 2014 Euromaidan protests and ensuing bloodshed in Kyiv, Ukraine. The latter group of paintings demonstrates an abstract yet technically calculated approach to depicting and reconstructing the geological aging and forming of the earth's crust. This exhibition marks Mr. Vityk's second solo showing with the UIA in New York.
An opening reception will be held on Friday, May 12, from 6:00 to 8:00 PM. Also, that evening, the artist will be presenting and signing his recently released monograph, The Warriors of Light, published by Rodovid Press (Kyiv: 2016), fully-illustrated, with essays by Olesya Avramenko, Annelien Bruins, Victoria Burlaka, and Nahla Samaha. Copies of the book will be available for purchase during the opening and during normal exhibition hours.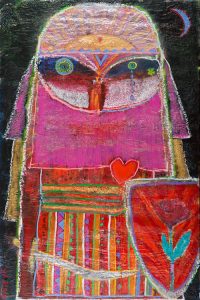 Born in Lviv, Ukraine, Max Vityk began painting in the late 1990s, after earning a doctorate in Earth Sciences. He has lived, worked and exhibited in the United States, Ukraine, and The Netherlands, and since 2015, lives and works in Cairo, Egypt. Mr. Vityk's artworks can be found in private, corporate and institutional collections worldwide. Max Vityk's artworks are featured in Tauvers Gallery International's booth in this season's running of CONTEXT New York art fair, at Pier 94, May 3-7.
Exhibition hours: Tuesday to Sunday, 12:00 – 6:00 PM, or by appointment.
Max Vityk: The Warriors of Light / Outcrops