Meet the composer: Yevhen Stankovych
Admission: $25; Students & Seniors $10; UIA Members free.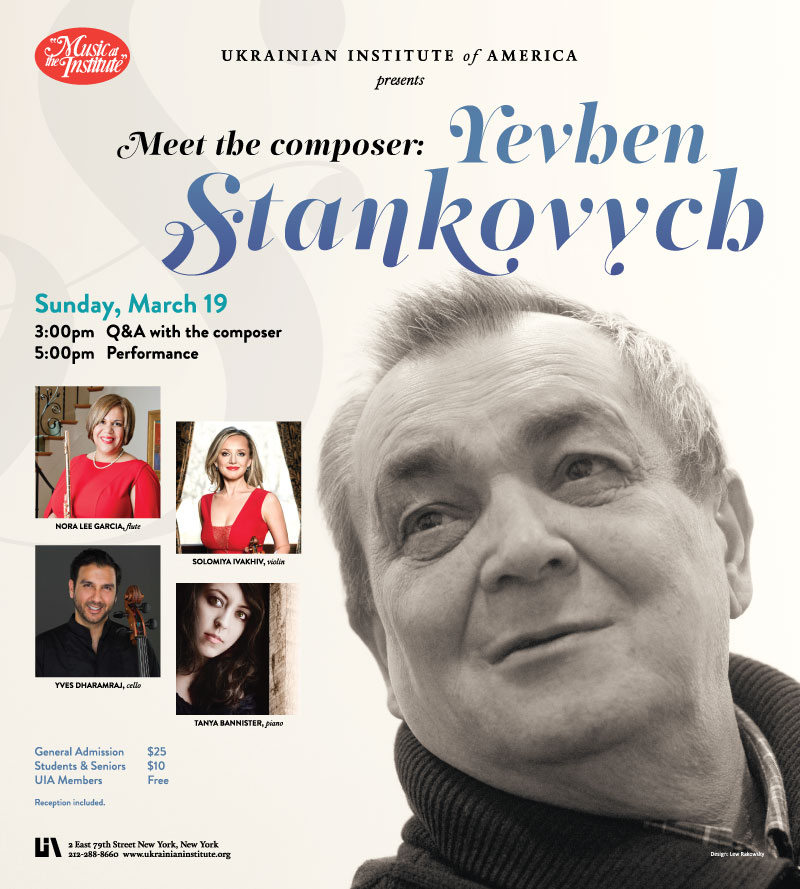 MEET THE COMPOSER — YEVHEN STANKOVYCH
Q&A – meet the composer at 3 p.m.
Performance at 5 p.m.

NORA LEE GARCIA, flute
SOLOMIYA IVAKHIV, violin
YVES DHARAMRAJ, cello
TANYA BANNISTER, piano
PHILIP EDWARD FISHER, piano
Triptych "On the Highland" ("Na Verkhovyni") for Violin and Piano (1972); Sonata No. 2 for Cello and Piano (1968); Two Pieces for Violin and Cello (1972); "Angel's Touch" ("Dotyk Yanhola") for Violin and Piano (2013); "Maidan Fresco" ("Freska Maydanu") for Violin and Piano (2014); "Epilogues" for Piano Trio (2007); Quasi Sonata No. 2 for Flute and Piano ("Dancing on Flowers. Thumbelina" ["Tantsi na kvitakh. Dyuymovochka"]—based on the fairy tale by Hans Christian Andersen) (2011).
The celebrated Ukrainian composer YEVHEN STANKOVYCH will be touring the United States in March with concerts in New York, Chicago, Detroit, and Washington D.C. On Sunday, March 19, 2017, at 5 p.m., his works will be performed in the "Music at the Institute" Series at the Ukrainian Institute of America with the composer in attendance. The performance will be preceded at 3 p.m. by a question and answer session with the composer.
One of the central figures of contemporary Ukrainian music, Yevhen Stankovych is the author of six symphonies, six ballets, a large number of works in the choral, vocal chamber and instrumental genres, as well as incidental music to six music theater plays and over 100 films.
The regime of socialist realism, enforced with greater fervor in the Soviet Ukraine of the 1970's than in Russia, attempted to create barriers to external influences. Yevhen Stankovych is recognized as the leader of the group of young Ukrainian composers who in the early 1970's brought down those barriers and introduced innovation in their techniques and themes. By working within his own parameters, he fell out of favor with Soviet cultural authorities and was rarely given opportunities to have his works performed or recorded outside the USSR. The collapse of the USSR gave him the opportunity to establish contacts with the world, which resulted in recordings of his music by various companies and the performance of his works by performers in other countries, bringing him wide recognition as one of the most individualistic and eminent composers of our time.
The selection of chamber works by Yevhen Stankovych will be performed by five highly acclaimed artists.
NORA LEE GARCIA is one of the most highly regarded flutists in the concert world today. A Powell Flutes Artist and Associate Professor of Flute at the University of Central Florida, she is in demand as an international soloist, chamber artist, and teacher. She has performed with the Chautauqua Symphony in New York and holds the position of principal flute with the Bach Festival Orchestra of Winter Park and the Florida Chamber Orchestra, of which she is a founding member. Ms. Garcia has collaborated with some of the world's finest performers, composers, and conductors, such as Michael Tilson Thomas, George Crumb, Michel Debost, Philip Moll, Howard Buss and Gary Schocker. Most notably, Nora Lee Garcia can be heard on the soundtrack for the Sony Pictures film, The End of the Spear.
Hailed for her "crystal clear and noble sound," violinist SOLOMIYA IVAKHIV is known for her work as a soloist and chamber musician. She regularly appears in solo concert series in North America, Europe, and Asia, and has been featured at prestigious chamber music festivals, including Tanglewood, Ottawa Chamberfest, and the Newport Music Festival. Her performances are often broadcast on National Public Radio, Voice of America Radio, WRTI, KUNR, Ukrainian National Radio and Television, and Chinese Hunan Television. Her debut solo album, Ukraine: Journey to Freedom – A Century of Classical Music for Violin and Piano, recorded with Ukrainian pianist Angelina Gadeliya, released on Labor Records (NAXOS) on February 12, 2016, and was featured in the Top 5 New Classical Releases on the iTunes billboard.
YVES DHARAMRAJ has earned a worldwide reputation as a dynamic cellist who blends immaculate command of the instrument with deep musical understanding to express his fresh and elegant interpretations. As soloist, chamber musician, teaching artist, and composer, the Franco-American cellist enjoys a multifaceted career that takes him to the major stages of the United States and abroad. As an artist also dedicated to the performance of contemporary music, he is a founding member of the genre-defying Bohemian Trio and indulges in the avant-garde as the cellist of Ne(x)tworks. In 2013, he co-founded the New Docta International Music Festival in Argentina to mentor and nurture Latin American talent. Yves Dharamraj premiered Valentyn Silvestrov's Drama in North America.
Pianist PHILIP EDWARD FISHER is widely recognized as a unique performer of refined style and exceptional versatility. International tours as a soloist and ensemble musician have taken him across his native United Kingdom, Europe, Africa, and the United States. He has performed with the Royal Scottish National Orchestra, the Copenhagen Philharmonic, the Tampere Philharmonic, the Toledo Symphony and the Juilliard Symphony, and has worked with such renowned performers and ensembles as The Brodsky Quartet, tenor Robert White, pianist Sara Buechner, and violinists Elmar Oliviera, Philippe Graffin and Augustin Hadelich. His recent release on the Chandos label, Piano Works by the Mighty Handful, was featured on Classic FM as John Suchet's "Album of the Week," as "Classical Album of the Week" in The Telegraph, and has been nominated in the "Best Solo Instrumental Album" category of the International Classical Music Awards 2012.
Lauded by The Washington Post for playing "with intelligence, poetry and proportion," pianist TANYA BANNISTER has triumphed at the Concert Artists Guild International Competition and the New Orleans International Piano Competition, confirming her status among the leading pianists of her generation. Receiving further distinction as an "Artist to Watch" on the cover of the January 2007 issue of Symphony magazine, Ms. Bannister has already appeared on many of the world's great concert halls, with recitals at the Concertgebouw in Amsterdam, Salle Cortot in Paris, Teatro Communale in Bologna, Tokyo's Nikkei Hall, London's Queen Elizabeth and Wigmore Halls, The Kennedy Center in Washington DC, and Weill Recital Hall at Carnegie Hall.
Meet the composer: Yevhen Stankovych