Petrykivka: A Ukrainian Folk Phenomenon and Living Tradition
April 8, 2017

-

April 30, 2017
The Natalie Pawlenko and Yuri Mischenko collection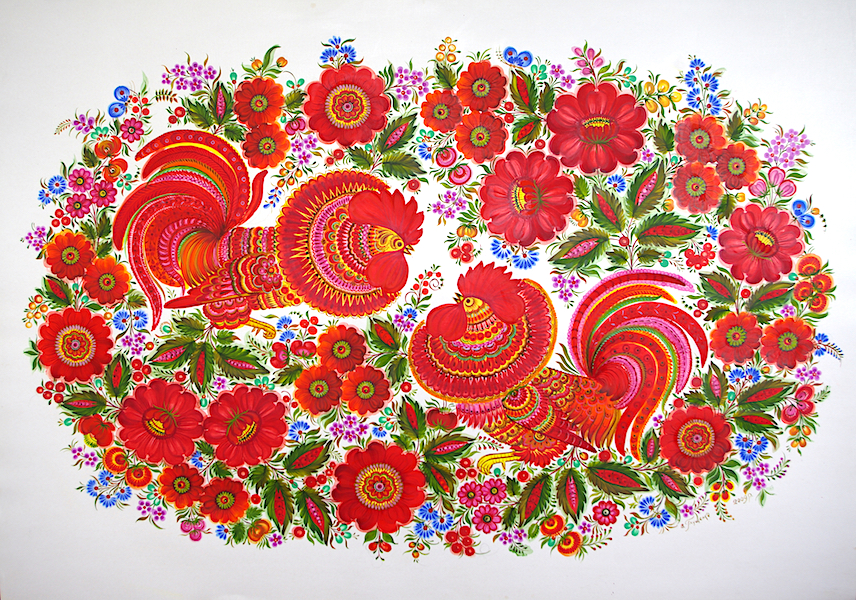 April 8 – 30, 2017
Opening Reception: Saturday, April 8, from 6:00 to 8:00 PM.
Please RSVP to attend.
In time for spring rejuvenation and celebration, Art at the Institute is pleased to present Petrykivka: A Ukrainian Folk Phenomenon and Living Tradition, an exhibition of 47 spirited paintings from the collection of Natalie Pawlenko and Yuri Mischenko. Shown for the first time at The Ukrainian Institute of America, the exhibition is curated by Walter Hoydysh, PhD, director of Art at the Institute.
A unique cultural marvel within the arts and crafts evolution, Petrykivka painting originating from about the 18th century in southeastern Ukraine. The name of the painting style derives from the village of Petrykivka (Dnipro region), in which it appeared and continues to be practiced till this day.
For over 200 years, the villagers of Petrykivka have decorated their homes, architectural details, personal household belongings and musical instruments with a vibrant method of ornamental painting that is characterized by fantastical florals, vines, fruits, birds, people and farm animals — based on astute observations of the local flora and fauna. This art is rich in symbolism: roosters stands for fire and spiritual awakening, while birds represent light, harmony and happiness. In folk belief, the paintings protect people from hardship and evil.
Local people, and, in particular, women of all generations, involve themselves in this folk art custom. Typically, every family has at least one practitioner, making decorative painting an integral part of daily existence in the community. In turn, the community willingly teaches its unique embellishing skills and know-how to anyone showing an interest. The legendary inheritance of this decorative and applied art contributes considerably to the renewal of historical and spiritual consciousness, and defines the identity of the entire community.
In 2012, the Ministry of Culture of Ukraine decreed Petrykivka painting an asset of cultural heritage in Ukraine. This classification was subsequently nominated and, in 2013, inscribed to the Representative List of Intangible Cultural Heritage of Humanity by UNESCO.
During trips to Ukraine, collectors Natalie Pawlenko and Yuri Mischenko enthusiastically acquired works by Petrykivka artists recognized as masters of the art form, constituting a direct link to the style's historical lineage. The Ukrainian Institute of America is pleased to host selected works for display from this unique collection.
Exhibiting Petrykiwka artists include: Nadiya Bilokin, Lidiya Bulavin-Statyva, Mykola Deka, Valentyna Deka, Volodymyr Hlushchenko, Hanna Isayeva, Ala Masyukevich & Hanna Masyukevich, Valentyna Milenko, Halyna Nazarenko, Olena Panko-Yarmolyuk, Andriy Pikush, Maria Pikush, Hanna Prudnykova, Natalya Rybak, Vasyl Sokolenko, and Anna Sokolenko.
Petrykivka: A Ukrainian Folk Phenomenon and Living Tradition