Vyshyvanka Run 2017
August 20, 2017 @ 4:00 pm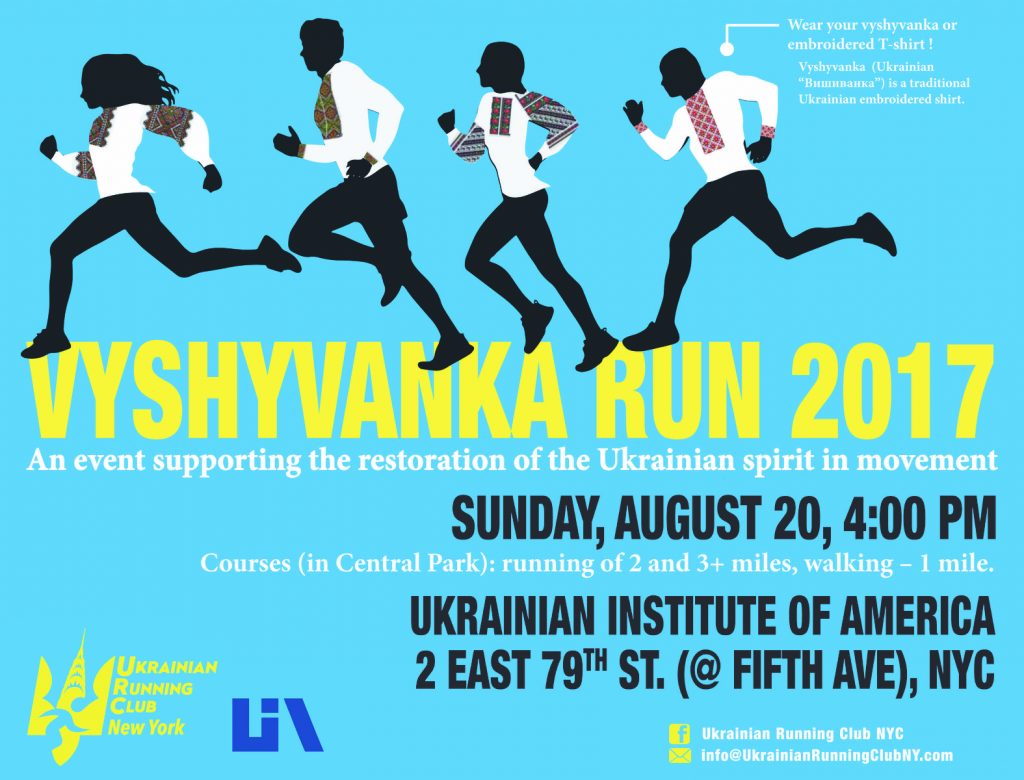 This event supports the restoration of the Ukrainian patriotic spirit in movement. Vyshyvanka is a Ukrainian word for the embroidered blouses and shirts that Ukrainians wear to show unity, spirit and the feeling of belonging to one Ukrainian nation.
Main goal of the event is to promote a healthy and active lifestyle while preserving and demonstrating Ukraine's rich culture through the traditions associated with the vyshyvanka.
Please wear your vyshyvanka or an embroidered cotton T-shirt. You can also get a vyshyvanka at the event for a donation (suggested $10+).
Vyshyvanka Run is a charity event. Collected donations with the exception of operating expenses will go toward supporting Sergiy Romanovskyy's rehabilitation and training. Sergiy Romanovskyy is an ATO veteran who lost his leg in September 2014. Currently he is training for triathlon IRONMAN 70.3 that will take place in Turkey in October 2017. His ultimate goal is to represent Ukraine in 2020 Tokyo Paralympics Games.
Distance of the Vyshyvanka Run: 2 and 3+ miles run; 1 mile walk
Both adults and children are welcomed.
Gathering location: Ukrainian Institute of America @ 2 East 79th Street (between 5th Ave and Madison Ave).
Run will take place in Central Park (course map will be provided in advance)
For more information, please contact info@ukrainianrunningclubny.com.