Yohanan Petrovsky-Shtern: Legends and Parables
October 10 @ 8:00 am

-

November 4 @ 5:00 pm

Art at the Institute is pleased to announce an exhibition of paintings by Yohanan Petrovsky-Shtern, entitled Legends and Parables, curated by Walter Hoydysh, PhD of The Ukrainian Institute of America. Employing deceptively simple Jewish folk and religious scenes as his foundation, Petrovsky-Shtern's works chronicle and illustrate complex embodiments of real human celebration, drama, tragedy, and survival. The exhibition is Petrovsky-Shtern's second showing with The Ukrainian Institute of America.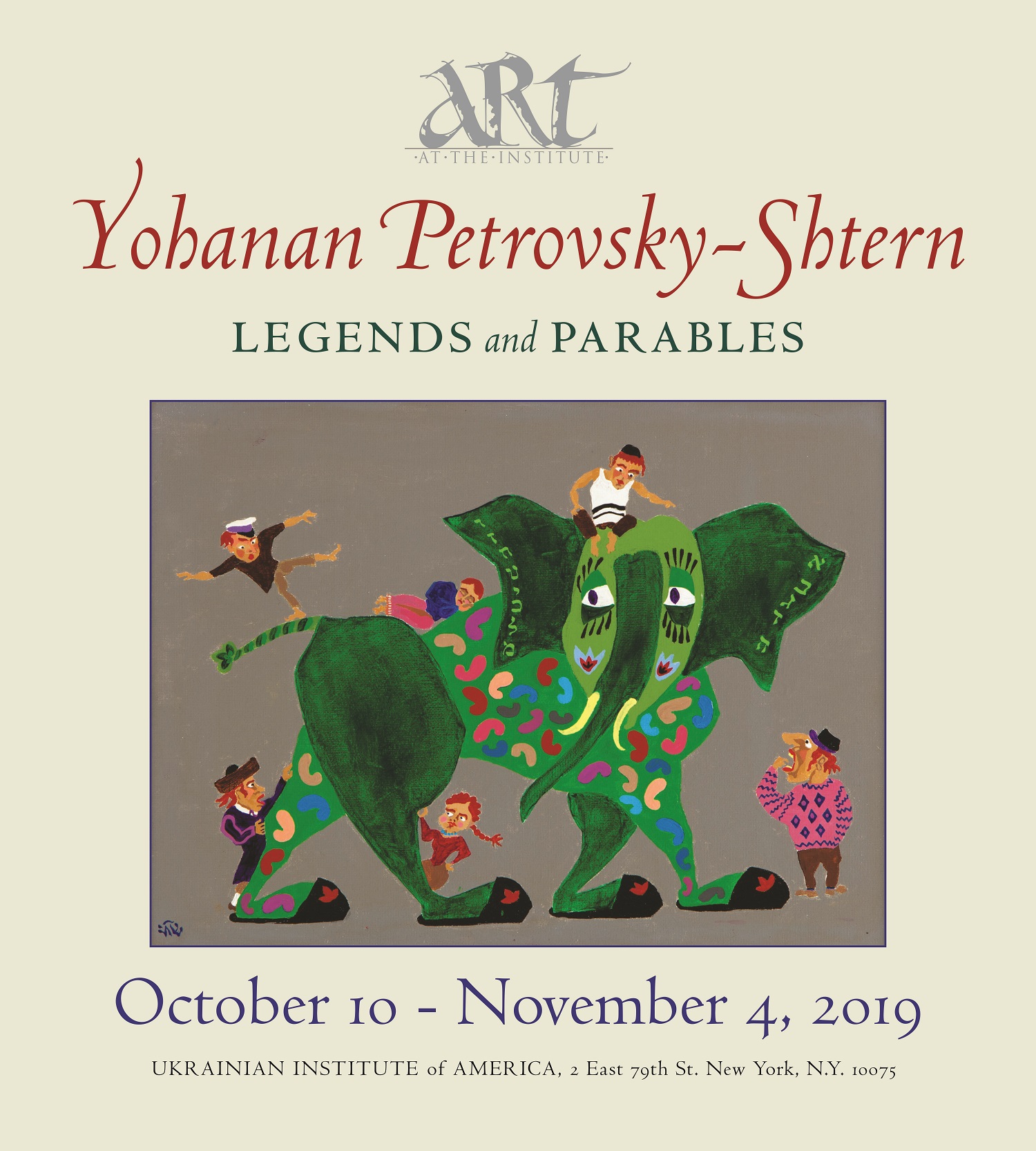 Reception for the artist: Thursday, October 10 from 6:00-8:00pm
"In my paintings I grapple with ideologies and illusions, myths and utopias, seeking to free my characters of the totalitarian pressure of beliefs and myths," notes Petrovsky-Shtern. "Absolute freedom is unattainable, yet it is still possible in the moments when we question myths, hence freeing ourselves from them—rediscovering ourselves as fragile humans, whoever we are ideologically, religiously, politically, socially or culturally." He states that all humankind survives tragedy and adversity, at some point; his art is a continual study and reminder of "this deeply embedded apocalyptic sensibility."
Yohanan Petrovsky-Shtern was born in Kyiv, Ukraine, where, at an early age he learned art with Ukrainian satirist David Miretsky. He attended Taras Shevchenko National University, and holds doctoral degrees from Moscow University and Brandeis University. In 2003, Petrovsky-Shtern joined the History Department faculty at Northwestern University, where he currently serves as the Crown Family Professor of Jewish Studies. He is the recipient of the 2008 Northwestern University Distinguished Teaching Award and the 2011 American Association of Ukrainian Studies Book Award. In addition to numerous published articles and essays, Petrovsky-Shtern is also the author of Jews in the Russian Army, 1827-1917: Drafted into Modernity (2009), The Anti-Imperial Choice: The Making of the Ukrainian Jew (2009), and, The Golden Age Shtetl: A New History of Jewish Life in East Europe (2014).
Johanan Petrovksy-Shtern's paintings have been exhibited at The Ukrainian institute of Modern Art (Chicago), Spertus Institute for Jewish Learning and Leadership (Chicago), The Ukrainian Museum (New York), and The Ukrainian Institute of America (New York).
See Less
Yohanan Petrovsky-Shtern: Legends and Parables