A Ukrainian Polish Evening
November 28, 2023 @ 6:30 pm

-

8:30 pm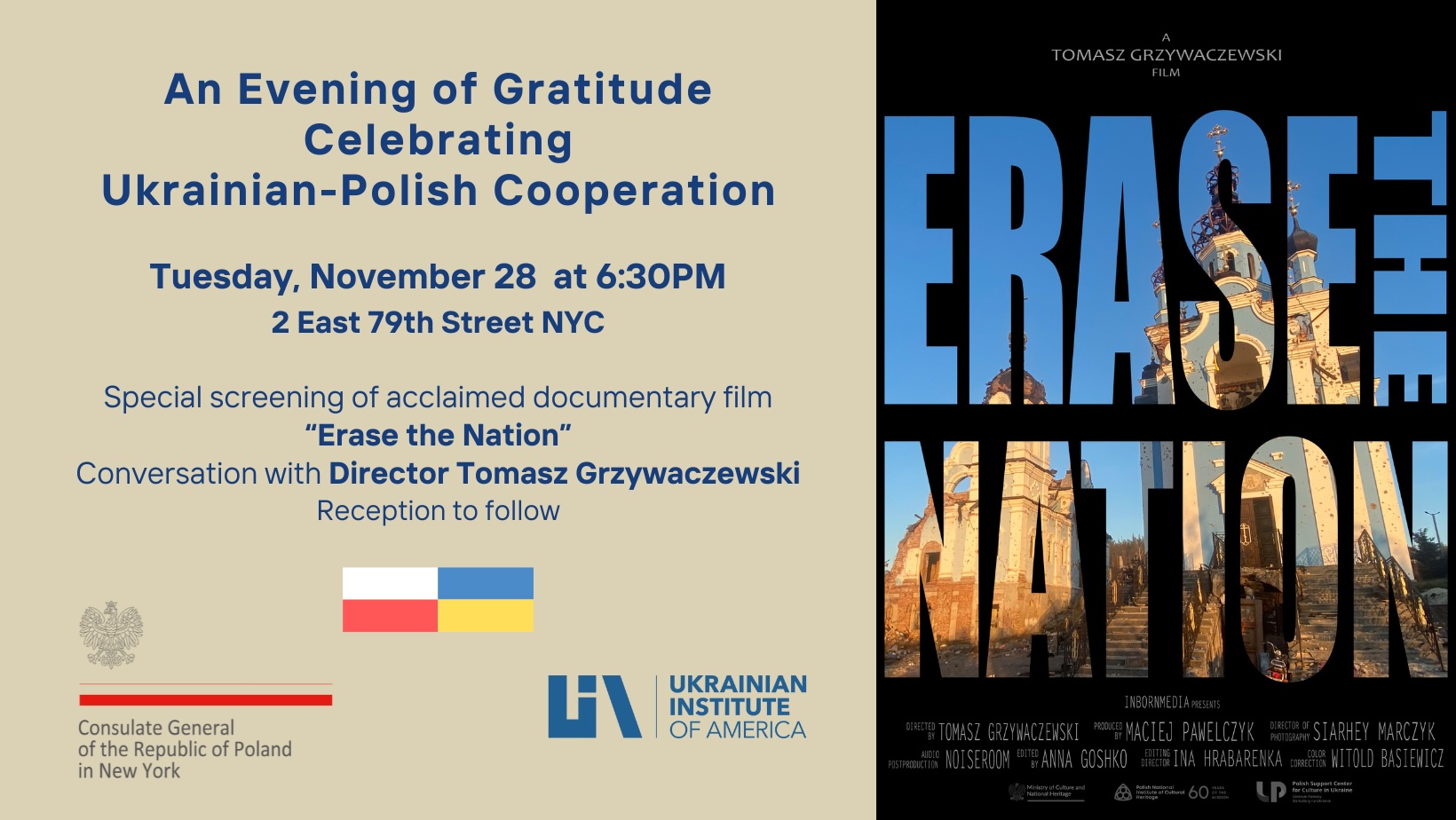 The Ukrainian Institute of America is pleased to co-present, along with the Consulate General of Poland in New York, an evening of friendship between the Ukrainian and Polish people. Guests will have the special opportunity to view the important documentary film "Erase the Nation," about the destruction of Ukraine's cultural heritage since the full-scale invasion on February 24, 2022. Acclaimed Polish filmmaker Tomasz Grzywaczewski will be joined in conversation by Dr. Olha Poliukhovych of Kyiv-Mohyla Academy, to discuss his motivations for making the film and his experiences in Ukraine.
A reception will follow the formal presentation.
This event is free and open to the public. Pre-registration is required.
RSVP
ABOUT "ERASE THE NATION"
The "Erase the Nation" film by Tomasz Grzywaczewski is a documentary showing the destruction of Ukraine's cultural heritage by Russian Federation troops since the invasion began on February 24, 2022.
Before the war, there were more than 5,000 museums, 65 historical-cultural reserves and about 170,000 monuments, including seven UNESCO World Heritage sites in Ukraine. During the first ten months of the war, Ukraine's Ministry of Culture and Information Policy registered more than 800 cases of destruction by Russian troops on Ukraine's cultural heritage. This number is growing every day, and still does not include all areas and damages.
"Erase the Nation" shows the deliberate destruction of Ukrainian monuments throughout the country, crimes committed against secular and sacred cultural heritage, from archaeological monuments to modern libraries and schools.
It also presents statements by Ukrainian cultural representatives that paint a picture of a deliberate struggle against brutal invaders who are consistently attacking Ukrainian identity. As the National Institute of Cultural Heritage, a body that commissioned the film, wrote, it also presents ways of securing and trying to protect the destroyed objects, as well as the scale of assistance that is and will be needed to protect and restore the cultural heritage located in Ukraine. The picture was financed by funds from the Ministry of Culture and National Heritage.
A Ukrainian Polish Evening