Askold Melnyczuk: The Man Who Would Not Bow and Other Stories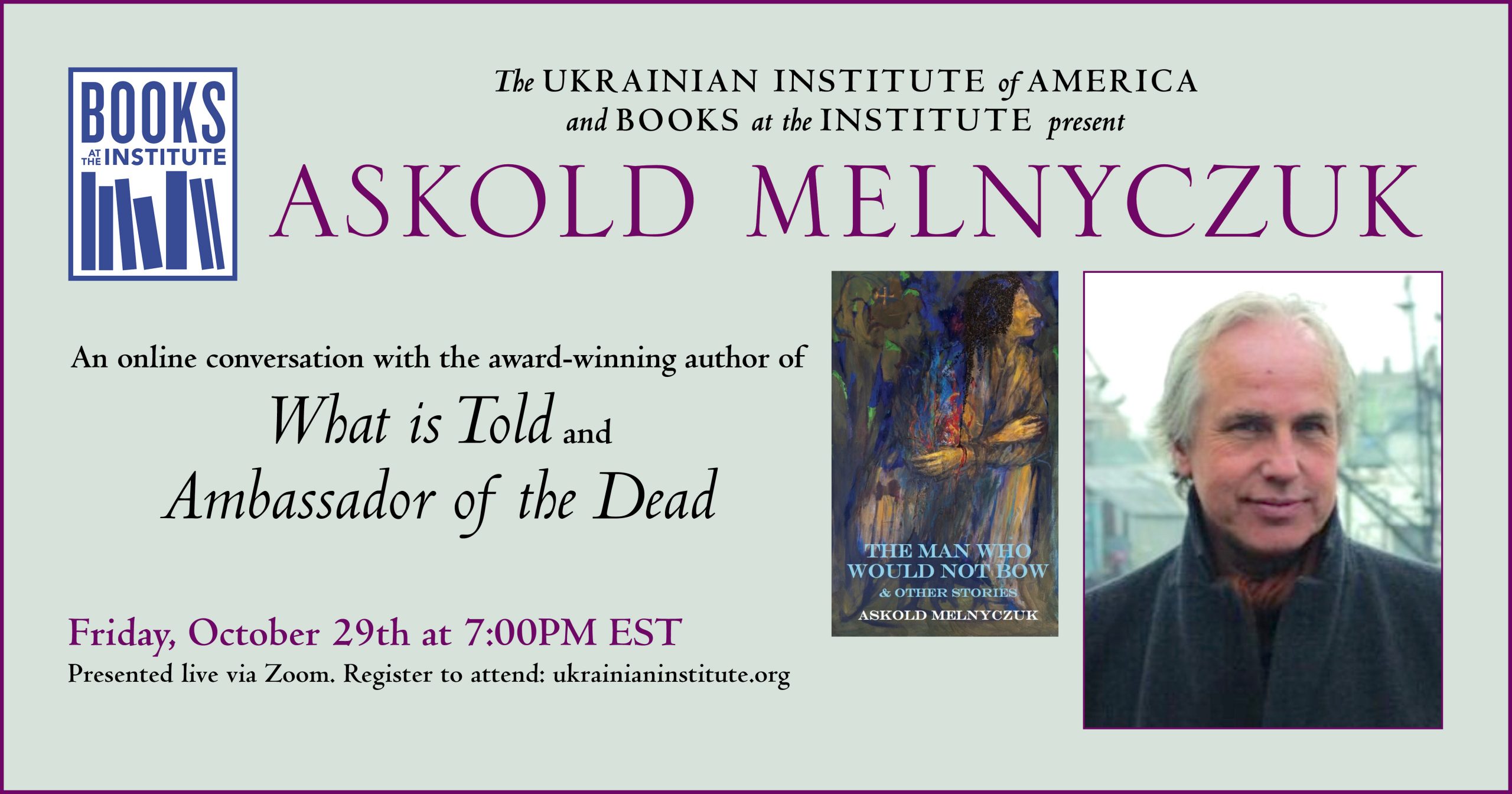 Books At The Institute
is delighted to present a special virtual event
Askold Melnyczuk: The Man Who Would Not Bow and Other Stories
Award-winning author of "What is Told" and "Ambassador of the Dead"
---
Moderated by Andrew Horodysky, the event will be held virtually via Zoom.
Join us online for an evening conversation with Askold Melnyczuk as he talks about the writing life and his latest publication, The Man Who Would Not Bow and Other Stories (Grand Iota, October 2021). This short collection covers a cast of characters including a journalist in a Middle Eastern war zone, an unemployed actor struggling with elder care, members of a commune planning to kidnap a priest, a torturer's mother and, finally, Mykola Hohol (Nikolai Gogol) wrestling with his angels and demons.
From Kirkus review (Aug 15, 2021): "The stories … often explore the links between the lusty and the high-minded and that make an argument for their being not opposing values but flip sides of a coin … tend to be discursive and philosophical-minded, but always with a powerful link to the physical, to the tactile, homely real … Smart, complex stories that can on occasion feel diffuse but that never fail to hold the reader's interest."
Attendees will have an opportunity to contribute comments and ask questions.
About Askold Melnyczuk
Ukrainian-American writer Askold Melnyczuk has published four novels which have variously been named a New York Times Notable, an LA Times Best Books of the Year, and an Editor's Choice by the American Library Association's Booklist. He is also co-editor of From Three World, an anthology of Ukrainian writers. He has edited books on Father Daniel Berrigan and the painter Gerald Bergstein, as well as a series of poetry volumes published by Graywolf Press. His published translations include work by Oksana Zabuzhko, Marjana Savka, Bohdan Boychuk, and Ivan Drach. His shorter work, including essays, stories, and reviews, have appeared in The Threepenny Review, The New York Times, The Boston Globe, The Times Literary Supplement (London), The Antioch Review, Irish Pages, The American Poetry Review, The Missouri Review, Poetry, The Los Angeles Times, The Harvard Review and elsewhere.
Melnyczuk received a three-year Lila Wallace-Readers' Digest Award in Fiction, the McGinnis Award in Fiction, and the George Garret Award from AWP for his contributions to the literary community. He is founding editor of Agni for which he received PEN's Magid Award for creating "one of America's, and the world's, leading literary journals." Founding editor of Arrowsmith Press, he has taught at Boston University, Harvard, Bennington College and is currently Professor of English, University of Massachusetts in Boston.
---
Askold Melnyczuk: The Man Who Would Not Bow and Other Stories