Lessons from LEGO: Modularity and the Megaproject of Rebuilding Ukraine
March 23, 2023 @ 1:00 pm

-

2:30 pm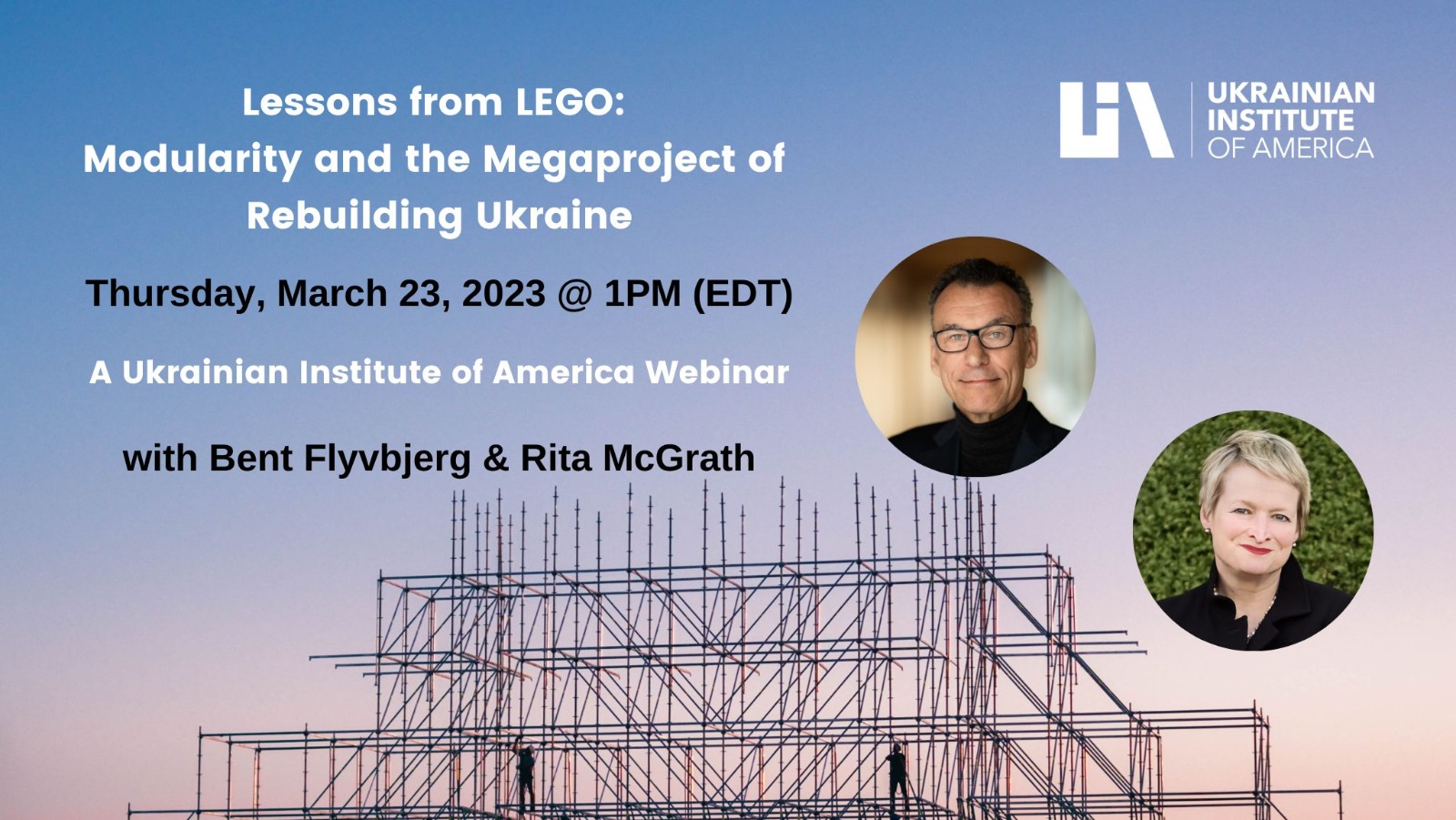 Bent Flyvbjerg, a Professor at Saïd Business School of the University of Oxford and IT University of Copenhagen, is a leading world scholar on project and program management. His new book, How Big Things Get Done, was described by The Wall Street Journal as a "seminal work on big projects." Professor Flyvbjerg's research has led him to formulate an innovative approach to building construction that leverages the modular concept behind LEGO.  In this webinar, Professor Flyvbjerg will discuss how the lessons from his book can be applied to the reconstruction of Ukraine. He will be joined by Rita McGrath, Professor at Columbia Business School and an international expert on strategy and innovation in uncertain and volatile environments. The pairing of these two professors holds much promise for an insightful and engaging conversation.
---
---
Bent Flyvbjerg is the first BT Professor and inaugural Chair of Major Programme Management at Oxford University's Saïd Business School and the Villum Kann Rasmussen Professor and Chair in Major Program Management at the IT University of Copenhagen. He works for better leadership of programs in business and government. He is the most cited scholar in the world in project and program management and included on Stanford University's prestigious Top 2% of most cited scholars in the world.
Flyvbjerg is the author or editor of numerous books and papers, translated into 20 languages. He has pioneered research in behavioral science, including power bias, strategic misrepresentation, optimism bias, the planning fallacy, and reference class forecasting. His research has been widely covered in the media, including The New York Times, The Wall Street Journal, The Economist and The Financial Times. He is a frequent commentator in the news. He has received numerous honors and awards, including a knighthood and two Fulbright Scholarships.
Flyvbjerg is founder and co-founder of a dozen highly successful research groups, degree programs, and startups, latest at Oxford and ITU. Flyvbjerg is a senior advisor to government and business around the world, including 10 Downing Street, the US and Chinese governments, and several Fortune 500 companies. He is an external advisor to McKinsey & Co. He has worked on some of the largest projects and portfolios in the world, on front-end planning, delivery, rescue of failing projects, postmortems, de-biasing, audits, and as expert witness. He is the founding chairman of Oxford Global Projects. His most recent book, How Big Things Get Done, The Surprising Factors that Determine the Fate of Every Project from Home Renovations to Space Explorations and Everything in Between written with journalist Dan Gardner, has been widely acclaimed.
Rita McGrath is a best-selling author, a sought-after advisor and speaker, and a longtime professor at Columbia Business School. Rita is one of the world's top experts on strategy and innovation and is consistently ranked among the top 10 management thinkers in the world, including the #1 award for strategy by Thinkers50. McGrath's recent book on strategic inflection points is Seeing Around Corners: How to Spot Inflection Points in Business Before They Happen (Houghton Mifflin Harcourt, 2019). Rita is the author of four other books, including the best-selling The End of Competitive Advantage (Harvard Business Review Press, 2013).
Lessons from LEGO: Modularity and the Megaproject of Rebuilding Ukraine