Mountain and Flower. Selected poems by Mykola Vorobiov
March 10, 2023 @ 7:00 pm

-

9:00 pm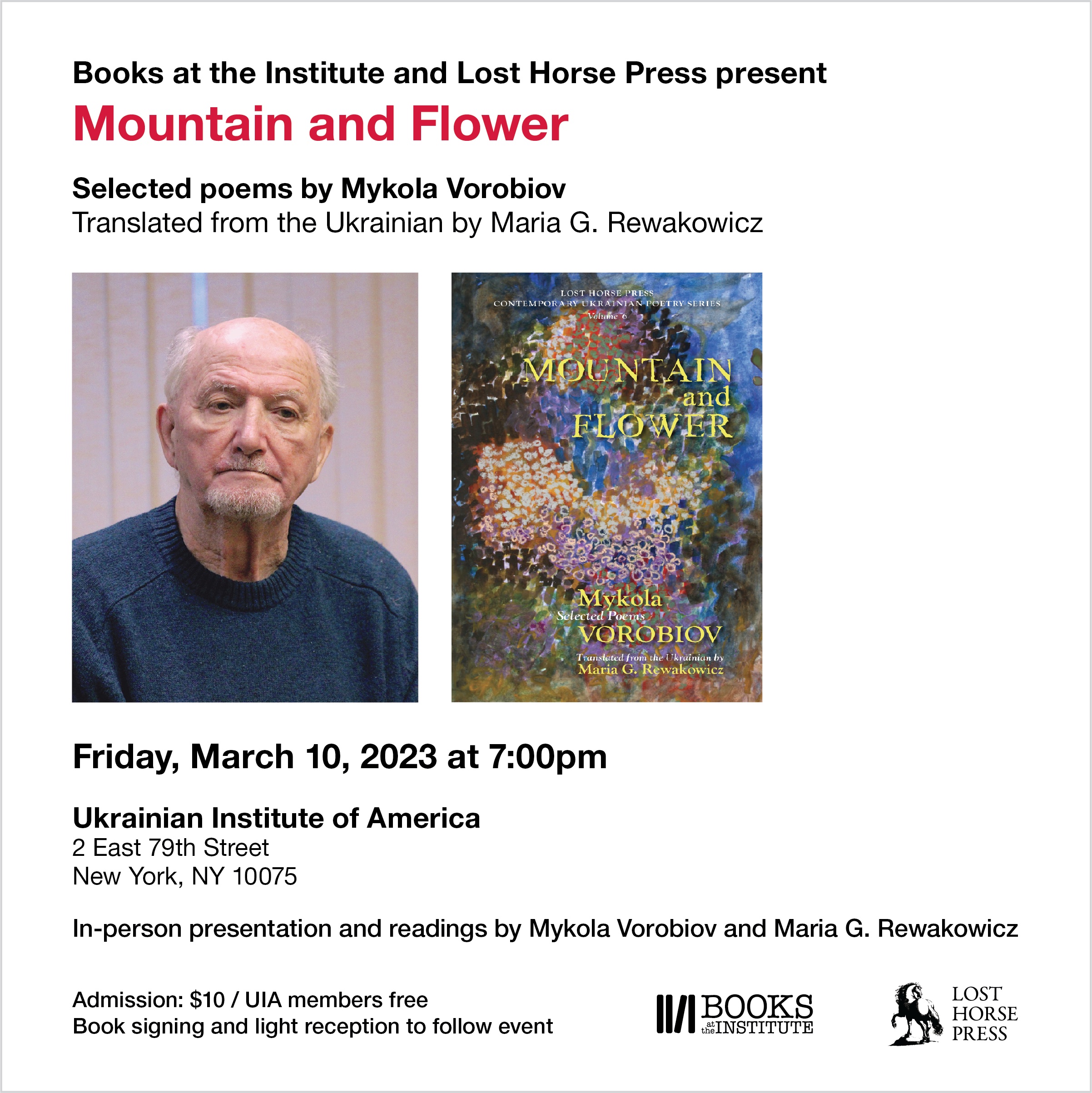 Books at the Institute and Lost Horse Press are delighted to present
Mountain and Flower
Selected poems by Mykola Vorobiov 
Translated from the Ukrainian by Maria G. Rewakowicz
Book signing and light reception to follow
Admission is $10 / UIA members free
Please RSVP here
---
Published by Lost Horse Press's Ukrainian Contemporary Poetry Series, Mountain and Flower is Mykola Vorobiov's second book in English translation, presenting a selection of poems spanning more than fifty years of his writing craft. Vorobiov is noted for his preoccupation with metaphor and surreal imagery evocative of the natural world and represents some of the finest examples in Ukrainian literature of what could be called "pure poetry." Readers are confronted with a fresh perspective on objects, natural phenomena, and human emotions—a lyrical reflection on perception, intuition, and knowledge. Mountain and Flower attempts to penetrate the invisible that has no beginning and no end, and invites the beholder to plunge into this mysterious unknown.
Mykola Vorobiov, born in central Ukraine in 1941, is a well-known poet, painter, and one of the founding members of the Kyiv School of Poetry nonconformist literary group. He made his poetry debut in 1962, but after his expulsion from the Taras Shevchenko National University of Kyiv in 1968 for being "ideologically unreliable," he was no longer permitted to publish. His first poetry collection, Remind Me for the Road, came out only in 1985, after eighteen years of silence. Since then, more than ten volumes of poetry have appeared, including Wild Dog Rose Moon (1992), his first book in English translation. As a painter, Vorobiov has participated in a number of solo and group art shows, mostly in Kyiv. A recipient of the prestigious 2005 Shevchenko National Prize in Literature, Vorobiov finds home in Kyiv, Ukraine, but currently resides in New York City, displaced by the Russian war against Ukraine.
Maria G. Rewakowicz is a poet, translator, and literary scholar. She holds a Ph.D. in Slavic Languages and Literatures from the University of Toronto and has taught Ukrainian literature at a number of universities, most recently at Rutgers University—New Brunswick, NJ. She has authored four collections of poetry in Ukrainian, two anthologies of the New York Group of poets, and two monographs of literary criticism in English. Her book Ukraine's Quest for Identity: Embracing Cultural Hybridity in Literary Imagination, 1991-2011 (2018) is the 2019 winner of the Omeljan Pritsak Book Prize in Ukrainian Studies. Her translations from Polish and Ukrainian have appeared in Agni, Cyphers, Modern Poetry in Translation, Modern Haiku, and Toronto Slavic Annual. Born in Poland to Ukrainian parents, Rewakowicz lives in New York City.
In 2017, Lost Horse Press publisher Christine Holbert and editor Grace Mahoney established the Lost Horse Press Contemporary Ukrainian Poetry Series. The series features dual-language editions of poetry from Ukraine's most significant poets operating in the contemporary context. These critically-acclaimed and award-winning books showcase the diversity of poets who write from a range of geographies, poetic perspectives, and literary movements. Of critical importance is the fact that many of the poems featured in this series meditate on the significance of Ukraine's independence and the positionality of the poet in a literature-centered culture in times of war.
www.losthorsepress.org
——————————————————
To have a copy of the book signed, Mountain and Flower will be available for purchase ($20.00) at The Ukrainian Institute of America the evening of the talk and presentation.
 By purchasing a book from the UIA, you are supporting its continued cultural and educational programming and the further enjoyment of its unique events by our friends and community along New York's Museum Mile.
——————————————————
For further information: Please contact the Ukrainian Institute of America at (212) 288-8660 or mail@ukrainianinstitute.org.
Mountain and Flower. Selected poems by Mykola Vorobiov