Myroslava Gongadze in Conversation | The Power of Passion Series
February 4, 2022 @ 7:00 pm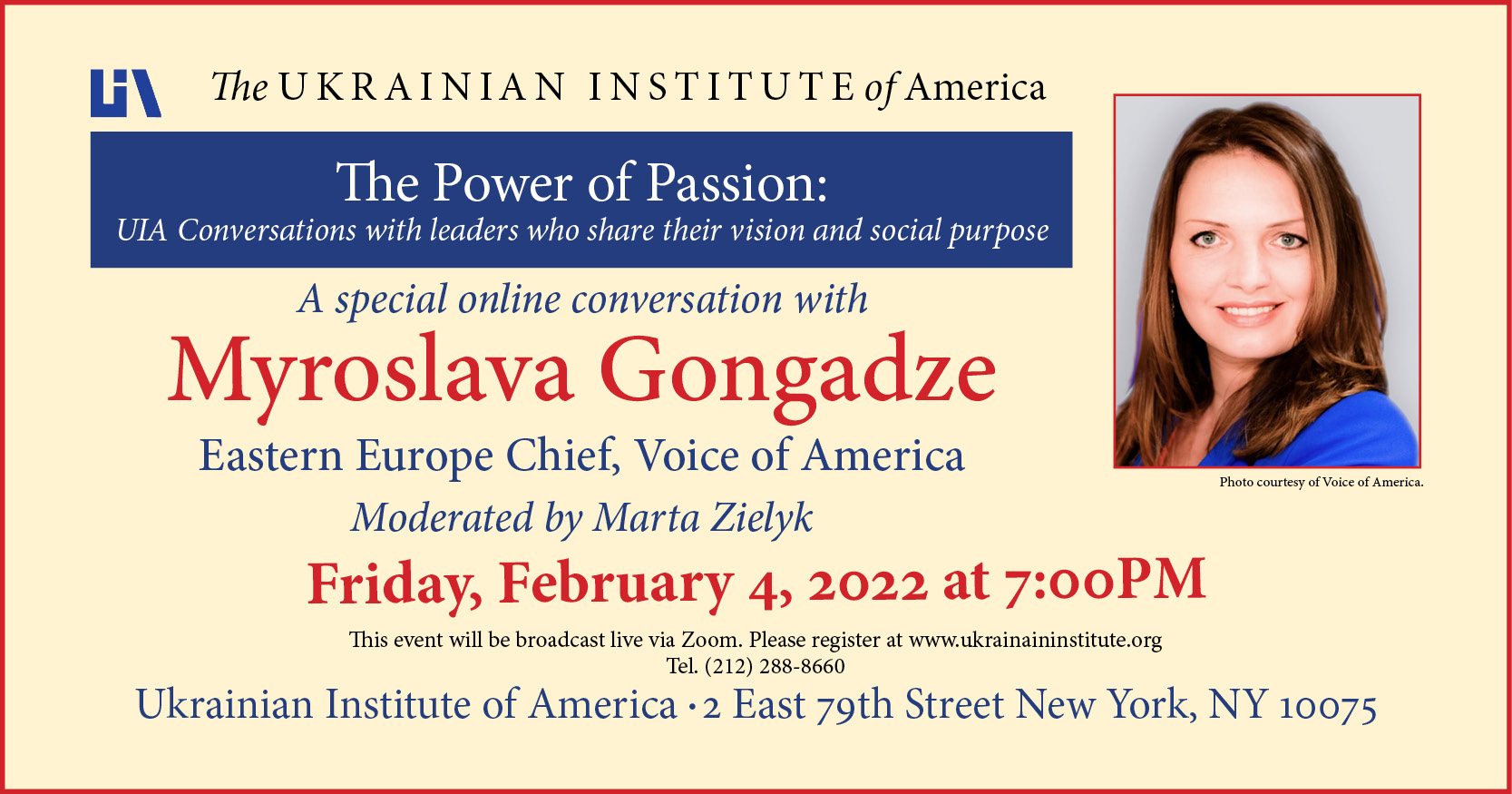 The Ukrainian Institute of America is pleased to host a special evening with Myroslava Gongadze, Eastern Europe Chief with Voice of America, as its guest in the series of talks with leaders who share their visions and social purpose — The Power of Passion. Ms. Gongadze will discuss her life in journalism, her championing of human rights and the rights of a free press, as well as reflections on the delicate state of affairs in a democratic Ukraine.
Moderated by Marta Zielyk, this event will be held online via Zoom, Friday, February 4 at 7:00pm.
This webinar is available on the UIA YouTube channel. 
___________________
Myroslava Gongadze is Eastern Europe Chief at Voice of America (as of December 2021).
A tireless campaigner for human rights and international media freedoms, Ms. Gongadze has been instrumental in modeling democratic media norms and helping Ukrainians better understand US policy towards their country. She was granted political asylum in the United States in 2001 following the murder of her husband, high-profile investigative journalist Georgy Gongadze. Her personal story became a rallying cry during the democracy movement that later grew into the 2004 Orange revolution in Ukraine.
Since she fled Ukraine, she has worked tirelessly to bring her husband's case to justice and won a landmark case against the Ukrainian government from the European Court of Human Rights in November 2005.
Her coverage of developments during the Euromaidan Revolution and ensuing crisis period of Russia's aggression raised her international profile, as did her role as moderator of the nationally televised Ukraine's first post-Maidan election debates in 2014.
In addition to her work at Voice of America (until recently, Head of the Ukrainian Service), Gongadze is often invited to speak as a subject matter expert in various forums discussing politics, democratization and media in Ukraine.
She periodically contributes to NPR and her writings have been published in the Wall Street Journal, Washington Post, NPR and the Journal of Democracy.
Gongadze received the Reagan-Fascell Democracy Fellowship to study the role of media in Ukraine's transition to democracy (2001) and the Petrak Foundation Scholarship at the George Washington University (2003). Also in 2014, Gongadze received the Princess Olha Order, a Ukrainian civil decoration bestowed on women of outstanding personal merit, for her contribution to the development of journalism, active civic stance and professional excellence.
__________________
Marta Zielyk, a recently retired U.S. State Department civil servant, spent 25 years working as the United States' senior diplomatic interpreter for Ukrainian. Prior to that, she was an international broadcaster working with the Ukrainian Service of Radio Free Europe/Radio Liberty in New York, Washington and Munich, and with the Ukrainian Service of the Voice of America in Washington. In her role as the State Department's senior diplomatic interpreter for Ukrainian, Ms. Zielyk served as the official interpreter for meetings between presidents of the United States and Ukraine, as well as many other high-ranking government officials from both countries, during some of the most pivotal moments in Ukraine's history as a post-Soviet, democratic country. A lifelong advocate for community service, Ms. Zielyk occupied leadership roles with The Washington Group, and is a member of Plast and the Ukrainian National Women's League of America.
Myroslava Gongadze in Conversation | The Power of Passion Series