Safeguarding Ukraine's Cultural Heritage During the Time of War
December 14, 2022 @ 6:30 pm

-

8:30 pm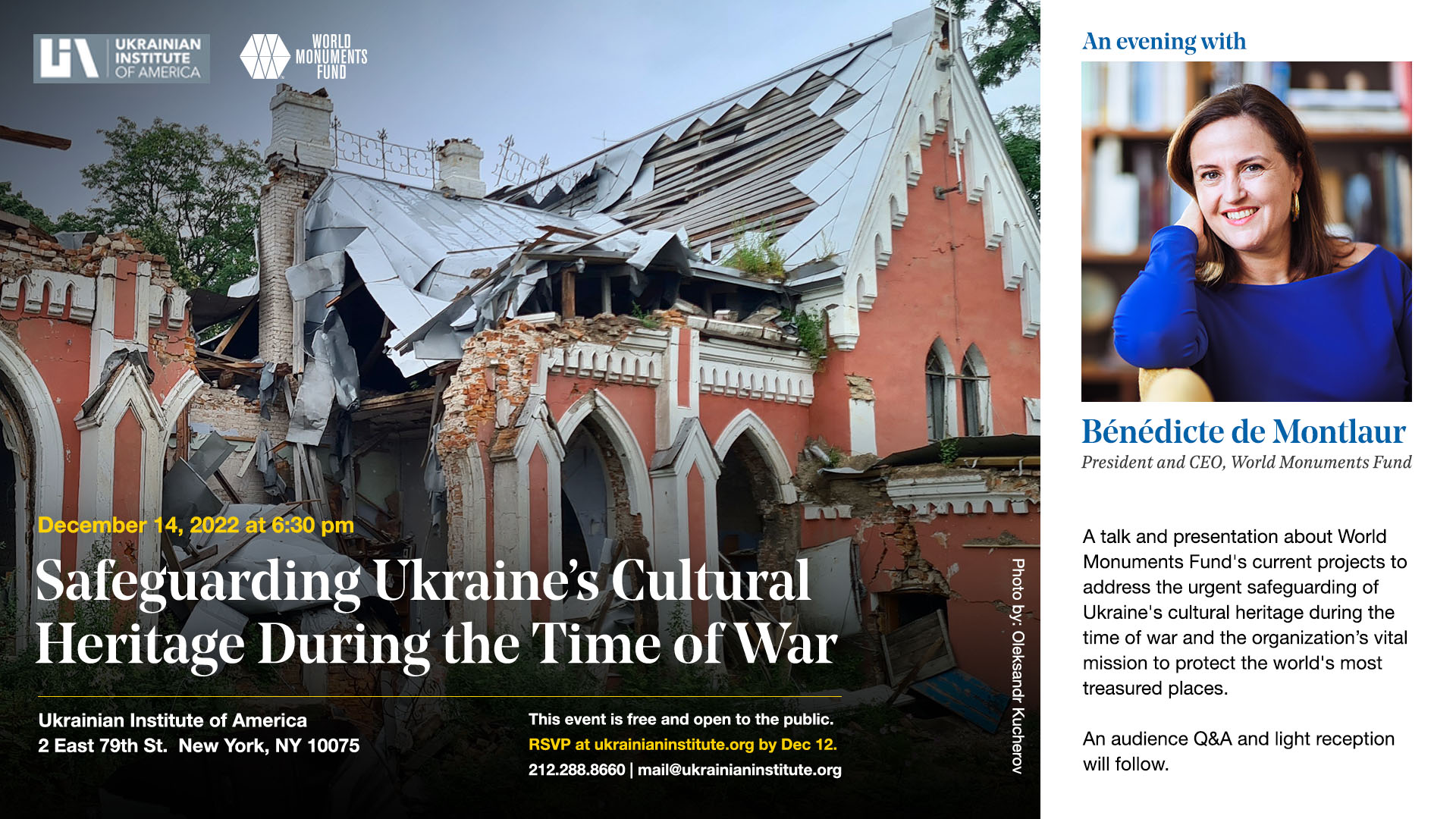 Ukrainian Institute of America and World Monuments Fund
are pleased to present an evening with
Bénédicte de Montlaur
President and CEO of World Monuments Fund
A talk and presentation about World Monuments Fund's current projects to address the urgent safeguarding of Ukraine's cultural heritage during the time of war and the organization's vital mission to protect the world's most treasured places.
Ukrainian Institute of America
2 East 79th Street
New York, NY 10075
Wednesday, December 14 at 6:30 p.m.
Admission is free and open to the public.
RSVP by December 12.
Ms. de Montlaur will be joined by Javier Ors Ausín, Program Manager, World Monuments Fund, who oversees WMF's Crisis Response operations around the world.
An audience Q&A and light reception will follow the presentation.
---
About World Monuments Fund
World Monuments Fund (WMF) is the leading independent organization devoted to safeguarding the world's most treasured places to enrich people's lives and build mutual understanding across cultures and communities. The organization is headquartered in New York City with offices and affiliates in Cambodia, India, Peru, Portugal, Spain and the UK. Since 1965, our global team of experts has preserved the world's diverse cultural heritage using the highest international standards at more than 700 sites in 112 countries. Partnering with local communities, funders, and governments, WMF draws on heritage to address some of today's most pressing challenges: climate change, underrepresentation, imbalanced tourism, and post-crisis recovery. With a commitment to the people who bring places to life, WMF embraces the potential of the past to create a more resilient and inclusive society.
Ukraine Heritage Response Fund
Since the invasion of Ukraine, at least 53 historical sites have been identified as severely damaged or destroyed according to UNESCO, including the Ivankiv Historical and Local History Museum and its collection; the Holy Mountains Lavra, a seventeenth-century monastery in Eastern Ukraine; and the historic center of Chernihiv, which is on the Tentative List for World Heritage status.
With an initial seed grant of $500,000 from Helen Frankenthaler Foundation, World Monuments Fund's (WMF) Ukraine Heritage Response Fund supports Ukrainian heritage professionals and provide supplies necessary to protect Ukrainian heritage places. When safe to do so, physical conservation projects will be necessary to stabilize and rehabilitate many important cultural sites across Ukraine. WMF is preparing now for those future needs by building a strong foundation of financial support that can be deployed for physical conservation work at cultural heritage sites.
For more information about WMF's Ukraine Heritage Response Fund at https://www.wmf.org/ukraine-heritage-response-fund
Bénédicte de Montlaur
President and CEO, World Monuments Fund
Bénédicte de Montlaur is President and CEO of World Monuments Fund (WMF), the world's foremost private organization dedicated to saving extraordinary places while empowering the communities around them. She is responsible for defining WMF's strategic vision, currently implementing that vision in more than 30 countries around the world and leading a team that spans the globe. Her background mixes culture and the arts, politics, international diplomacy, and human rights. Prior to joining WMF, Montlaur spent two decades working across three continents as a senior diplomat at the French Ministry of Foreign Affairs.
Javier Ors Ausín
Program Manager, World Monuments Fund
Javier Ors Ausín is an architect with experience in heritage preservation, urban planning, and design. He joined WMF in 2017, where he oversees the organization's special programs, which includes Modernism, the Jewish Heritage Program, and the Crisis Response Program; as well as managing conservation field projects in five different countries. He has presented research at the Royal Geographical Society, the Society of Architectural Historians, and ICOMOS, and has been a guest critic in many universities, including the University of Toronto, Columbia University, Pontificia Universidad Católica del Perú, among others. Javier holds a Master in Architecture from the Universidad Politécnica de Valencia in Spain, and a Master in Critical Conservation from the Harvard University Graduate School of Design.
Kateryna Goncharova
Ukraine Heritage Crisis Specialist (Kyiv)
Kateryna Goncharova previously served as a Head of the Research Department at the Ukrainian State Research and Project Institute for Historic Preservation; she has been involved with the preservation of architectural heritage and historical sites of Ukraine, including research, management, and scientific support of projects. As a Fulbright Scholar, Dr. Goncharova also conducted research concerning the U.S. experience in historic preservation based on public-private partnership, community engagement, and neighborhood revitalization. She also managed and co-organized numerous projects on integrated urban development, civic participation, and evaluation of cultural heritage as a resource for strategic development. Kateryna Goncharova holds a Ph.D. in Museum and Monuments Studies from The Center of Monuments Research at the National Academy of Science (NAS) Ukraine and USPHCM.
---
For further information, please contact Ukrainian Institute of America at (212) 288-8660 or mail@ukrainianinstitute of America.
Safeguarding Ukraine's Cultural Heritage During the Time of War