The Fiber Effect
February 25, 2022

-

April 24, 2022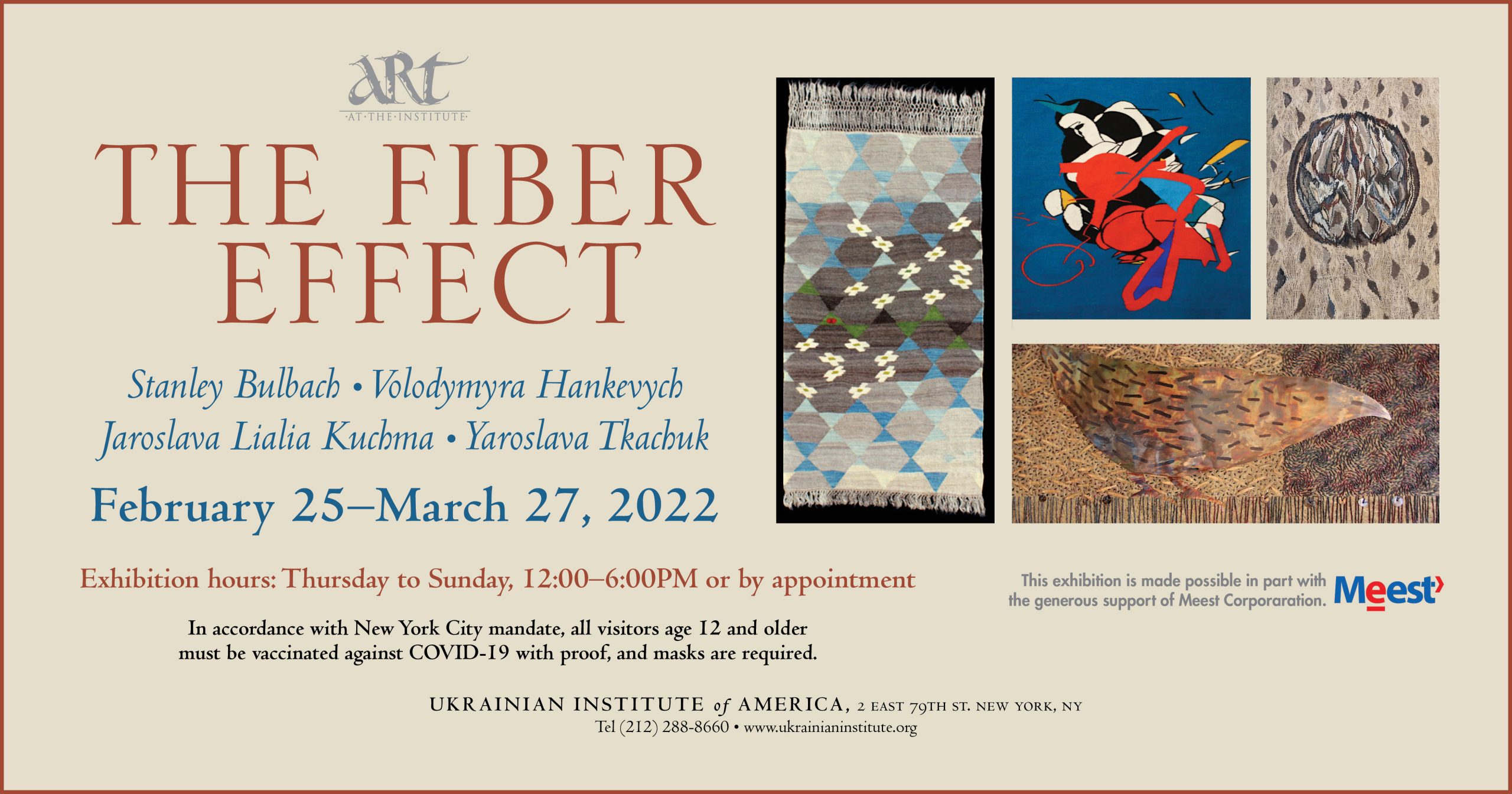 The Fiber Effect
February 25–April 24, 2022
Public reception: Friday, March 4, 2022, 6:00–8:00 PM
Art at the Institute is delighted to announce a special exhibition of textile-based artworks by contemporary artists Stanley Bulbach (New York), Volodymyra Hankevych (Lviv, Ukraine), Jaroslava Lialia Kuchma (Chicago), and Yaroslava Tkachuk (Lviv). The exhibition examines the themes and techniques and the relationships among material, process and the maker — within a contemporary context — representing one of the world's longest and most accessible aesthetic traditions. A public reception will be held on Friday, March 4 from 6:00 – 8:00 PM.
Ancient cultures knew something that artists, along with new generations of craftspeople, are rediscovering — that fiber (woven, knitted, braided, quilted, crocheted, embroidered) can be an expressive medium, one more powerful, perhaps, than for its ubiquity. Textiles, after all, accompany us on nearly every step of life: we are born and swaddled in it, kept warm by it, buried in shrouds, and are used for cultural identity, ritual and decoration.
A renewed embrace of fiber may have something to do with our increasingly virtual world, removed every day of personal contact and interaction. Textiles, in contrast, are earthy and inherently tactile. We describe the "hand" of fabric, meaning the feel of it — whether smooth and cool or rough and grainy. We speak, too, of the "fabric of society," especially when it is unraveling.
The foundation for this project is to encourage discourse on the role of fiber art in society, its cultural and spiritual identity, the exhibiting artists' creations as expressive discovery, celebration of the handmade, and invoke wonder and that rarest and most coveted of emotions: Joy.

Curated by Walter Hoydysh, PhD, Director of Art at the Institute, this exhibition will be on view through April 24.
Exhibition hours: Thursday to Sunday, 12:00–6:00pm, or by appointment.
For further information: Please contact the Ukrainian Institute of America at (212) 288-8660 or mail@ukrainianinstitute.org.
This exhibition is made possible in part with the generous support of Meest Corporation.

---
About Art at the Institute
Celebrating its sixty-seventh year of activity, Art at the Institute is the visual arts programming division of the Ukrainian Institute of America. Since its establishment in 1955, Art at the Institute organizes projects and exhibitions with the aim of providing postwar and contemporary Ukrainian artists a platform for their creative output, presenting it to the broader public on New York's Museum Mile. These heritage projects have included numerous exhibitions of traditional, modern and contemporary art, and topical stagings that have become well-received landmark events.