The Lost Operas of Stefania Turkevych
Lecture and video screening by Erica Glenn, Arizona State University.
Stefania Turkevych (1898-1977) was the first female composer from Ukraine to achieve professional renown. She was also the first female in Galicia to receive a PhD, with a boldly nationalistic dissertation entitled "Ukrainian Folklore in Russian Operas." The quantity and quality of Turkevych's compositional output—four operas, three symphonies, five ballets, numerous choral and chamber works—should be more than enough to establish her as a major figure in Ukraine and beyond. Sadly, her works were banned by the USSR for challenging Socialist Realism, and her greatest works remain unknown. Turkevych was born in Lviv 1898 to a father who was a priest and a mother who was a pianist. As a child, she learned to play piano, harp, and harmonium, and her prodigious talent led her to study in Vienna (1914-16; 1921-25), at the Lviv Conservatory (1918-19), and in Prague at the Prague Conservatory and Ukrainian Free University (1930-34). Shortly after marrying Robert  Lissovsky (1925), Turkevych moved to Berlin and studied composition with Arnold Schoenberg and Franz Shreker. In 1934, Turkevych returned to Lviv where she taught at the Lviv National Music Academy until 1939, at which point she began working as a tutor and concertmaster at the Lviv National Opera. In 1946, when her works were banned throughout the USSR, Turkevych fled to Austria, then Italy (where her second husband, Nartsiz Lukyanovich, was living), and, finally, to England. Turkevych passed away in Cambridge (where she performed for many years as a concert pianist) in 1977 at the age of 78.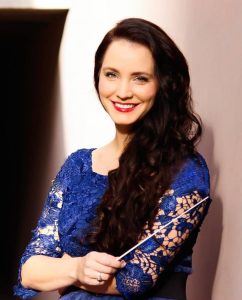 Erica Glenn is an ABD doctoral candidate in Choral Conducting at Arizona State University, where she led the Women's Chorus for two years, taught Beginning Conducting, and worked as chorus master for various opera productions. She holds a BM and MM in Music Theory and Composition (Longy School of Music) and an Ed.M. in The Arts in Education (Harvard). She is a 2020 recipient of an American Councils Research Grant, a Creative Constellation Grant, and a Melikian Center Grant for her research into the life and works of Stefania Turkevych, Ukraine's first female composer. In 2019, she received Arizona State University's Teaching Excellence Award and a US Department of State Eastern European Research/Training Grant to study the Ukrainian language in Kyiv. She has presented multiple interest sessions at ACDA and AATSEEL, and her compositions have been commissioned by ensembles across America. Her first opera won the 2007 International Opera-in-a-Month Competition sponsored by VocalWorks, and she also won the Chanticleer Student Composer and Longy Graduation Composition Competitions. Her works have been performed under the direction of Sam Pilafin (Empire Brass Quintet); Steinway Artist, Walter Cosand; Longitude conductor, Paul Brust; and St. Lawrence String Quartet cellist, Christopher Costanza. Erica's most recent full-length musical, The Weaver of Raveloe, received both a developmental reading at the 2012 New York Musical Theatre Festival and a 2014 world premiere at the American Repertory Theater in Boston. As a conductor and scholar, Erica is committed to bringing forgotten female voices out of obscurity.
The Lost Operas of Stefania Turkevych