Unbreakable Spirit: Commemorating One Year of Ukraine's Resilience & Resistance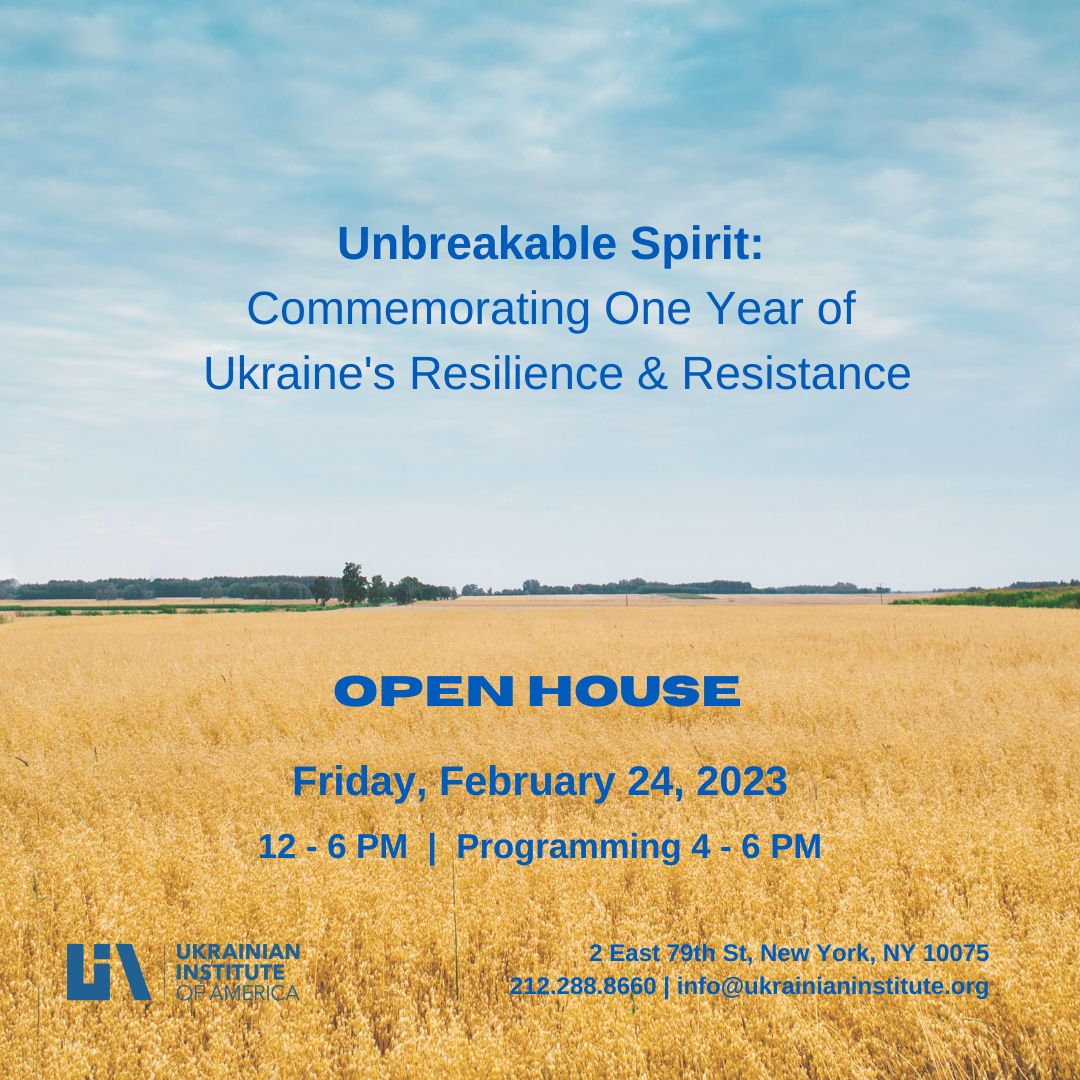 Unbreakable Spirit: Commemorating One Year of Ukraine's Resilience & Resistance
OPEN HOUSE 
Friday, February 24, 2023
12-6 PM| Programming 4-6 PM
🕹️INTERACTIVE EXPERIENCES [12noon – 6PM]
"The Pysanka: A Symbol of Hope" – an installation of more than 500 eggs from around the world, a reaction to the full-scale invasion of Ukraine on February 24, 2022. Sofika Zielyk, ethnographer and curator of the installation, will be on hand to discuss the history of the pysanka tradition and the origins of the project.
Healing Space – an installation of 'motanky' sculptures, ancient talismans for healing and protection, with artist Ola Rondiak.
Interactive video selections on the history and culture of Ukraine, courtesy of Ukrainian Institute Kyiv and Ukrainian Institute London.
Ukrainian Bookstore – a selection of fiction and non-fiction books available for purchase.
Exhibition of contemporary Ukrainian paintings, as part of the 'We and the World' initiative, sponsored by the Kozytskiy Charity Foundation.
"Lives Cut Short" – a print and video tribute to fallen artists, sharing the tragic stories of artists who were not part of the professional military but who lost their lives because of the war.
🎤FEATURED SESSIONS
4PM Greetings and conversations with Ukrainian MP Ivanna Klympush-Tsintsadze; Evelyn Farkas, Executive Director, McCain Institute and former Deputy Assistant Secretary of Defense for Russia, Ukraine, and Eurasia; and Congresswoman Marcy Kaptur, co-chair of the Ukraine Caucus, in conversation with Adrian Karatnycky, senior fellow with the Atlantic Council's Eurasia Center.
5PM Greetings and conversations with Urmas Reinsalu, Minister of Foreign Affairs of Estonia; Ambassador Kurt Volker, former US special representative for Ukraine negotiations and former ambassador to NATO; Governor of New York Kathy Hochul; former Ukrainian captives Lyudmyla Huseynova and Anna Oslen, in conversation with Taisa Markus, Adjunct Professor of Law, University of Illinois and Special Counsel for the Ukraine Project at the Vance Center for International Justice. Closing remarks by special guest and friend of Ukraine.
🪧SCHEDULED SESSIONS
12PM Video greetings from friends of the Ukrainian Institute of America and of Ukraine.
2PM Presentation by Yana Prymachenko, Visiting Scholar at Princeton University, on "Russia's War in Ukraine as a Battlefield of Memories".
3PM Screening of documentary film "Erase the Nation," commissioned by the Polish National Institute of Cultural Heritage within the framework of activities of the Support Center for Culture in Ukraine. The film was financed by the Ministry of Culture and National Heritage. The Support Center for Culture in Ukraine, set up by the decision of the Polish Ministry of Culture and National Heritage, is the primary coordinator of governmental assistance to the cultural sector and it operates within the structure of the National Institute. The Center coordinates (Polish and foreign) initiatives to save Ukraine's cultural resources and conducts information and educational activities about Ukrainian cultural heritage, particularly the threats and losses caused by warfare.
3:30PM Presentation by Dr. Andrey Zinchuk, Assistant Professor, Yale School of Medicine, about humanitarian medical relief activities of Doctors United for Ukraine.
5PM Poetry reading and exhibition, curated and organized by the Romanian Cultural Institute – "Shattered: Symbolic Gesture," a multimedia exhibition, conceived by the Romanian-Canadian visual artist and polygraph Oana Maria Cajal accompanied by a series of video-poems and public readings, offered by U.S.-based Romanian and Ukrainian poets, including Claudia Serea, Adela Sinclair and Vera Sirota. Learn more.
This event is free and open to the public. We encourage all who #StandWithUkraine to attend.  To help us plan, please RSVP.
Please note that the schedule of sessions is subject to last minute change.
Unbreakable Spirit: Commemorating One Year of Ukraine's Resilience & Resistance