Yalynka
December 27, 2020 @ 7:00 pm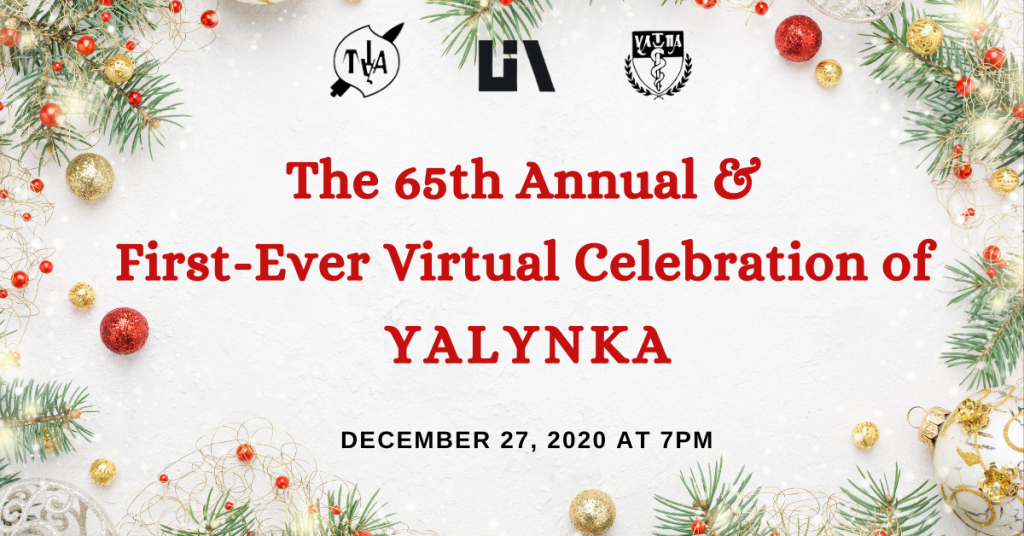 Український Інститут Америки, Товариство Українських Інженерів Америки та Українське Лікарське Товариство Північної Америки запрошують на 65-те святкування Ялинки, яке цього року вперше відбудеться віртуально.
The Ukrainian Institute of America, The Ukrainian Engineers' Society of America & The Ukrainian Medical Association of North America invite you to the 65th Annual and First-Ever Virtual Celebration of  Y A L Y N K A.
Musical Program presented by Vocal Ensemble "PROMIN"
Holiday Cocktail Experience led by renowned Mixologist Mark Tubridy (21 Club)*
Virtual Mingle with your friends in Breakout Rooms of your choice**
Share your favorite photos of Yalynka's past for a chance to win a prize (email your photos to mail@ukrainianinstitute.org by December 24th to have them included in the evening's slideshow)
SUGGESTED DONATION $20 PER COMPUTER, BUT ANY AMOUNT IS WELCOMED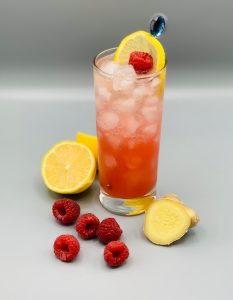 * Special 2020 Yalynka Cocktail recipe:
– 2 oz Ukrainian Horilka (Vodka)
– ¾ oz Honey-Ginger Syrup*
Begin by muddling raspberries in the bottom of a mixing tin; add vodka, lemon juice and honey-ginger syrup. Fill tin with ice, shake vigorously to chill and then fine strain the cocktail into a Collins glass over fresh ice. Top with club soda, stir briefly to incorporate and then garnish with a lemon wheel and a raspberry.
– 1 Large Piece Ginger, peeled and minced
Combine honey and water in a small saucepan over medium heat, stirring constantly until the mixture becomes fully integrated and the syrup reaches a uniform consistency. Bring to a simmer, stir in ginger and then reduce heat to low and cook for 10 minutes. Remove from heat, let cool completely and then strain out ginger and bottle syrup. Keep in the refrigerator for up to two weeks.
** Gather friends into your very own breakout room to toast the holidays together!  Please join the event via desktop or mobile app (version 5.3.0 or higher) in order to select a breakout room of your choice. 
---
Mark Tubridy is a mixologist based in New York City with over a decade of industry experience. He has worked for some of the city's most iconic bars and restaurants and is currently at one of the country's most beloved former speakeasies, the 21 Club. A passionate cocktail enthusiast, Mark combines his love for the classics with an appreciation for modern techniques, so as to create drinks that are both timeless and innovative. He and his cocktails have been featured in numerous print and online publications, such as The New York Times and Men's Journal, as well as tv and film productions, including Good Day New York, Good Morning America, BarTales New York and Watch What Happens Live with Andy Cohen. Over the past few years, Mark has been fortunate enough to have competed in some of the industry's most notable cocktail competitions, advancing to the regional finals of Real McCoy Rum's "Search for the Real McCoy" in 2016, the National semi-finals of Bacardi Legacy in 2019 and the National finals of Bombay Sapphire's Most Imaginative Bartender competition in 2020. He also created the first ever official cocktails for the Breeders' Cup and has been working closely with bartenders at racetracks across the country to implement these new recipes on a large scale. Additionally, Mark has been active in the realm of consulting, assisting bars and restaurants in the NYC area in developing unique cocktail menu concepts that are tailored to the needs of their individual F&B programs. Most recently, he has begun doing online cocktail tutorials in partnership with the Breeders' Cup and NBC, which has afforded him the opportunity to share his love of mixology with thousands of viewers each week. In an effort to keep cocktail culture alive and well during these challenging times, Mark has founded an online educational company, The MT Glass Mixology, through which he proudly offers a wide array of personalized seminars to individual and corporate clients alike.