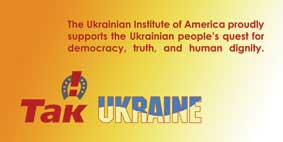 Orange Revolution in Kyiv, 2004
Exhibit will open on Sunday, January 16, 2005
Photographs by:
Ihor Palamarchuk
Alexandr Glyadyelov
Mykola Zhuravel
Aleysa Malskaya
Documentaries by:
Vladislav Troitskyi - DAX / Centre of Contemporary Art's
Oksana Plysyuk - Seasons of the Year on the Square (Пори Року на Майдані)

---
NEW YORK, NEW YORK
Introducing the first full photo exhibit in the U.S. that captures the defining moments of Ukraine's Orange Revolution—the non-violent, massive civic protests against a rigged Presidential election that enthralled the whole world and culminated in the victory of a democracy-embracing, Western-leaning head of government for this former Soviet republic of 48 million people.
Ukrainian photographers Alexandr Glyadyelov, Ihor Palamarchuk, Mykola Zhuravel and a photographer from Russia Lesya Malskaya were on the streets of Ukraine's capital, Kyiv (Kiev) from the very beginning of the peaceful revolution and through its last day. The exhibit visualizes events depicting three scopes of the Revolution: "faces of revolution," "on the streets," and "orange aesthetics."
On exhibit are portraits that depict the demographic diversity of the hundreds of thousands of Ukrainians who braved early winter cold and the threat of violence: old people, their eyes sparkling with energy and hope; cool-looking hipsters who might be just as at-home in New York's Lower East Side or Paris as in the far-flung cities of Ukraine; bicyclists and motorcyclists decked out in orange, the color of the democratic revolution.
"Streets," all centered around Kyiv's Independence Square, the hub of the massive protests, are shown as the last and critical outposts where Ukrainians realized and expressed their fight for democracy. The exhibit captures the first call for barricades-- young people dragging a bench. There's the first, small group of protesters marching in the dark on a lonely street. There are people covering blankets from the first snow but determined not to leave "the street." A flag of the "PORA" (Ukrainian for "It is time") youth movement, flying high above a joyful group of people. Catholic and Orthodox Christian priests, determined to support and protect their people from possible bloodshed. And finally, projectors on Independence Square, projecting the final tally of votes that signaled victory for a New Ukraine.
The third group of photographs depicts "orange aesthetics," an artist's perception of the flags, posters, banners, signs, and flyers that comprised the human-made backdrop to the Orange Revolution and that spoke to the heart of what was felt in a thousand cities and villages.
Four photographs by Lesya Malskaya, a freelance photographer from Moscow, born in Kyiv were selected to complement the photo exhibit.
Curated by:
Walter Hoydysh and Alexander Demko