IT Round Table with Executives from Ukraine's IT Software Industry
October 8, 2015 @ 6:30 pm
$25
The Ukrainian Institute of America (UIA) and The Federation of Ukrainian Student Organizations of America (SUSTA) invite the public to a Professional Networking Event – "IT Round Table with Executives from Ukraine's IT Software Industry."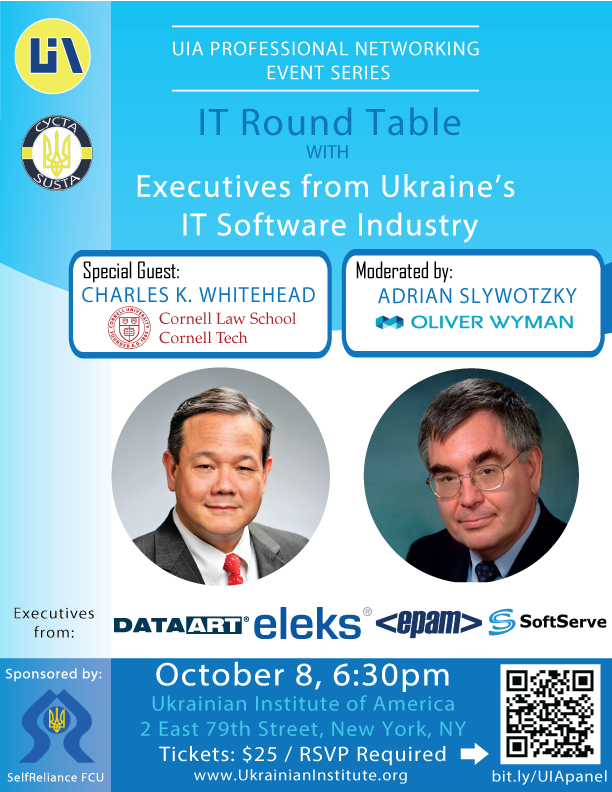 The event will be moderated by Adrian Slywotzky, Partner at Oliver Wyman, a leading global management consulting firm.
The panel will include:
– Special guest Charles Whitehead from Cornell Law School and the Cornell Technion Innovation Institute; and
– Executives from DataArt, ELEKS, EPAM and SoftServe.
We anticipate robust discussion at this rare gathering of executives from Ukraine's IT industry. Join us.
[su_button url="https://www.eventbrite.com/e/it-round-table-with-executives-from-ukraines-it-software-industry-tickets-18789814842″ style="soft" icon="icon: download"]RSVP Tickets[/su_button]
IT Round Table with Executives from Ukraine's IT Software Industry