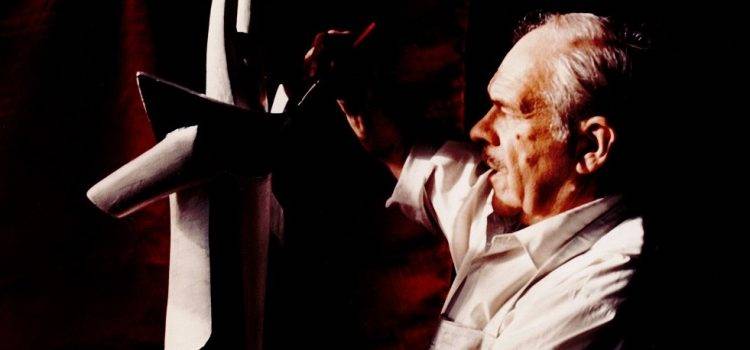 Today, May 30th, marks 133 years since the birth of Alexander Archipenko (1887-1964), the first Cubist sculptor.
Every book on twentieth century modern art mentions Alexander Archipenko. While alive, he was acknowledged as one of the most acclaimed modern sculptors in the world. Artworks visualized and executed by Alexander Archipenko are held in important private and international museum collections, among them, Centre George Pompidou, Hirshhorn Museum and Sculpture Garden, Kunstmuseum Bern, Metropolitan Museum of Art, Museum of Modern Art, Philadelphia Museum of Art, Phillips Collection, Solomon R. Guggenheim Museum, Tate Gallery, Tel Aviv Museum of Art, and Whitney Museum of American Art. Notwithstanding this, with his unique art, he raised awareness of Ukrainian culture to a higher level more than any Ukrainian diplomat could have.
Archipenko was born in Kyiv, Ukraine in 1887. After studying painting and sculpture at Kyiv Art School, in 1908, he briefly attended the École des Beaux-Arts in Paris. However, he quickly abandoned formal studies to become part of more radical circles, especially the Cubist movement. He began to explore the interplay between interlocking voids and solids and between convex and concave surfaces, forming a sculptural equivalent to Cubist paintings' overlapping planes, revolutionizing modern sculpture. In his bronze cast, "Walking Woman" (1912), for example, he pierced holes in the face and torso of the figure and substituted concavities for the convexities of the lower legs. The abstract shapes of his works have a monumentality and rhythmic movement that also reflect contemporary interest in the arts of Africa.
As his style evolved, Archipenko achieved an incredible sense of vitality out of minimal means. In works such as "Boxing Match" (1913) he conveyed the raw, brutal energy of the sport in nonrepresentational, machinelike cubic and ovoid forms. About 1912, inspired by the Cubist collages of Georges Braque and Pablo Picasso, Archipenko introduced the concept of collage in sculpture in his famous Medrano series, depictions of circus figures in multicolored glass, wood, and metal that defy traditional use of materials and definitions of sculpture. During that same period, he further defied tradition in his "sculpto-paintings," works in which he introduced painted color to the intersecting planes of his sculpture.
Archipenko was represented in the New York Armory Show of 1913 and in many international Cubist exhibitions. In 1921 he moved to Berlin and opened an art school. During that time his works were as famous in Europe as those of Picasso.
In 1923, Archipenko immigrated to the United States. Apart from his personal creative work, the artist dedicated much of his time and energy to teaching. In New York, he opened a school of ceramics, "Arko," and was in frequent contact with various universities, among them, in Oakland, Los Angeles, Seattle, and Chicago (New Bauhaus). He established an art school-atelier in New York, and later moved it to a home and studio in Bearsville, NY (near Woodstock). Showing his broad interests and widely inventive mind, he created and received a patent for changeable pictures — peinture changeante — known as "Archipentura and Apparatus for Displaying Changeable Pictures."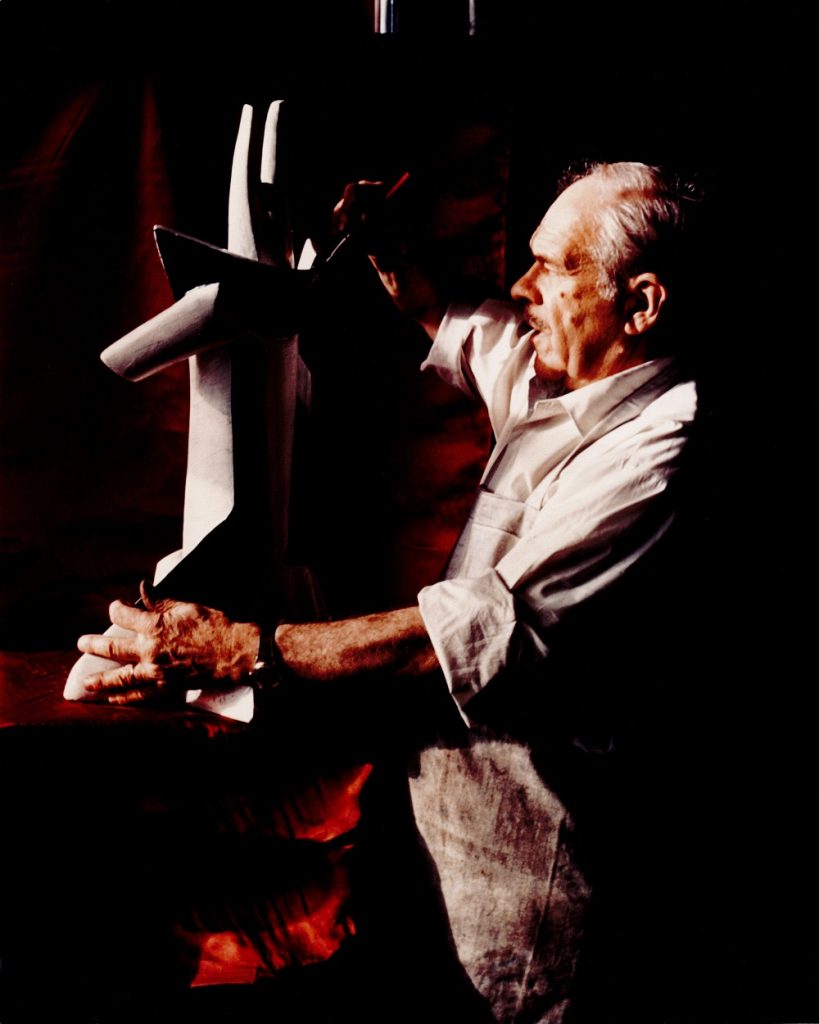 In 1927, an exhibition of his works was arranged in Tokyo. In the 1930s, his work appeared in the Ukrainian Pavilion at the Century of Progress Exposition in Chicago. In 1947, Archipenko created the first sculptures out of transparent materials (plastics) with interior illumination (modeling light). In the following years, Archipenko tried his hand at moving figures, which were mechanically rotating structures built of wood, mother of pearl, and metal. At Biennale d'Arte Trivenata in Padua, Italy, he received the gold medal.
In later years, he again concentrated on industrial materials, in which he demonstrated his taste for dazzling polychromy. The Spanish Cubist artist Juan Gris wrote about Archipenko's influence on the art of the early 20th century, "Archipenko challenged the traditional understanding of sculpture. It was generally monochromatic at the time. His pieces were painted in bright colors. Instead of accepted materials such as marble, bronze or plaster, he used mundane materials such as wood, glass, metal, and wire. His creative process did not involve carving or modeling in the accepted tradition but nailing, pasting and tying together, with no attempt to hide nails, junctures or seams. His process parallels the visual experience of cubist painting."
Archipenko never severed his ties with his countrymen. During his first years in Paris, he was a member of the Ukrainian Students' Club; in Berlin, a member of the Ukrainian Hromada; and in the United States, a member of the Ukrainian Artists' Association of America. He belonged to the Ukrainian Academy of Arts and Sciences and was an honorary member of the Ukrainian Institute of America, where he was exhibited multiple times.
The artist maintained a long and affectionate relationship with The Ukrainian Institute of America (New York), introducing his innovative visionary output to both the Ukrainian diaspora and the art public, at large, culminating in exhibitions, presentations, and a working studio.
Still in the middle to late 1950s, the founder and benefactor of The Ukrainian Institute of America, inventor, industrialist, and philanthropist, Ukraine-born William Dzus began informal talks with Archipenko about the establishment of a permanent room dedicated to the display of the sculptor's historically significant artworks. (A portrait bust by Archipenko commissioned by Mr. Dzus in 1955, prominently graces the first-floor lobby.)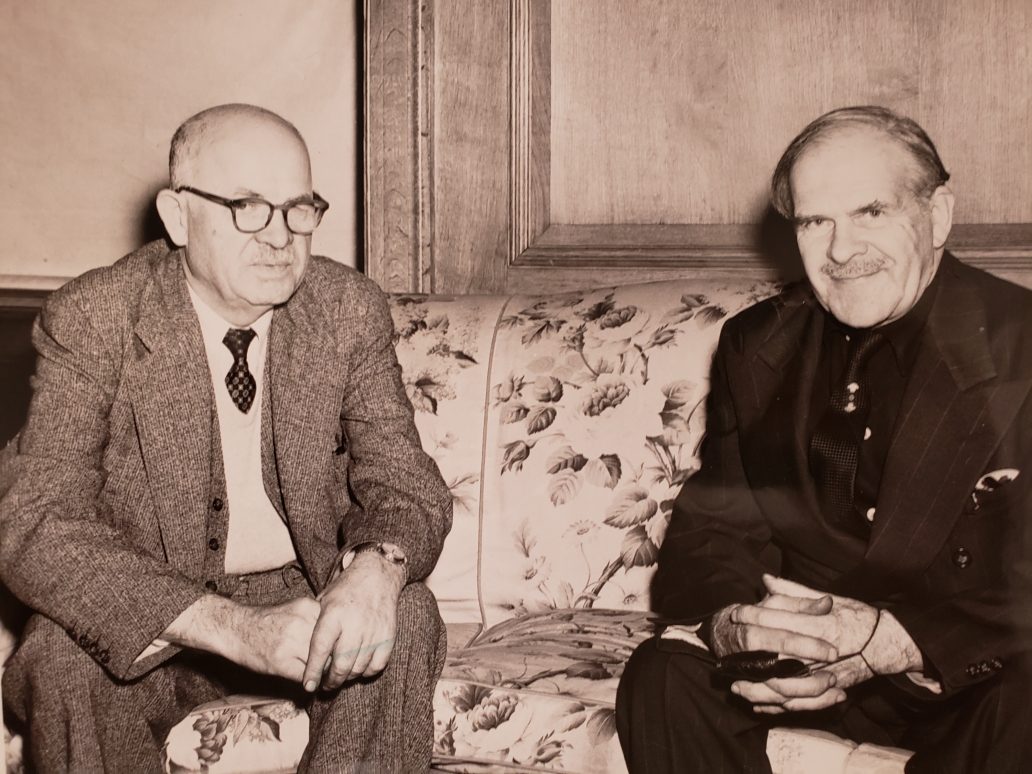 Although, the concept never came to be actualized during both men's lifetimes, in 2010, it was Dr. Borys Sumyk, son of Augustin and Maria, who endeavored to loan his parents' collection of Archipenko atworks to The Ukrainian Institute for an extended period of ten years. With Dr. Sumyk's passing that year, his surviving family has since committed to making this exhibition materialize, as legacy to the artist's connection to the organization and its founding members.
Archipenko died in New York City on February 25, 1964.
Alexander Archipenko (1887-1964), First Cubist Sculptor