Covid-19: Perspectives from the Frontline – USA/Ukraine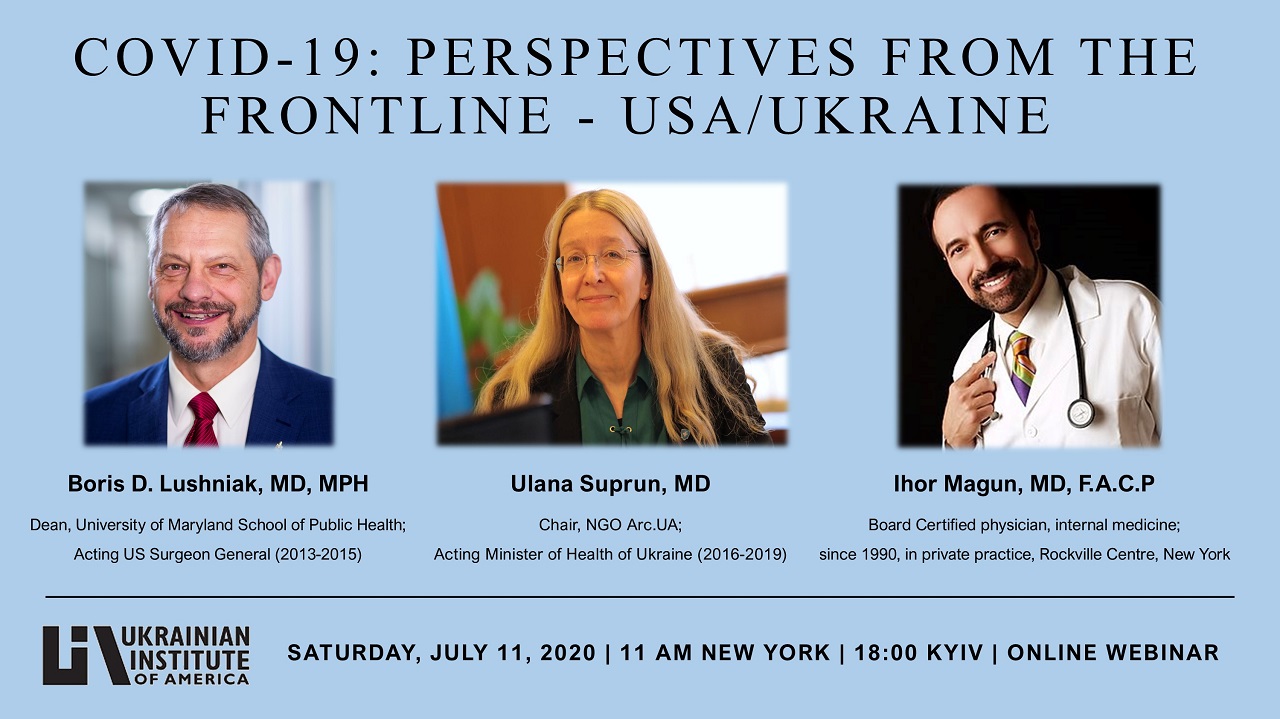 COVID-19: PERSPECTIVES FROM THE FRONTLINE – USA/UKRAINE
ONLINE WEBINAR
Registration is required in order to join the webinar
REGISTER HERE
Join us for an online discussion with
Boris D. Lushniak, MD, MPH
Dean, University of Maryland School of Public Health;
Acting US Surgeon General (2013-2015).
Ulana Suprun, MD
Chair, NGO Arc.UA;
Acting Minister of Health of Ukraine (2016-2019).
Ihor Magun, MD, F.A.C.P
Board Certified physician, internal medicine;
since 1990, in private practice, Rockville Centre, New York.
The event is free, but your donation would be greatly appreciated. You can support our online programs HERE.
Speakers' bios:
Rear Admiral (retired) Boris D. Lushniak, M.D., MPH, has been Dean of the School of Public Health at the University of Maryland since January 2017 after serving as Department Chair of Preventive Medicine and Professor of Dermatology at the Uniformed Services University. He was the US Deputy Surgeon General (SG) from 2010-15, Acting SG from 2013-14 and was responsible for the 50th Anniversary SG's Report on Smoking and Health and the SG Call to Action to Prevent Skin Cancer. During the ebola response in 2015 he commanded the US Public Health Service (USPHS) Monrovia Medical Unit in Liberia.
He attended Northwestern (BS 1981, MD 1983) and Harvard (MPH 1984) and completed residencies in family medicine and dermatology and is certified in dermatology and preventive medicine (occupational). He began his USPHS career in 1988 in the Epidemic Intelligence Service and served with NIOSH until 2004 and was part of the team at Ground Zero and the CDC anthrax team. In 2004 he transitioned to the FDA in the Office of Counterterrorism and was appointed FDA Assistant Commissioner in 2005. He retired from the USPHS in 2015 as a two-star Rear Admiral after 27 years in the uniformed services.
Ulana Suprun, M.D. is currently heading up the NGO ArcUA,a newly formed Ukrainian think tank providing analysis, research and creating solutions in the spheres of healthcare, media and government relations, national security and culture.
Dr. Suprun served as the acting Minister of Health of Ukraine from July 2016 until August 2019. She is the founder and former director of the NGO Patriot Defense, founder of the School for Rehabilitation Medicine at the Ukrainian Catholic University, and former director of Humanitarian Initiatives for the Ukrainian World Congress.
During her time as Minister, Dr. Suprun and her team passed a sweeping healthcare transformation into law. This transformation repealed the failed Soviet system, and replaced it with a modern system based on international best practices. The new system focuses on primary care, provides state insurance for every Ukrainian citizen, establishes a guaranteed package of healthcare services, increasing healthcare workers' salaries to market levels, cuts corruption and bribes in the medical system, and offers a reimbursement for medicines program for patients suffering from chronic diseases. As an indication of its success, over the course of one year, more than 28 million Ukrainians signed up for the new healthcare system.
Ihor Magun, M.D., F.A.C.P. is board certified in internal medicine by the American Board of Internal Medicine. He is a fellow of the American College of Physicians and has been in private practice since 1990. He has served on numerous hospital committees and is fluent in Spanish and Ukrainian. Dr. Magun received both his bachelor degree and his master degree in cellular microsurgery from New York University. He completed his medical education at the Autonomous University of Guadalajara and completed his residency in internal medicine in New York City at Bellevue Hospital and Booth Memorial Medical Center (currently N.Y. Presbyterian Hospital). Dr. Magun has been a regular contributor to the medical column in "Our Life" magazine for 30 years.
Covid-19: Perspectives from the Frontline – USA/Ukraine