Jazz Cabaret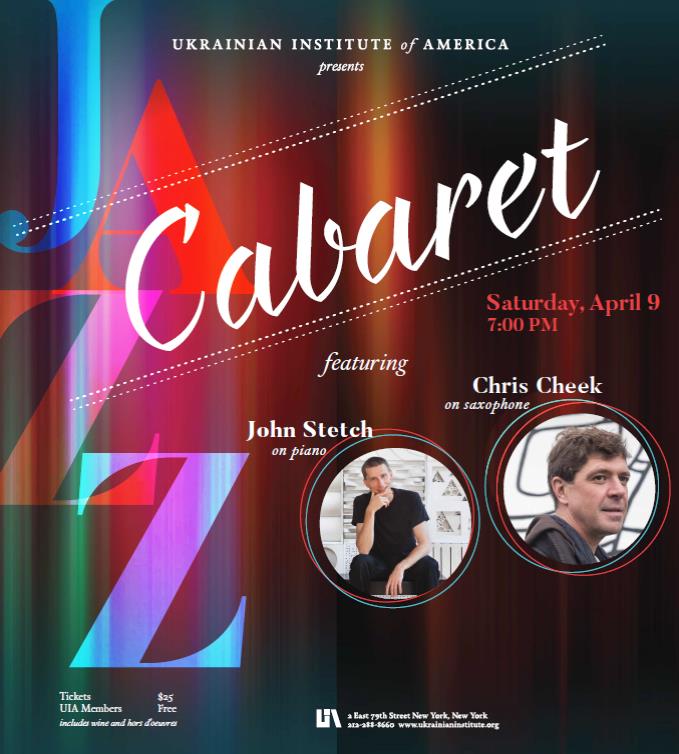 JOHN STETCH was exposed to the sounds of jazz at an early age. His father always tuned in to the local jazz radio station in the car, had a large jazz record collection, and taught Stetch the basics of clarinet. Stetch was born with jazz in his blood, as 2 of his uncles were also performers and founding fathers of the Yardbird Suite, now one of the most successful jazz clubs in Canada. In his early teens, Stetch remembers reading his Dad's Benny Goodman transcriptions and Jimmy Dorsey's "Hot Licks", then later switching to alto sax and playing along with Paul Desmond solos by ear and trying to make sense out of the Charlie Parker Omnibook. By his 2nd year of college, he dropped everything to go from casual 'horn-player's piano' to full-time piano studies.
The Ukrainian community was a huge influence on Stetch as well, and he spent many years singing, playing and dancing to ethnic folk music. His first teenage show-biz experience was playing dozens of engagements with Dumka, a Ukrainian wedding band.
After earning a music degree in jazz piano studies at McGill University, Stetch began touring and recording across Canada and eventually accumulated 6 Juno Award nominations over 20 years. He won the Prix du Jazz at the Montreal International Festival and has been frequently recorded by the CBC.
After relocating to New York City in 1993 he became a decade-long sideman with Rufus Reid, and has performed around the world at some of the most prestigious jazz venues. He has recorded and/or performed with Jim Black, Seamus Blake, Anat Cohen, Javon Jackson, Mark Turner, Jeff Ballard, Jorge Rossi, Charlie Haden, Reid Anderson, Chris Cheek, Victor Lewis, Hank Roberts, Ben Street, Reggie Workman, Billy Hart and others. He has recently been collaborating with classical and world musicians also, and his recent compositions reflect those flavors. Stetch has been commissioned to write for the CBC Radio Orchestra, the Borealis String Quartet, his own solo performances, and recently performed his Trio for Clarinet, Cello and Piano.
Stetch is one of a handful of jazz artists to have recorded a solo piano trilogy, and with this he received unanimous praise, including Down Beat calling the debut trilogy release, Ukrainiainsim, "one of the best solo piano recordings in recent years". Standards and Exponentially Monk, also part of this series, brought in equally glowing reviews, consistently attesting to Stetch's originality and virtuosity. Now with 13 CDs under his own name, Utne Reader called his music "bold and vital jazz for the 21st century". A Steinway Artist, Stetch has been featured on several NPR shows: "Piano Jazz", with Marian McPartland, "Jazz Set" with Branford Marsalis, "Weekend Edition" with Leanne Hansen.
Stetch's 2009 CD – "TV Trio" consists entirely of TV themes from the 70's and 80's. Shortly after being released to radio, TV Trio quickly placed #13 on the U.S.A. JazzWeek chart, and remained in the top 20 for a month.
His most recent Juno-Nominated CD "Off With The Cuffs" is a solo piano recording of his own arrangements, re-compositions and improvisations on iconic gems of Bach, Mozart, Chopin and Shostakovich. John Stetch is currently based in Harlem, New York City.
CHRIS CHEEK began playing the alto sax at the age of 12. Thanks to a strong public school music program and a highly supportive family, Chris had good educational and performance experiences from the very beginning. While attending Webster University, Chris played with a variety of local Jazz and Blues bands including legendary saxophonist Willie Akins' group and the Bob Kuban Brass. Chris went to Boston in 1988 to attend Berklee College of music where he studied with Herb Pomeroy, Joe Viola and Hal Crook.
Chris moved to New York in 1992 and since then has toured and recorded with Paul Motian, Charlie Haden's Liberation Music Orchestra, The Bloomdaddies, and the Orquestra de Jazz de Matosinhos . Chris has also played with Bill Frisell, Brian Blade, Lee Konitz, Carla Bley, Tom Harrell, Wolfgang Muthspiel, Frank Carlberg, Eliot Zigmund, Brad Mehldau, Kurt Rosenwinkel, El Muchacho and many others!
Cheek also plays with the Brooklyn Boogaloo Blowout, Rudder, Steve Swallow's Quintet, Guillermo Klein's "Los Guachos", and the newly formed Axis Saxophone Quartet, alongside Josh Redman, Chris Potter and Mark Turner. In addition to appearing on numerous CD's as a sideman, Chris has recorded 4 albums as a leader for Fresh Sound Records. He currently resides in Brooklyn, NY.