Maybe Esther: Katja Petrowskaja in conversation with Marci Shore
October 17, 2019 @ 7:00 pm
Razom Book Club and Verus Real Estate invite you to meet Katja Petrowskaja, the author of Maybe Esther, one of the most thought provoking books exploring jewish identity and lacuna of family histories we are left with after a traumatic 20th century. Marci Shore, a scholar of intellectual history and Guggenheim fellow moderates.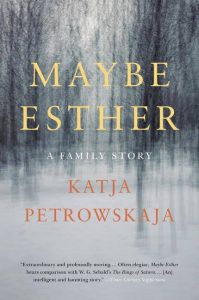 Katja Petrowskaja is a Kyiv born German prose writer and journalist. Maybe Esther is Katja's first book. It has been awarded Germany's Ingeborg Bachmann Prize, one of the most important awards for literature in the German language. In Maybe Esther Katja Petrowskaja reflects on the story of her own family of mixed Jewish and Ukrainian roots across twentieth-century Russia, Ukraine, Poland and Germany. It is a striking exploration of the history of the family that can only be partially brought to life given the absence of records and vanishing memories. The title refers to Katja's great-grandmonther, who alone remained in Kyiv and was killed by the Nazis, whose name the family can not remember with certainty.
Marci Shore is associate professor of history at Yale University. Her research focuses on European intellectual history, in particularly twentieth and twenty-first century Central and Eastern Europe. She is the author of Caviar and Ashes: A Warsaw Generation's Life and Death in Marxism, 1918-1968, The Taste of Ashes: The Afterlife of Totalitarianism in Eastern Europe, and The Ukrainian Night: An Intimate History of Revolution. In 2018 she received a Guggenheim Fellowship for her current project titled "Phenomenological Encounters: Scenes from Central Europe." Marci came across Katja's book upon a recommendation of Maybe Esther's Ukrainian translator Yurko Prokhasko and has reviewed the English translation of the book for New York Review of Books.
"This is a work of ongoing history, written with the impressionistic eye of a novelist, a fervent
meditation on language and loss surging with a remarkable cast of characters, forgotten to time
and memory for decades, here vividly summoned to life. Wry, questing, discursive, it has,
unsurprisingly, become a bestseller and literary prize-winner throughout Europe."
— Financial Times
"The kind of reading experience that makes me gasp, laugh, and feel inexpressibly grateful to a
person who has decided to tell this story in this way… The book is breaking my heart, because I
want to stop and quote from every other paragraph, and I want to give copies to people I love—I
want, in other words, to stem the dissolution of storytelling that is the very point of this book.. I
want it to last forever."
— Masha Gessen, The New Yorker
"This book is about borders and translation, about what can and cannot be reached. Petrowskaja, by apprehending some facts and failing to grasp others, writes with the faith that istina can reveal itself even when pravda remains uncertain."
– Marci Shore in the New York Review of Books
Maybe Esther: Katja Petrowskaja in conversation with Marci Shore