Not All of Them
November 16, 2023 @ 6:00 pm

-

January 7, 2024 @ 8:00 pm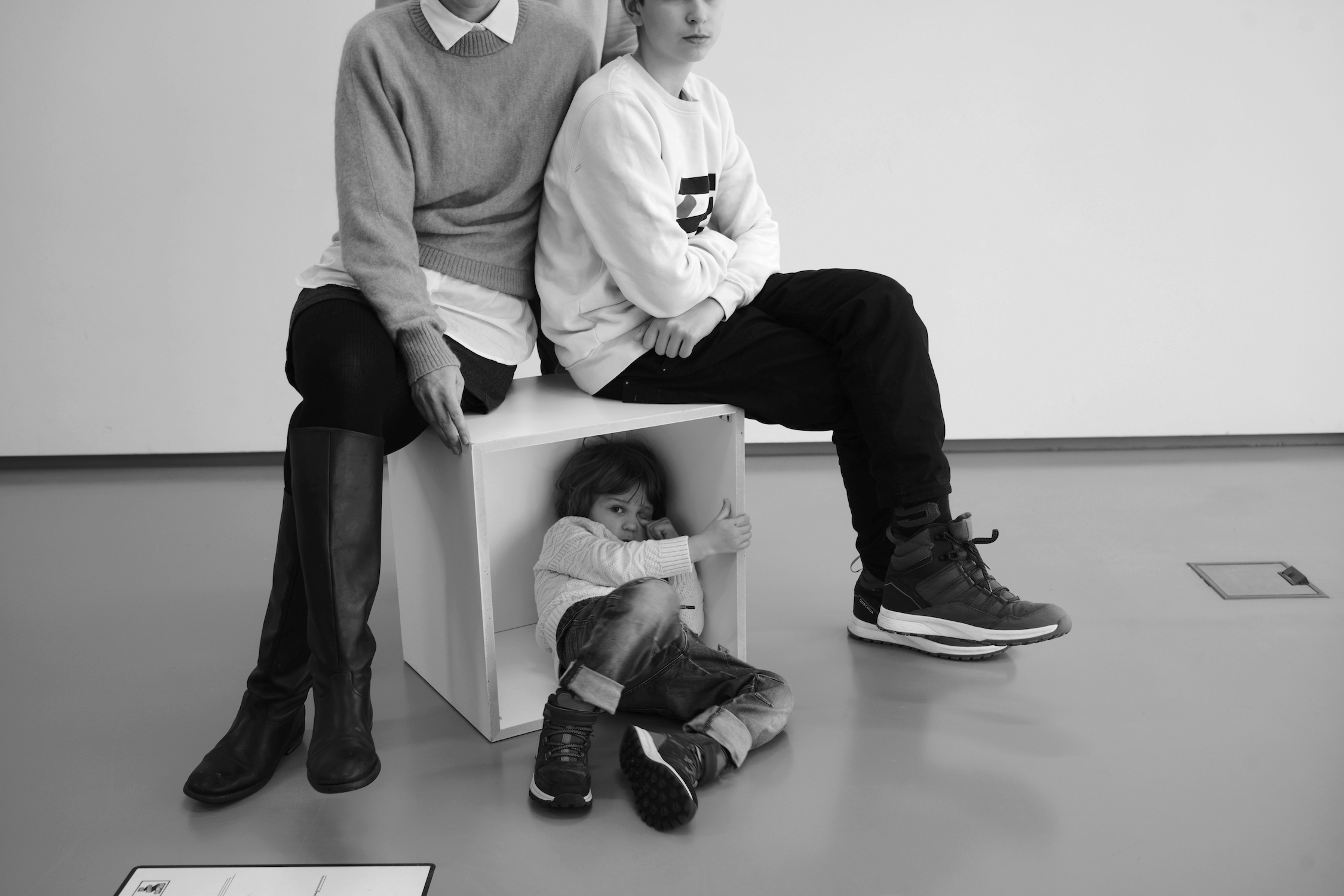 Not All of Them
Portraits of war refugees
Photographs by Antanas Sutkus with Artūras Morozovas and Tadas Kazakevičius
November 16, 2023 to January 7, 2024
Opening reception: Thursday, November 16 from 6:00 to 8:00pm
Art at the Institute is delighted to announce Not All of Them, an exhibition of black and white photography depicting portraits of war refugees from Ukraine in Lithuania. Photographed by celebrated Lithuanian documentary photographer Antanas Sutkus together with two younger photographer-colleagues — Artūras Morozovas and Tadas Kazakevičius — these photographs illuminate the human experience and personal stories reflected of their subjects: mostly mothers and children who were forced to seek refuge from Russia's brutal attack on the Ukrainian nation after February 24, 2022.
Presented with accompanying texts, the portraits in Not All of Them reveal faces and poses clearly of a people infallible to defeat or subjugation. Almost all of the subjects' personal stories end with "I want to go back there" or "I'll go back as soon as I can." During their safe refuge in Lithuania, mothers found work to support not only their children escorted from the horrors of war, but also their relatives who remain in their Ukrainian homeland — husbands, parents, cousins, and grandparents, many of whom serve as volunteers aiding the war effort or in the Territorial Defence Forces.
Sutkus, Morozovas and Kazakevičius follow the precepts of humanist photography, an approach to looking and seeing used to describe documentary photography that lies somewhere between the painterly, honorable concerns of realism and the high-minded hopefulness of modernism. In this regard — away from the horrors of the trenches — these photographers recognize in their craft that the medium might not only find beautiful pictures in a plain place and faces, but, in showing the nobility of the common person, they might also engender a new sense of compassion and mutual understanding.
An 18-minute documentary, Fotosesija: Not All of Them, about the making of this photographic project by famed Lithuanian filmmaker Vytautas V. Landsbergis will be shown throughout the run of the exhibition.
Antanas Sutkus (b. 1939) studied journalism in Vilnius and worked for daily newspapers before co-founding the Lithuanian Photographers Association in 1969, which he headed for many years. Sutkus was president of the Union of Lithuanian Art Photographers upon its establishment in 1996 and has been its honorary president since 2009. He is the recipient of the Lithuanian National Culture and Arts Award and the Order of the Lithuanian Grand Duke Gedimas, an Erna and Victor Hasselblad Foundation Grant and the 2017 Erich Salomon Award of the Deutsche Gesellschaft für Photographie. Sutkus has exhibited extensively, including a 2018 retrospective at the National Gallery of Art in Vilnius held on the 100th anniversary of the Republic of Lithuania. Sutkus' books Planet Lithuania (2018), Pro Memoria (2020), Children (2021) and Street Life (2022) were published by Steidl (Göttingen, Germany).
Artūras Morozovas (b. 1984) is a documentary photographer based in Kaunas, Lithuania. He started his photojournalist career at a news agency while still studying at Vytautas Magnus University in Kaunas. Artūras has documented military conflicts in the Caucasus, Palestine and Ukraine, the migration crisis to Europe, covered many stories in Russia and former soviet countries. His work has been published in The Guardian, The New York Times, Der Spiegel, Paris Match, Al Jazeera, among other media outlets.
Artūras has participated in group exhibitions and festivals, including Photo London, Belarus Photo Festival and Kaunas Photo, and has held solo exhibitions at White Space Gallery (London, UK), Pank Culture (Berlin), NATO Headquarters (Brussels), Kaunas Photographers Gallery (Kaunas, Lithuania) and Šiauliai Photography Museum (Šiauliai, Lithuania). Artūras' photographs and video footage are included in director Evgeny Afineevsky's documentary Winter on Fire Ukraine's Fight for Freedom, which in 2016 was nominated in the Best Documentary category by the Academy of Motion Picture Arts and Sciences.
Tadas Kazakevičius (b. 1984) is a documentary and editorial photographer residing in Vilnius, Lithuania. As an artist, he is primarily focused on photography's humanistic offering — individuals and their stories as the principal subject. He is an adherent to traditional film photography with a preference to using medium and large format cameras for his documentary work.
His series Soon to be Gone (2014–18) and Between Two Shores (2018–19) won the World Press Photo, Leica Oskar Barnack and LensCulture Exposure awards. His work was featured in the British Journal of Photography and exhibited in Jimei x Arles International Photo Festival (Xiamen, China), Xposure (UAE), Les Photaumnales (Clarmont, France), Nuit de la Photo (La Chaux-de-Fonds, Switzerland) photography festivals. He held a solo exhibition Soon to be Gone at the Lithuanian National Museum in 2021 with an accompanying monograph dedicated to the series released in late 2020. Kazakevičius continues to work simultaneously on several new photographic series dedicated to the themes of disappearance of the industrial worker and faith as a community bond.
Not All of Them was originally organized and exhibited at the National Gallery of Art (Vilnius, Lithuania), February 23–March 15, 2023.
The New York exhibition is presented by the Ukrainian Institute of America in partnership with the Consulate General of the Republic of Lithuania–New York and the Lithuanian Culture Institute.
Exhibition hours: Thursday to Sunday, 12:00–6:00pm.
For further information: please contact Andrew Horodysky at (212) 288-8660 or andrew@ukrainianinstitute.org.

Image: Antanas Sutkus, from Not All of Them, 2022, archival digital print.