Oleh and Alexander Denysenko 'ANTIQVITAS NOVA'
May 20, 2022

-

July 17, 2022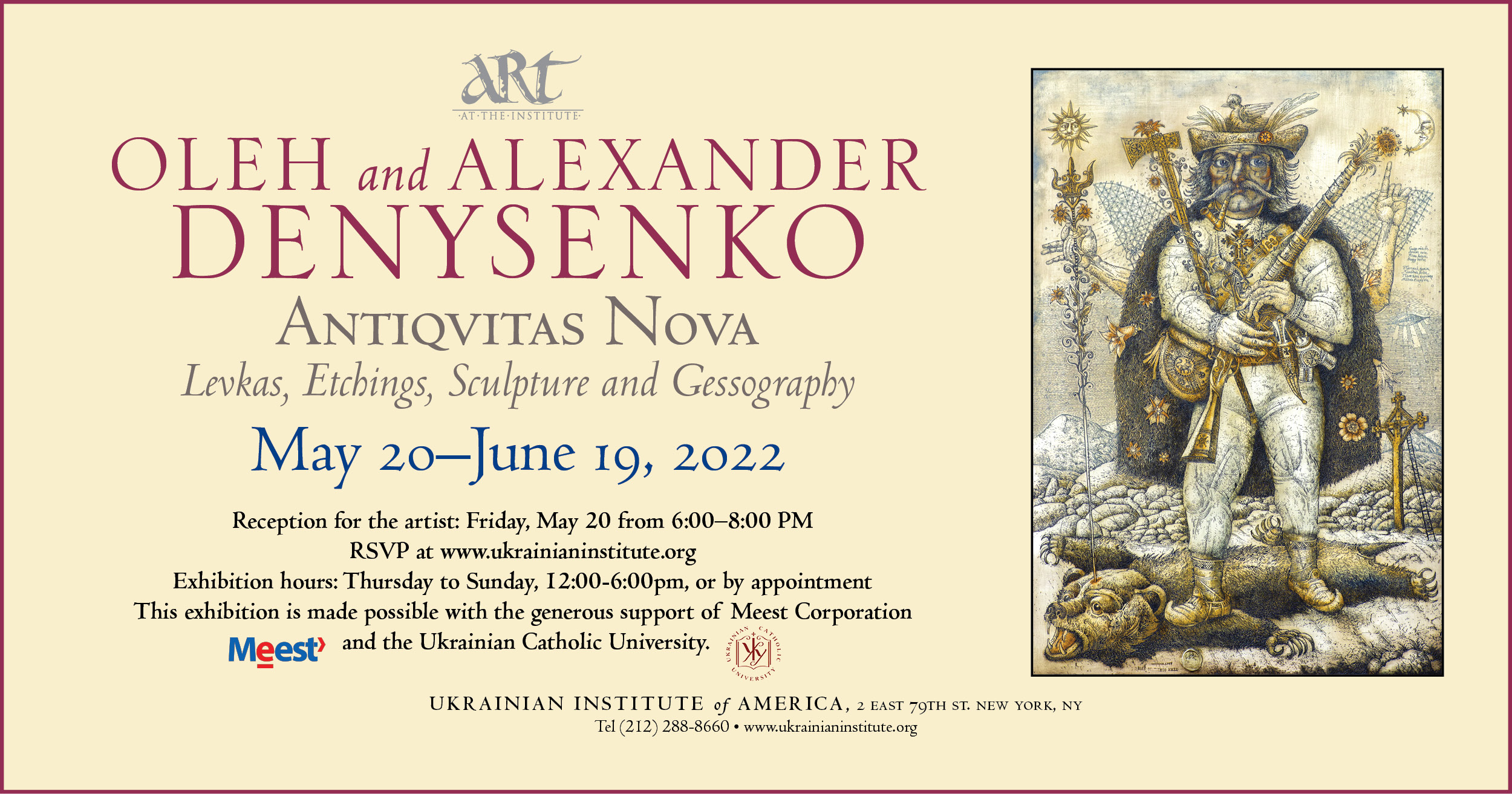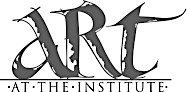 Oleh and Alexander Denysenko
ANTIQVITAS NOVA: Levkas, Etchings, Sculpture, and Gessography
May 20– extended through July 17, 2022

Reception for the artists: Friday, May 20 from 6:00–8:00pm
The Ukrainian Institute of America
2 East 79th Street, NYC
Art at the Institute is pleased to announce a special mid-career survey exhibition featuring works by Lviv-based Ukrainian artists Oleh and Alexander Denysenko titled ANTIQVITAS NOVA, opening on May 20, 2022, and remaining on view through June 19. This exhibition will feature the creative journey of Oleh Denysenko through sculpture, intaglio printmaking, and unique levkas painting to the invention of his unique artistic idiom, Gessography, created in collaboration with his son Alexander Denysenko. Curated by Walter Hoydysh, PhD, Director of Art at the Institute, this exhibition will mark Oleh Denysenko's third showing with the Ukrainian Institute of America, and Alexander Denysenko's debut. A public reception for the artists will be held on Friday, May 20 from 6:00 – 8:00pm.
An innovative and prolific artist practiced in the disciplines of painting, sculpture, calligraphy, and book illustration Oleh Denysenko is internationally recognized for his intricate etchings on paper. An astoundingly inventive draftsman—due in part to years of studying the moralizing art of Northern European masters such as Bosch, Bruegel, Cranach, and Dürer, among others—Denysenko developed a highly original framework and spatial base around which an alchemy of fantastical and metaphor-ical character narratives flourish. Conjuring his magical stage of actors from the depths of his mind's inner image, Denysenko weaves elements of national identity, religion, myth, and legend into a tapestry of unnatural history, suggesting a chronicle of both weight and whimsy.
The recent series of works created with a unique innovative patented technique Gessography. Gessography brings together the salient tactility of sculpture, the refinement and symbolic storytelling of intaglio, the spiritual undertones of levkas, and the vivid emotions of painting.
The exhibition also feature AETHER – Renaissance-inspired artistic covers for iPhone. Challenging the status quo, AETHER reunites fine and applied art, turning the iPhone into a display for authentic artworks.
About Oleh and Alexander Denysenko
Born in Lviv, Ukraine, Oleh Denysenko concentrated in graphics while studying at the National Academy of Printing (Lviv). He holds over thirty international honors for printmaking, including Grand Prize of the 9th Mondial Triennale for Small Prints (2014) in Chamalieres, France. Recent participation in other comprehensive print expositions include the International Triennial of Small Graphic Art, Łódź, Poland, "Global Matrix VI" International Printmaking Exhibition, Purdue University Galleries, and the 10th International Biennial of Modern Printmaking, Trois-Rivières, Quebec. He is an active member of the Union of Ukrainian Artists and the Academic Senate of the International Academy of Modern Art  (Rome). His works are held in the permanent collections of the Royal Academy of Arts (London), Royal Palace, Crown Princess Margareta Memorial Fund (Stockholm), Albrecht Dürer House (Nuremberg), among others.
Alexander Denysenko is the conceptual co-inventor of Gessography and founder of Aether. An award-winning film director who trained under Oscar winning director Andrzej Wajda, he is a member of the Polish Filmmakers Association (PFA). His short film Wonderwall is the first piece themed on the Chornobyl nuclear disaster written from a deeply personal and emotional point of view, apart from the stereotypical.
Image: The Good Hunt, 2021, gessography, 28 x 18 5/8 in.
Exhibition hours: Thursday to Sunday, 12:00–6:00pm or by appointment.
For further information: contact the Ukrainian Institute of America at (212) 288-8660 or mail@ukrainianinstitute.org.
This exhibition is made possible with general support of Meest Corporation and the Ukrainian Catholic University.

Oleh and Alexander Denysenko 'ANTIQVITAS NOVA'