Spring Awakening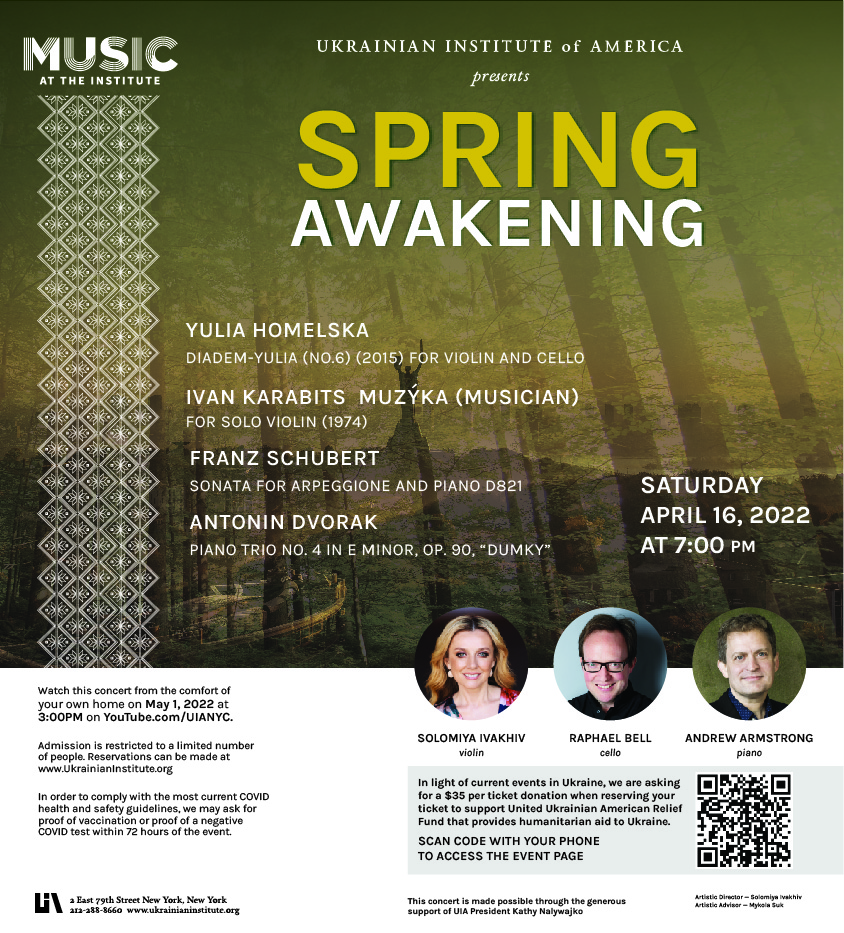 Our April 16 Music at the Institute concert was originally planned to feature works by Serhiy Prokofiev and Petro Tchaikovsky, with the intention of highlighting the deep Ukrainian roots and identities of each of these composers. Against the backdrop of the brutal and unprovoked war unleashed by Russia against Ukraine, the question of identity has become pivotal, with members and friends of the Institute expressing a growing interest in exploring this issue more comprehensively.
As a result, we plan to host the originally scheduled program at a future date in a broader context, which will include inviting music historians and other experts for an in-depth discussion on identity and the cultural influences on these, and other, composers. In the meantime, we have decided to change the repertoire of this Saturday's concert, making it a celebration of spring.
We also plan to host additional events, which will focus on other creative areas, including the visual arts and literature, as we continue to both explore what it means to label an artist 'Ukrainian' and wrestle with the impact that Russian colonialism and imperialism has had on the appropriation of Ukrainian cultural figures.
Many thanks to all of you for your continued input into the direction of our programming and please stay tuned for information on forthcoming events.
---
MUSIC AT THE INSTITUTE
presents
Spring Awakening
Solomiya Ivakhiv, violin
Raphael Bell, cello
Andrew Armstrong, piano
---
PROGRAM
Ivan Karabits Muzýka (Musician) for solo violin (1974)
Yulia Homelska Diadem-Yulia (No.6) (2015) for Violin and Cello
Franz Schubert Sonata for Arpeggione and Piano D821
Antonin Dvořák Piano Trio No. 4 in E minor, Op. 90, "Dumky"
---
The proceeds of your $35/person concert ticket purchase will go directly to
the United Ukrainian American Relief Fund, in support of their ongoing humanitarian relief efforts
related to the war in Ukraine.