Independent Voices: Threat to Russia's War in Ukraine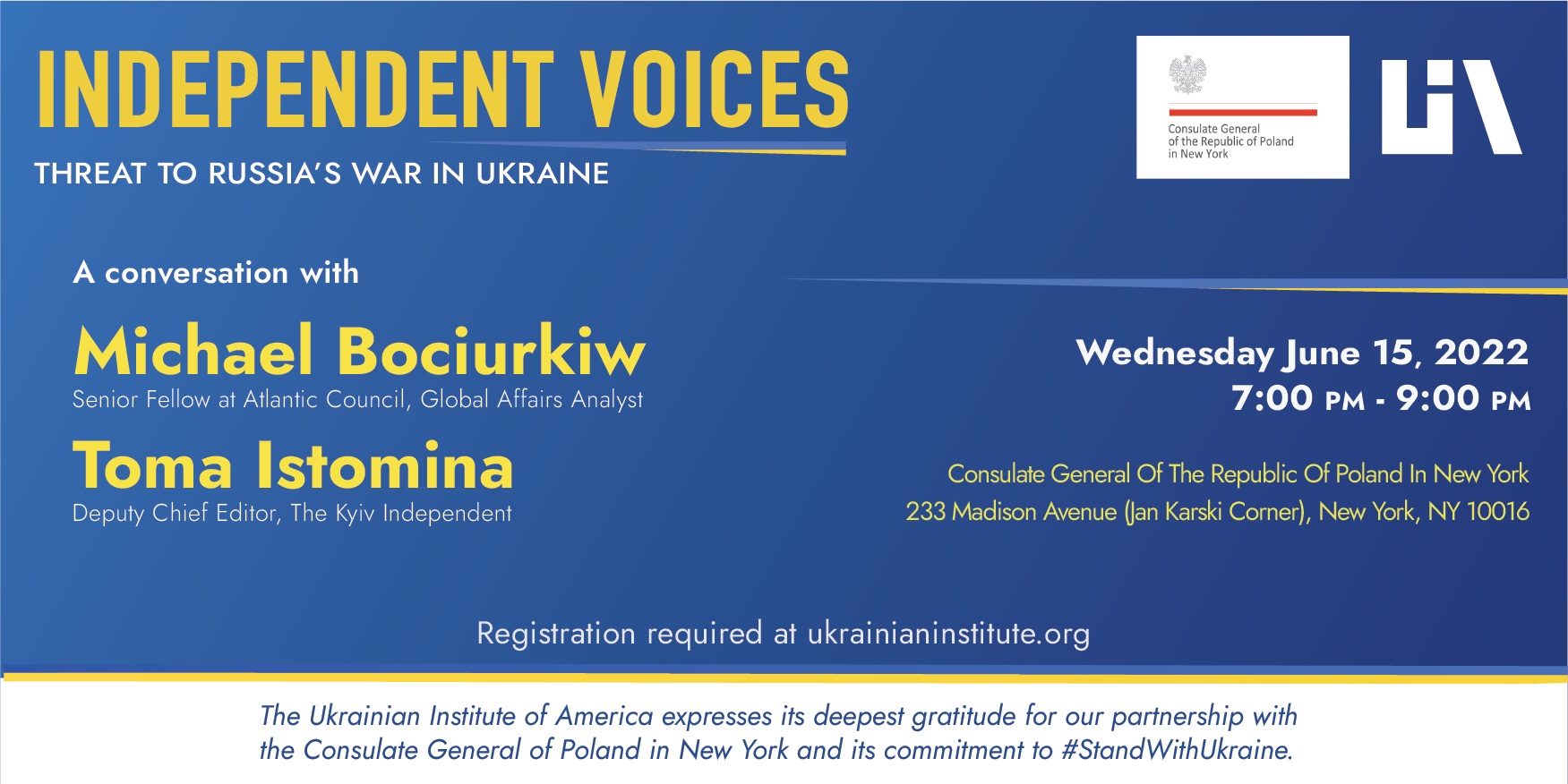 Ukrainian Institute of America 
presents
A Conversation with
Michael Bociurkiw, Senior Fellow Atlantic Council, Global Affairs Analyst &
Toma Istomina, Deputy Chief Editor, The Kyiv Independent 
---
Michael Bociurkiw is a global affairs analyst, Senior Fellow at the Atlantic Council and a frequent contributor to CNN Opinion. His commentary and analysis is regularly broadcast on CNN, BBC, Al Jazeera and many other leading media outlets.
For the past three months, Michael has been on the ground in Ukraine providing analysis of the war. Previously, he was the spokesperson for the Organization for Security and Cooperation in Europe's Special Monitoring Mission to Ukraine.
He is the author of the book, Digital Pandemic: Covid-19 – How Tech Went From Bad to Good. Michael is a former staff member at the South China Morning Post and Asia Times. He's also worked as global spokesperson for UNICEF and as part of emergency response teams for the UN around the world.
Of Ukrainian heritage, Michael studied journalism and communications at Carleton University and Columbia University.
---
Toma Istomina is the deputy chief editor of the Kyiv Independent, a leading English-language media outlet in Ukraine. She was previously employed with the Kyiv Post, working first as a staff writer, later taking the role of Lifestyle Editor, and then promoted to Features Editor. Toma holds a master's in international broadcasting from Taras Shevchenko University in Kyiv. Toma was selected as one of the Forbes 30 Under 30 Europe in the Media & Marketing category in 2022.
---
The event will be held at the Consulate General of the Polish Republic in New York.
Independent Voices: Threat to Russia's War in Ukraine