The Honorable Roman Popadiuk | The Power of Passion Series
September 17, 2021 @ 7:00 pm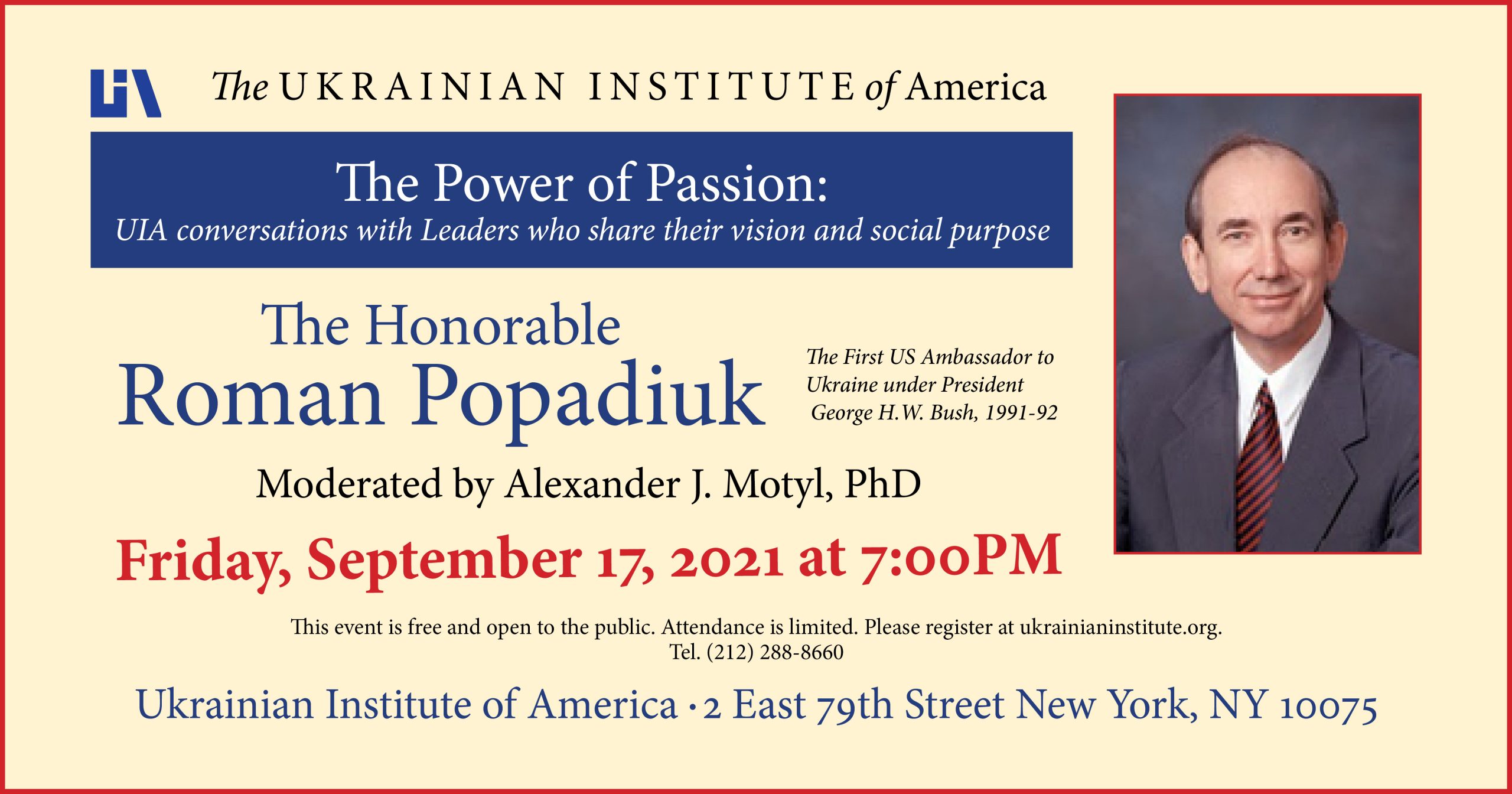 Update: This event will now be held online

In association with parallel events celebrating the 30th Anniversary of Ukrainian Independence, the
Ukrainian Institute of America is pleased to host The Honorable Roman Popadiuk as its second guest in the
series of talks with leaders who share their visions and social purpose. Dr. Popadiuk will discuss his tenure
as U.S. Ambassador to Ukraine from 1992–93, his life in the foreign service, and reflections on the last 30
years of an independent Ukraine.
Moderated by Alexander J. Motyl, PhD, this event will be held online via Zoom on Friday, September 17
at 7:00pm.
…………………………………………………………
Roman Popadiuk, PhD is former U.S. Ambassador to Ukraine under President George H.W. Bush from 1992–93. A retired member of the career Senior Foreign Service, Ambassador Popadiuk brings more than 30 years of experience in the areas of diplomacy, national security, political risk analysis, communications strategy, and energy policy, including serving on the National Security Councils of Presidents Ronald Reagan and George Bush.
He has written about and is frequently interviewed on issues relating to U.S.-Ukraine relations, the situation in Ukraine, and other national security and global relations issues. He co-authored Privileged and Confidential: The Secret History of the President's Intelligence Advisory Board. His writings have been published in "The Ukrainian Quarterly," "The Foreign Service Journal," "Mediterranean Quarterly," and "Presidential Studies Quarterly."
Ambassador Popadiuk is a member of the U.S.-Ukraine Energy Task Force of the Ukraine 2020 Policy Dialogue, a forum co-sponsored by the U.S. Embassy in Ukraine aimed at strengthening U.S.-Ukraine relations and Ukraine's integration into Europe. In 2006, he served as an observer of the parliamentary election in Ukraine. He is a senior advisor to the U.S.-Ukraine Business Council and member of the Council on Foreign Relations. He is also a member of the Ukrainian Institute of America.
Alexander J. Motyl, PhD is a Professor of Political Science, Rutgers University-Newark. He is a specialist on Ukraine, Russia, and the USSR, and on nationalism, revolutions, empires, and political theory. He is the author of 10 books of nonfiction, including Pidsumky imperii (2009); Puti imperii (2004); Imperial Ends: The Decay, Collapse, and Revival of Empires (2001); Revolutions, Nations, Empires: Conceptual Limits and Theoretical Possibilities (1999); Dilemmas of Independence: Ukraine after Totalitarianism (1993); and The Turn to the Right: The Ideological Origins and Development of Ukrainian Nationalism, 1919–1929 (1980); the editor of 15 volumes, including The Encyclopedia of Nationalism (2000) and The Holodomor Reader (2012); and a contributor of dozens of articles to academic and policy journals, newspaper op-ed pages, and magazines. He is a member of the Ukrainian Institute of America.
The Honorable Roman Popadiuk | The Power of Passion Series