In Memoriam Marta Skorupsky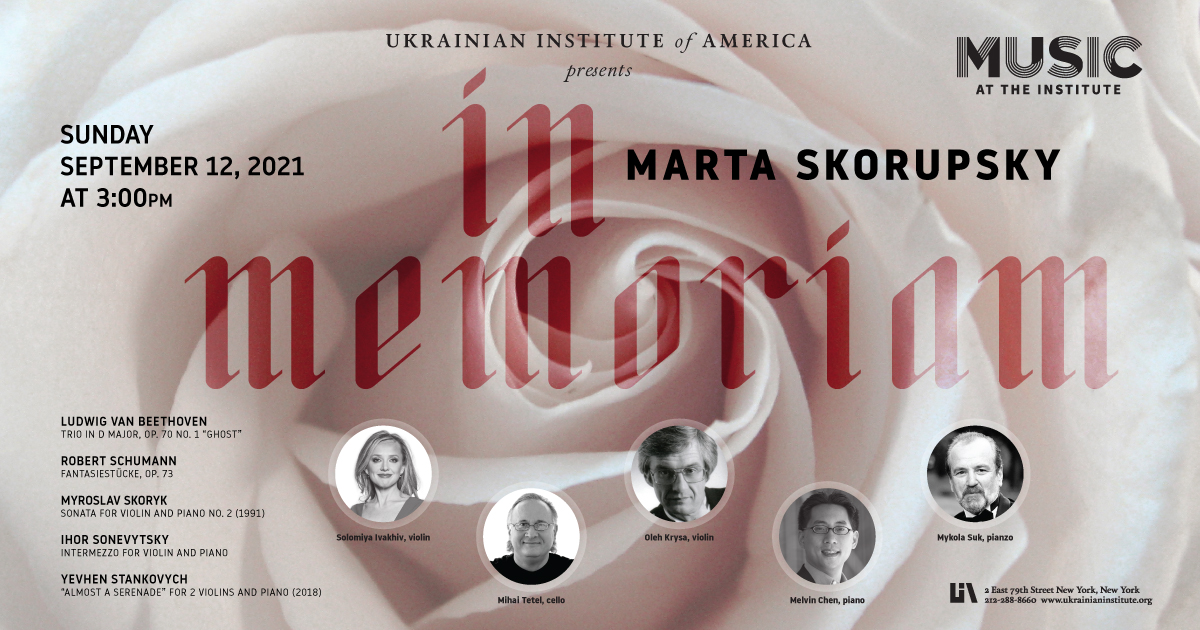 Music at the Institute
presents
IN MEMORIAM MARTA SKORUPSKY
Mihai Tetel, cello
Solomiya Ivakhiv, violin
Oleh Krysa, violin
Melvin Chen, piano
Mykola Suk, piano
Program:
Ludwig van Beethoven Trio in D Major, Op. 70 No. 1 "Ghost"
Robert Schumann Fantasiestücke, Op. 73
Myroslav Skoryk Sonata for violin and piano No. 2 (1991)
Ihor Sonevytsky Intermezzo for violin and piano
Yevhen Stankovych "Almost a serenade" for 2 violins and piano (2018)
In order to comply with the most current COVID health and safety guidelines, we may ask for proof of vaccination or proof of a negative COVID test within 72 hours of the event. Further details will be available closer to the date of the event.
Non-refundable tickets are $30 per person.
TICKETS
---
Watch this concert from the comfort of your own home on September 19th, 2021 at 3:00PM on YouTube.com/UIANYC.
---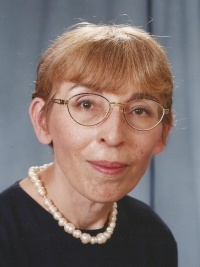 Ms. Skorupsky was instrumental in establishing the Ukrainian Institute of America's Music at the Institute (MATI) series, which was launched in 1989 by Irena Stecura. Marta researched material, wrote program notes and continued to be involved with MATI for more than 30 years. In addition, she served as Associate Member of the UIA Board of Directors for more than 20 years.
Ms. Skorupsky was a New York-based translator with over forty years of experience translating a wide range of subjects from Ukrainian into English. She translated volume 1 of Mykhailo Hrushevsky's History of Ukraine-Rus (1997), a seminal work for which she received rave reviews from Professors George Shevelov and Ihor Ševčenko, and that started funding which allowed translation of all the volumes of Hrushevsky's History. She was the editor-in-chief of the Ukrainian intellectual monthly, Suchasnist, and also edited numerous publications featuring the works of leading Ukrainian literary figures and political thinkers from the 1920s and 1930s.
Marta was born in Morshyn, in Western Ukraine. Her mother died two years later from acute pneumonia and Marta was raised by one of her aunts. This aunt cared for Marta during their long journey escaping from the advancing Red Army front, winding up in Austria, near Saltzburg, when the war ended. Together, in 1949, they emigrated to Edmonton, Canada.
Marta completed her graduate studies at the University of Toronto, and worked for Canadian Facts with Margaret Atwood. In 1967, she moved to New York City to work for Prolog, a Ukrainian publishing/research corporation. As one notable endeavor, she single-handedly published Digest of the Soviet Ukrainian Press, translating important articles from Soviet publications into English.
During the Cold War, Prolog was very active in countering Soviet propaganda and Marta became very active in supporting the dissident movement in Ukraine. One year, she traveled to Ukraine and met with most of the notable figures in the Ukrainian cultural world. Upon her return trip, she managed to smuggle out important dissident material, including Valentyn Moroz's Beria Reservation.
Marta eventually became editor of Suchasnist, a popular literary monthly. She also worked closely with UVAN and many other organizations on various publications.
In Memoriam Marta Skorupsky