Ukrainian Institute of America 2020 Virtual Gala
October 24, 2020

-

December 31, 2020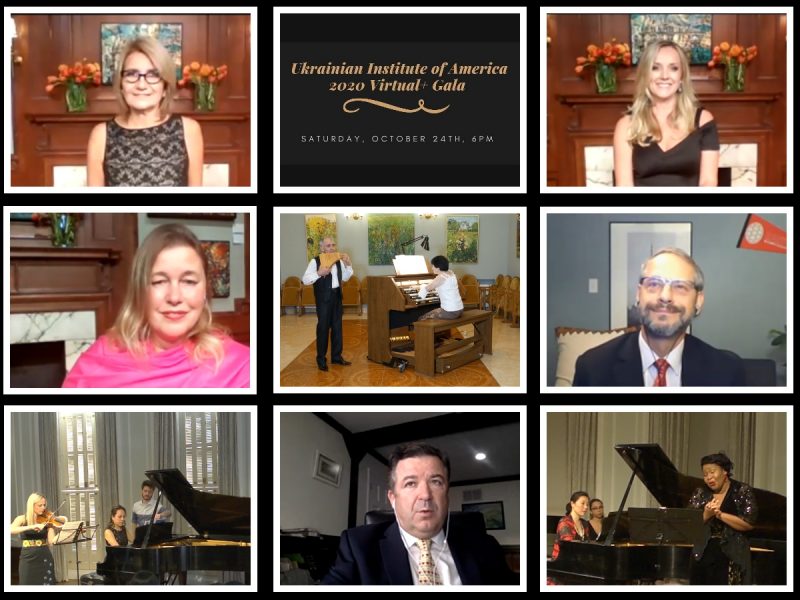 The UIA 2020 Virtual+ Gala
Honoring all Ukrainian Medical Personnel
We hope that you were able to join us for our first-ever Virtual+ Gala Celebration last Saturday, October 24th. All of us at the Ukrainian Institute of America are extremely grateful for the gracious generosity of the Institute's Trailblazers, Pacesetters, Benefactors, Patrons, Sponsors and Friends who made this evening possible. If you were unable to join us, you can watch the full recording of it online, and you may still support the Gala by making a donation today.
Stay tuned for further Gala-related experiences, like our not-to-be-missed art and luxury goods-filled Silent Auction, which will be launched next month!
The Board of Directors gratefully acknowledges the generosity of the Institute's Trailblazers, Pacesetters, Benefactors, Patrons, Sponsors and Friends who have made this evening possible
Trailblazers $10,000
Self Reliance (NY) Federal Credit Union (Mr. Bohdan Kurczak, Mr. Mark Bach, Mr. Adam Hapij and Mr. Stefan Kaczaraj)
The Chopivsky Family
Mr. Charles Podpirka
Pacesetters $5,000
Ms. Kathy L. Nalywajko
Benefactors $2,500
Dr. Michael George and Mrs. Ulana Kebalo-George
Ms. Zwen Goy
Dr. Arthur and Mrs. Irene Hryhorowych
Dr. Peter Lenchur and Dr. Ruta Cholhan-Lenchur
Dr. Stephan and Mrs. Tamara Tymkiw
Patrons $1,000
Dr. Nestor Blyznak and Dr. Irene Patrylo
Mr. Orest and Mrs. Lydia Glut
Mr. Andrei Harasymiak
Mr. Myron and Mrs. Olha Hnateyko
Dr. Borys Mychalczak
Mr. Stefan and Mrs Swiatoslawa Kaczaraj
Ms. Larysa Paschuk
Dr. Daniel and Mrs. Alice Swistel
Shevchenko Scientific Society
NYсильно (Mrs. Theodora Chomiak, Mr. Jerome and Mrs. Christine Hanifin, Mr. Andriy and Mrs. Oksana Falenchuk, Ms. Stefka Nazarkewicz, Ms. Catherine Meyer, Mrs. Donna Voronovich)
Sponsors $500
Dr. Adrian Baranetsky
Dr. Walter and Mrs. Maryann Hoydysh
Mr. Taras Filewych
Dr. Mychailo Fulmes
Dr. Ihor and Mrs. Marta Fedoriw
Dr. Zenovia Kuncio
Prof. Anna Procyk
Ms. Christine Karpevych
Mr. Oleh and Mrs. Alexandra Kowerko
Mr. Paul and Mrs. Emilia Liteplo
Mr. George and Mrs. Alexandra Rakowsky
Dr. Ihor and Mrs. Alexandra Sawczuk
Mrs. Anna Shpook and Mr. Petro Nikitin
Mr. Peter Shyprykevich and Mrs. Ilona Sochynsky-Shyprykevich
Dr. Yuriy and Mrs. Karina Tarnawsky
Mr. Orest and Mrs. Daria Temnycky
Prof. Oleh Tretiak and Prof. Renata Holod
Mrs. Natalie Trojan
Mr. Ihor Zwarycz
Friends under $500
Mrs. Alicia Behn
Mr. Andrew Bazylevsky
Mr. Arthur and Mrs. Lydia Belendiuk
Ms. Marta Farion
Mr. Stan Fediuk
Hon. Bohdan Futey
Mr. Adam and Mrs. Marta Hapij
Dr. Maria Hrycelak
Mrs. Lila Kushnir
Dr. Ronald & Mrs. Nadia Liteplo
Mr. Myron Melnyk and Mrs. Chrystyna Dobczansky-Melnyk
Mr. Vitaliy and Mrs. Olena Sharavarnyk
Ukrainian Music Institute of America
Mr. Artem Abalmasov
Ms. Ulana Blyznak
Ms. Kateryna Iavorska
Ms. Roksolana Karmazyn
Ms. Olena Kebalo
Ms. Andrea Kebalo
Dr. George Kihiczak
Ms. Ksenia Komarnyckyj
Mr. Vasyl Lopukh
Ms. Motria Milanytch
Mrs. Motria Procyk
Mrs. Lubow Wolynetz
Ms. Larysa Zanyk
Special thanks
Musicians
Ukrainian Chorus Dumka and Vasyl Hrechynsky, conductor
Kyiv Chamber Choir and Mykola Hobdych, conductor
Ensemble Origo
Yevhen Stankovych, composer
Eric Rice, conductor
Karen Slack, soprano
Amy Yang, piano
Tanya Bannister, piano
Philip Setzer, violin
Victoria Luperi, clarinet
Roman Borys, cello
Igor Leschishin, oboe
Pavlo Gintov, piano
Volodymyr Syvohip, General Director of Lviv National Philharmonic
Olena and Ihor Matseliukh, organ and pan flute
Oksana Mukha, singer
Maria Burmaka, singer
Claude and Natalia Sim, violin and piano
Evan Ormans, bandoneon
Michael Tilley, piano
Orlando Pagan, choreographer
Ania Bohachevsky Lonkevych, choreographer Dancers of Syzokryli
Artists
Ilona Sochynsky-Shyprykevich
Ola Rondiak
UIA Honorary Supporters and Friends
Volodymyr Yelchenko, Ambassador of Ukraine to the USA
Sergiy Kyslytsya, Ambassador, Permanent Representative of Ukraine to the UN
Vladyslava Bondarenko, Counsellor, Embassy of Ukraine to the USA
Oleksiy Holubov, Consul General of Ukraine in New York
Iryna Mazur, Honorary Consul of Ukraine to Philadelphia
Mark Andryczyk, Columbia University Ukrainian Studies
Andriy Futey, President of UCCA
Morgan Williams, President/CEO, U.S. – Ukraine Business Council
Anna Procyk, Vice-President, Shevchenko Scientific Society
Alex Davis, great grand son of William Dzus
Lida Tkaczuk, President, Ukrainian National Museum in Chicago
Fred Astaire Dance Studio – Brewster, NY (Mykyta Zhikovskyi, Igor Melnyk, Angelina Boiko)
Theodora Chomiak, President, RAZOM
Lubomyr Luciuk, Professor, Royal Military College of Canada
Alexa Chopivsky, Advisor to Minister of Economy of Ukraine
Maria Lonchyna-Lisowsky, President, Ukrainian Music Institute of America
Lila Kushnir, Director, Ukrainian Music Institute of America, CT
Walter Zaryckyj, Center for U.S. Ukrainian Relations
---
Although the main event has already taken place, it is not too late to support our 2020 Gala.  Donations of any amount are greatly appreciated and help us to continue to fulfill our mission of showcasing the very best of Ukrainian arts and culture to the world.
---
Be Inspired: Listen to These Tributes Specially Recorded for the Gala!
Professor Anna Procyk, Vice-President, the Shevchenko Scientific Society
Philip Setzer, Grammy-winning violinist of the Emerson String Quartet
Morgan William, President/CEO of the U.S.-Ukraine Business Council (USUBC)
Mark Andryczyk, Columba University Ukrainian Studies
Dora Chomiak, President, Razom for Ukraine
Maria Burmaka, Ukrainian singer
Oksana Mukha, Ukrainian singer
Lubomyr Luciuk, Professor, Royal Military College of Canada
---
It is not too late to support the Ukrainian Institute of America's 2020 Virtual+ Gala. You may make your donation by check payable to "Ukrainian Institute of America," by texting "2020Gala" to (202) 858-1233, or by clicking on the link below.
Ukrainian Institute of America 2020 Virtual Gala