The Board of Directors of the Ukrainian Institute of America invites you to be part of the #GivingTuesday global commitment to charity and to help the Institute fulfill its mission. Please join us on November 30, 2021!
Many of you have already supported the Institute during this incredibly challenging year. We are humbled by your generosity and are appreciative of your steadfast and ongoing commitment to our organization.
This #GivingTuesday, the Board has decided to request funding for one specific project, namely the restoration of our stunning Baccarat crystal Dining Room chandelier, back to its original 1899 condition. The cost of full refurbishment of cracks, chips and structure is $15,000. Kindly consider a gift toward this project and be recognized in a project-specific plaque to be revealed at a special Illuminating ceremony at project completion.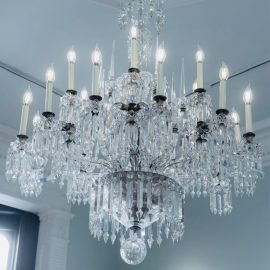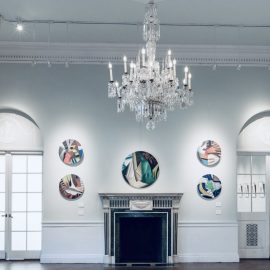 For over seven decades, the Ukrainian Institute has continued to promote, through educational, professional and social activities, a greater awareness, knowledge and appreciation of Ukraine's and Ukrainians' rich culture, history and accomplishments. As a National Historic Landmark located in the midst of NYC's prestigious "Museum Mile," the building that is home to the Institute plays a significant role in helping draw visitors and heightening general interest in Ukraine and its culture. The Ukrainian Institute is a steward of one of America's architectural treasures. Through our preservation work, the Ukrainian Institute guarantees that generations of Ukrainian Americans, as well as the global community, are able to enjoy an architectural masterpiece.
Since its inception, the success of the Ukrainian Institute can be attributed to the vision of founder Mr. William Dzus and to the endorsement of that vision by the Institute's members and its benefactors. For continued success, we depend on generous gifts from our community. As we kick off the 2021 holiday season, the Board of Directors wants to let you know how thankful we are for your support of the Ukrainian Institute of America. 
UIA Board of Directors