NICHOLAS KRAWCIW was born on November 28, 1935 in Lviv, Ukraine. During World War II, his family avoided advancing Soviet troops by moving west, eventually emigrating to the United States in 1949.  As a youth, Nicholas grew up in a Ukrainian-American community in Philadelphia, where he was a member of Plast. He entered the United States Military Academy at West Point in 1955, where he became a cadet regimental commander.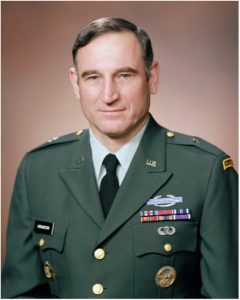 Krawciw earned a Bachelor of Science from the United States Military Academy and later received a Master of Science in international relations from George Washington University. 
Nicholas served with great distinction in uniform for 31 years, including two tours in Vietnam, where he was grievously wounded. In addition, he served in the Middle East with the U.N. during the Yom Kippur War and in Europe with NATO. 
Later, as a civilian working as an advisor to the Secretary of Defense, he helped transition the Ukrainian Army from a Communist organization to one functioning under democratic standards. At the behest of the Chief of Staff of the U.S. Army and the Undersecretary of Defense, Maj. Gen. Krawciw, along with his wife Christina, moved to Ukraine in 1992, where he worked for a year to reorganize, educate, and restructure the Ukrainian military along Western lines. 
Krawciw's awards and decorations are many, including the Silver Star with two oak leaf clusters, the Legion of Merit with oak leaf cluster, the Distinguished Flying Cross, the Bronze Star Medal, eight Air Medals and the Purple Heart. Nicholas was awarded the Defense Distinguished Service Medal in 1984 and the Army Distinguished Service Medal in 1990. For his service to Ukraine and the Ukrainian-American community, he was recognized by the Ukrainian Institute of America with an honorary lifetime membership.
He is survived by his wife, Christina, his daughter, Alex (and husband Matt), his two sons, Andy (and wife Samantha) and Paul (and wife Kristin); his grandchildren Elijah, Benjamin, Daniel, Annika, and Nicholas; and his sister Maria and brother George. 
Here is an interview with Maj. Gen. Nicholas Krawciw
Major General Nicholas Krawciw, an Honorary Member of the Ukrainian Institute of America, passed into eternal rest on September 29, 2021