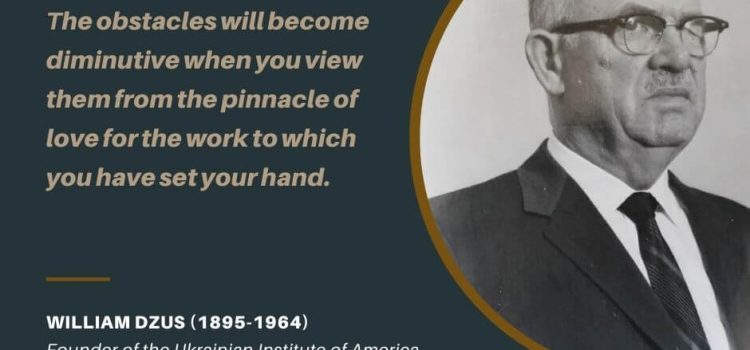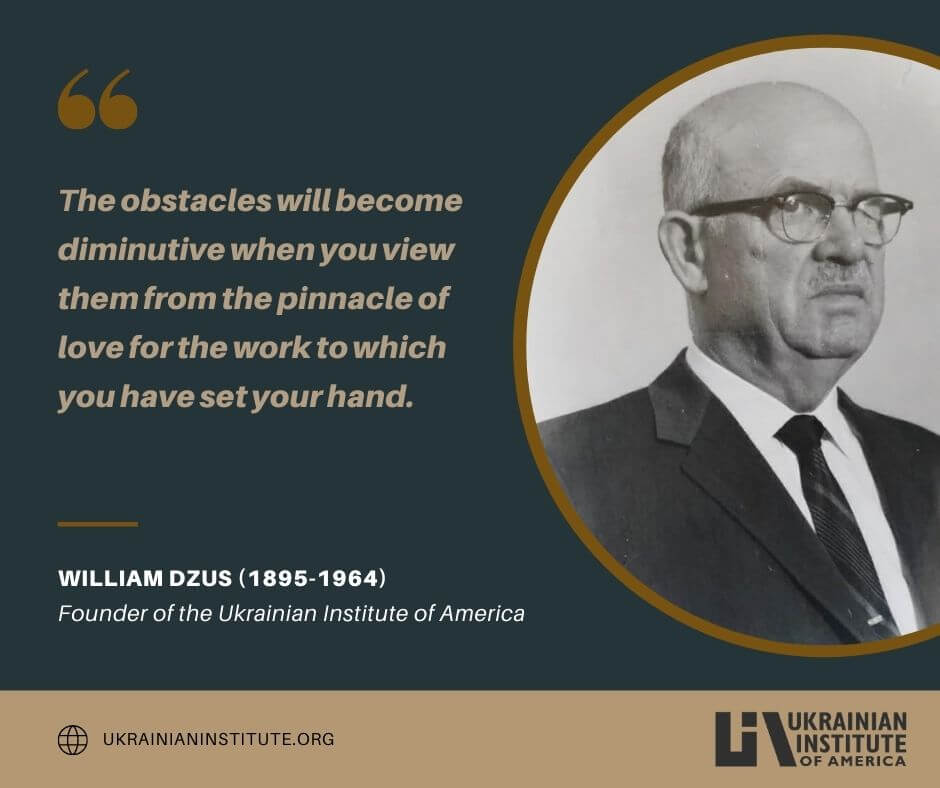 Today, January 5th, we celebrate the 126th anniversary of the birth of William Dzus, founder of the Ukrainian Institute of America.
Inventor of the first quick‐acting fastener used throughout the world in making aircraft, William Dzus came to the US as an immigrant from Western Ukraine in 1913. Born in 1895 to a family of wealthy Ukrainian farmers in the village of Chernykhivtsi in the Austro-Hungarian Empire. He was a child with extraordinary mechanical aptitude and a highly creative mind. He was fascinated by machinery, energy and motion. After deciding that he required a better mode of transportation than walking 4½ miles to school, young Dzus set about building a bicycle made completely from wood.
William Dzus desperately desired the freedom to work at what he wanted to accomplish, the freedom to spend his time at things he enjoyed, and the freedom to live in a democracy. Unfortunately, Ukraine, which at that time was not an independent state, could not offer that to him. Dzus spent years dreaming of America before he finally arrived there as a young man, aged eighteen.
Hard work, immense curiosity and an irresistible desire to "do things better" brought him to a recognized career as an inventor that started in 1922 with the grant of his first patent for a lathe attachment. Over a period of almost forty years, he continued to apply his mechanical skills, and originality to problem after problem. His inventions, some of them revolutionary, earned him dozens of patents, among them for his fastening devices known today as Dzus fasteners. He believed that "the secret of fulfillment lies in finding out what you really want and then working to bring what you want to fruition." Dzus took great pride and satisfaction with the knowledge that allied planes in World War II were reinforced and made safer by his fasteners.
Perhaps even more extraordinary is the fact Dzus proved himself to be an extremely good businessman, with no background or training in business management. But the fact remains that Dzus is one of the very few inventors who retained financial control over his inventions and managed to build a sound and successful organization – the Dzus Fastener Company, in West Islip, Long Island.
At the close of World War II, William Dzus founded the Ukrainian Institute of America in 1948, for the purpose of promoting Ukrainian art, culture, music, and literature in the United States. At that time, the Ukrainian Institute was located in the Parkwood Mansion in West Islip. With increasing membership and growth, Dzus authorized Francis Clarke, treasurer of the Dzus Fastener Company, to look for new, larger quarters in New York City. The Fletcher-Sinclair Mansion, with its prestigious address and unique architectural style, was purchased in 1955 by the Ukrainian Institute of America, with the generous support of its founder, William Dzus.
In his words, "the obstacles will become diminutive when you view them from the pinnacle of love for the work to which you have set your hand."
January 5th, we celebrate the 126th anniversary of the birth of William Dzus