'Still Life of Sergei Belik'
Informed by the Great Masters of Italian Renaissance, 17th Century Holland, Chardin and Morandi, the work of Sergei Belik continues the tradition of the classical still life. "Belik's still lives seem to be divided into different types, each of which comprises a particular theme modified by the artist in different ways," notes Gallery Walk. "Compositions of bottles, jars, pots alternate with images of fruits. The images are shown in an almost abstract way. Belik tries to disengage from the concrete form (and) instead creates an image from which ordinary objects and fruits descend."
Belik himself, in describing his artist's "credo," notes that the "world does not abide in causelessness and chaos; it is spiritual and stable, being God's creation and bearing the seal of God's providence. The sense of creation is not in endless search and wandering in chaos, but approximation to the truth through contemplation of the world."
Born in Odessa in 1953, Belik studied art at that city's Grekov State Art College and the Petersburg Mukhina Higher Art Institute. He became a member of the Union of Artists of Ukraine in 1987. Since then his work has been widely exhibited throughout Europe and the U.S. Belik's art can also be found in museums in a number of cities.
Discover the beauty and elegance of still life and landscapes by Sergei Belik
October 30 - November 30, 2003
Pictures from the opening reception - Thursday, October 30 6-9pm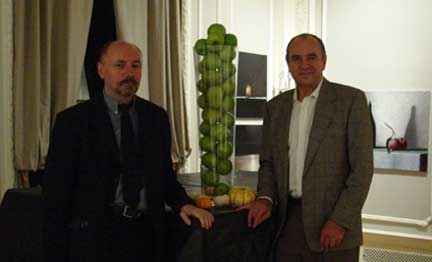 Short Biographical Information:
Born on December 2, 1953
B.A. in Fine Arts - Graduated from the Grecov State Art College in Odessa
M.A. in Fine Arts - Graduated from the St. Petersburg Mukhina Higher Art and Industry Academy
1979 admitted to the Association of Young Artist's of the USSR
Since 1973 Member of Artist's Union of Ukraine
Participant of 14 exhibitions, two festivals, one charity action, one symposium and a number of group exhibits.
Publications:
Art Expressions magazine: "Sergei Belik at Pavlovsky arts & Crafts in Utrecht, the Nitherlands". (#9 Autumn - Winter 1997).
ORIGIN magazine (#6 1997) Holland.
TERRA INCOGNITA (#61997) Lvov. "Resume" Sergei Belik.
The Washington Post - June 29,2000
The San Francisco Chronicle - August 6,2000
Home & Design magazine Late Summer 2000
Design resources magazine Issue 1 1999/2000
Home & Design magazine Spring 2000
Participant of the following exhibits:
2002 Exhibitions in Regensburg, Germany
2001 Large personal Exhibitions in New-York, Washington, USA
2000 Exhibitions in San-Francisco, Washington, USA
1999 Large personal Exhibitions in Maritime Gallery, Odessa
1998 International Biennial "Marina-98", Ukraine
1997 Exhibition in London, Holland (Utrecht).

International Festival of Arts "Kiev-97", Ukraine

1996 International Biennial "Marina-96", Odessa, Ukraine

International Festival of Arts "Kiev-96", Ukraine

1995 Exhibition in Paris, France
1994 Exhibitions in San-Francisco, Washington, New-York

"The Alla Rogers Gallery" - Washington. "Classic Art Gallery" - Carmel

1994 Charity auction of UNESCO, Paris, France
1993 Participated in International Contest of Painting in Marseilles "The Sea" Diploma
1991 Participated in International Symposium on Painting. Union of Artists of Ukraine
1990-92 Participated in foreign exhibitions in Paris, Marseilles, Yokohama
1988 All Union Exhibition of Young Artists, Moscow
1987 The country of Soviets", Kiev. An artwork was bought by the Ministry of Culture of the Soviet Union. The painting is now in a permanent collection of Art Museum of Ismail, Ukraine
1984-85 Participated in foreign exhibitions in Seged, Baltimore Vama, Tokyo, Munich
1984 All Union Exhibition "World and People", Moscow
1983 All Union Exhibition of Portrait "Our Contemporary", Moscow
1982 Republican Exhibition "USSR-our Motherland". A painting was bought by the Museum of Ukrainian Art. The painting is in a permanent collection of the museum.
1980-81 Exhibition of Odessa Artists
1980 Republican Exhibition "Art Lit Up by October", Kiev. One painting was bought by the Ministry of Culture. The painting is in a permanent collection of Chernihiv Art Museum, Ukraine.
1978 Republican Exhibition "60 Heroic Years", Kiev
1977 Exhibition of Young Artists, Odessa
1976 Exhibition "Blooming Ukraine", Kiev
1975 Exhibition "30 Anniversary of Victory", Odessa