Jurij Solovij
Art Exhibit 2000
April 15 - May 31, 2000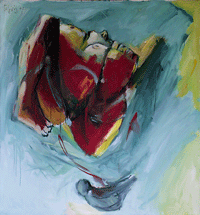 Ukrainian Artist's War And Remembrance
For curators, it's often easier to hang an art show in a historic mansion with high walls and huge rooms. For viewers, the setting can be more conducive than a gallery for enjoying the pieces on display.
That's the case with an exhibition currently at the beautiful Ukrainian Institute of America, on the corner of 79th St. and Fifth Ave. The Institute has given over all three of its floors to a Jurij Solovij show that opens today (reception 6-9 p.m.). The show features about 100 paintings and drawings — of which 50 are huge oils and gouaches — including many from Solovij's "Thousand Heads" period in 1970.
All the works are striking modern representations of themes close to the artist's heart: the pains of birth, of existence, of death; childhood experiences; his Christian heritage and images of war.
Solovij, who lives in Rutherford, N.J., was born in Ukraine in 1921. He attended the Academy of Fine Arts in Lviv until World War II.
That the war left a strong imprint on the artist is obvious in his work. Yet how lucky for him that he has been able to deal with this issue by painting; many others have had to fight these demons in more painful ways.
Sponsored by the Ukrainian Institute of America Daria Hoydysh Endowment for the Arts, the exhibition runs through May 21.