By Andrew Horodysky
Art at the Institute, the visual arts programming division of The Ukrainian Institute of America, kicked off the Fall 2017 season on Friday evening, September 29, to an enthusiastic gathering of friends and new faces with an exhibition of thirty expressionist landscape paintings by Ukrainian artist Roman Luchuk. Present at the opening reception, Mr. Luchuk warmly greeted the attendees by thanking the UIA for hosting his original artwork, and for the opportunity of introducing his imagery to a new audience. Curated by Walter Hoydysh, PhD, director of Art at the Institute, the exhibition marks the artist's first solo showing in the United States.
Conceivably, landscape painting offers us three verities—geography, autobiography, and metaphor. Geography is, if taken by itself, sometimes boring, autobiography is frequently trivial, and metaphor is often dubious, at best. But taken together, the three kinds of representation strengthen each other and reinforce what we all strive to keep intact—an affection for life.
Each of Roman Luchuk's canvases evokes the splendor and energy of his native Carpathian Mountains in seductive compositions that exude a lifelong fondness for the mysteries of the Hutsul landscape in western Ukraine. Although his landscapes are instantly recognizable as such, he imbues them with an emotional, rather than representational, view. His colors literally vibrate with intensity, and manage to convey the lush, sensual freedom of the open air while somehow also instilling the viewer with an underlying sense of harmony and balance. There is a remarkable synchronicity between freedom and discipline to be found in the sanctuary of his vivid landscapes, which is not easily defined. One does not merely look at his paintings; rather, one experiences them.
Luchuk's paintings are largely devoid of human presence save for the markers of human habitation such as lanes, paths, ragged fencing, churches, huts or other oblique references to distant buildings, all of which provide an armature for his expressive layers of impasto. The psychological and emotional impact of color, in particular, assumes an effective means of reaching the soul of the viewer, maybe even comparable to the physical "vibrations" of sound reaching the listener's ear.
With their unusual palette of blue, green, orange, yellow, and red for emphasis, the diverse surfaces and facture of Luchuk's vistas are bound together by a strong sense of composition as contour. These oils on canvas serve as an increasing stimulus for technical radicalism as the artist negotiates a path between the dawn of modernism and the inspiration of folk art with child-like spontaneity.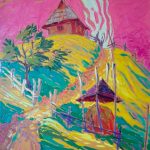 Paintings like Awakening (2016) have the moving, vibrating character of a Van Gogh landscape with the bright, saturated colors of Fauvism, or an early German Expressionist landscape, such as those by Karl Schmidt-Rotluff. These undulating landscapes seem to pulsate with a sense of quiet, inviting life that is both serene and exciting, and this sense of movement in Luchuk's paintings seems to equally reflect the reality of his chosen outdoor scenes and the inner attachment that the artist feels for his native mountains in History's Witness (2014) and Gardians of Snidavka (2015). The artist truly makes his extant landscapes of the Carpathians come alive.
The engaged viewer, especially the casual one, feels comfort in the familiar—at times sentimental—pastoral landscape imagery. No modernist trickery here. But then, a closer look reveals elements that betray a playful mind at work behind the keen observation. The artist confounds his viewer, producing a reassuring superficial reality and then shaking it up by digging deeper.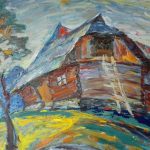 The works presented are at times somewhat quirky and yet "deceptive" in a positive manner. When first looking at these paintings, one of course recognizes that they are landscapes, part of the realist tradition, but one almost immediately pivots to the far more compelling abstraction—looking at them in terms of shapes and colors. That is, the imagery moves seamlessly back and forth between the two binary poles of abstraction and representation. This is a thoroughly modernist approach, entirely in keeping with attitudes, devices, and objectives typical of twentieth-century artmaking. Luchuk is fascinated with perception and visual experience, making of them virtual leitmotifs. His long-term project is above all to create "successful" paintings—to treat them in terms of their independent reality—their fundamental autonomy.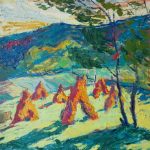 Working the plein-air method that he scores without concern for location, Luchuk denies specific topography in seeking the collective core that can exist only in the art. This is the essence of the art of Luchuk's painting—creating through psychological integrations of color and tensions of form a new and irresistible personal reality which reflects the innermost being of the artist running parallel with the reality outside he so embraces.
Roman Luchuk was born in Kosiv, Ivano-Frankivsk Oblast, in western Ukraine. He studied painting at the Kosiv College of Applied and Decorative Art and interior design at the Lviv National Academy of Art. His artworks have been included in numerous group and solo exhibitions throughout Ukraine. Mr. Luchuk lives and works in Kosiv, where he also teaches painting at the Kosiv regional branch of the Lviv National Academy of Art.
About Art at the Institute
Since its establishment in 1955, Art at the Institute organizes projects and exhibitions with the aim of providing post-war and contemporary Ukrainian artists a platform for their creative output, presenting it to the broader public on New York's Museum Mile. These heritage projects have included numerous exhibitions of traditional and contemporary art, and topical stagings that have become well-received landmark events.
Roman Luchuk: Paintings of the Carpathian Mountain Landscape remained on view at The Ukrainian Institute of America (2 East 79th Street, Manhattan) through October 22.
This article was previously published in The Ukrainian Weekly
Roman Luchuk: Painting the Essential Carpathian Landscape