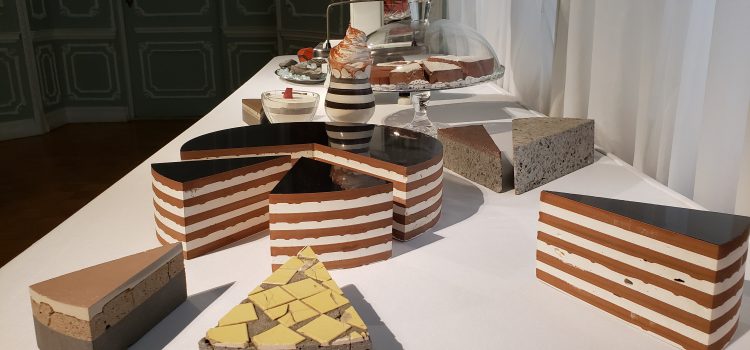 Zhanna Kadyrova: The Market
A special installation direct from the 2020 Armory Show, by 2018 PULSE PRIZE winner and 58th Venice Biennale representative from Ukraine, lands on New York's Museum Mile.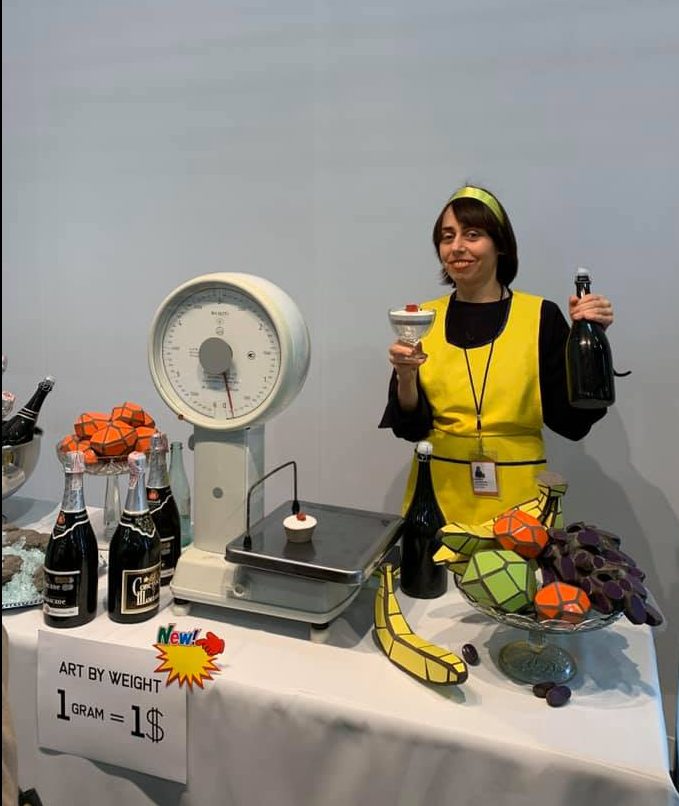 Art at the Institute is pleased to present Zhanna Kadyrova: The Market, an installation of the Ukrainian artist's sculpture cum performance presented most recently at the 2020 Armory Show. A collaboration between Walter Hoydysh, PhD, Director of Art at the Institute, and Maksym and Julia Voloshyn of Voloshyn Gallery (Kyiv, Ukraine), this display opened at The Ukrainian Institute of America at 2 East 79th St. on March 9, 2020 and now is available for viewing online. This marks the artist's debut showing with The Ukrainian Institute in New York.
True to its mission, The Ukrainian Institute of America (UIA) introduces post-Soviet and current Ukrainian national cultural, social and educational activities to the diaspora and wider public through its multidisciplinary programming. Here, contemporary art from Ukraine is finding a unique voice and platform from which to create, produce, and present new art-making practice to a wide critical and public global constituency. Discourse between its artists, writers and musicians and their contemporaries in the West, exposes new concerns borne not out of traditional aesthetics, but popular culture, economics, and politics. The ongoing war in Donbas, in eastern Ukraine, too, weighs heavy on the obligation of the cultural dialectic.
Based in Kyiv, Ukraine, artist Zhanna Kadyrova (b. 1981) specializes in site-specific projects creating objects, installations, mosaic and sculpture. Her art is primarily aimed at changing the face of the city and its inherent urban character. At home, according to Kadyrova, her immediate surroundings afford her the opportunity to keenly observe, study and become intimate with the evolving urban culture, while her rendered projects remain dependent on the physical environment that is her perceived "space" as well as reflect the prevailing social context occupying it.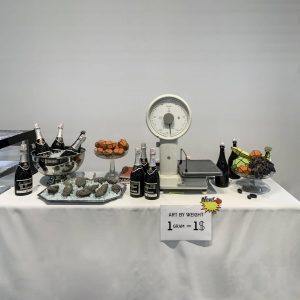 In 2019, Ms. Kadyrova was Ukraine's representative to the 58th Venice Biennale, the international festival that highlights a general approach to making art with a view of art's social function as embracing both pleasure and critical thinking. "The Market" was chosen to be installed in one of the exposition's two main venues, the Arsenale, running under the general program title of "May You Live in Interesting Times," curated by Ralph Rugoff, Director of London's Hayward Gallery. The artist recreates recognizable kiosk food products with accoutrements including mechanical scales, carts of vegetables, and a filament lamp illuminating the bright-blue tent stretched above on a metal frame from within. The selection of "goods" is typical of street vendors: watermelons, zucchinis, eggplants, eggs, hams, sausages, and pastries. She fabricates them of heavyweight construction materials: ceramic tiles, cement, concrete, and natural stone. Kadyrova often mans her makeshift market stand as a vendor selling and transparently advertising "art objects" by weight priced at "1 gram for 1 dollar." Everything at the attended art fairs where she exhibits is, of course, for sale, so this rather forthright advertising contrasts with the otherwise mysterious machinations of art's transactional side where prices are rarely posted.
Kadyrova actively participates in international fairs and exhibitions. She was the 2013 recipient of the Pinchuk Art Centre Prize, and winner of the 2018 Miami Beach PULSE PRIZE. "The Market" was previously presented at ART Monte Carlo 2017 (Monaco), Kyiv Art Fair 2018 (Ukraine), PULSE Miami Beach 2018 (USA), the 58th Venice Biennale 2019 (Italy), the Ljubljana Biennial of Graphic Art 2019 (Slovenia), and the 2020 Armory Show in New York City. Kadyrova exhibits with Voloshyn Gallery in Kyiv, Ukraine and Galleria Continua, San Gimignano, Italy. She lives and works in Kyiv, Ukraine.
About Art at the Institute
Celebrating its sixty-sixth year of activity, Art at the Institute is the visual arts programming division of The Ukrainian Institute of America. Since its establishment in 1955, Art at the Institute organizes projects and exhibitions with the aim of providing postwar and contemporary Ukrainian artists a platform for their creative output, presenting it to the broader public on New York's Museum Mile. These heritage projects have included numerous exhibitions of traditional and contemporary art, and topical stagings that have become well-received landmark events.
A special installation direct from the 2020 Armory Show, by 2018 PULSE PRIZE winner and 58th Venice Biennale representative from Ukraine, Zhanna Kadyrova, lands on New York's Museum Mile